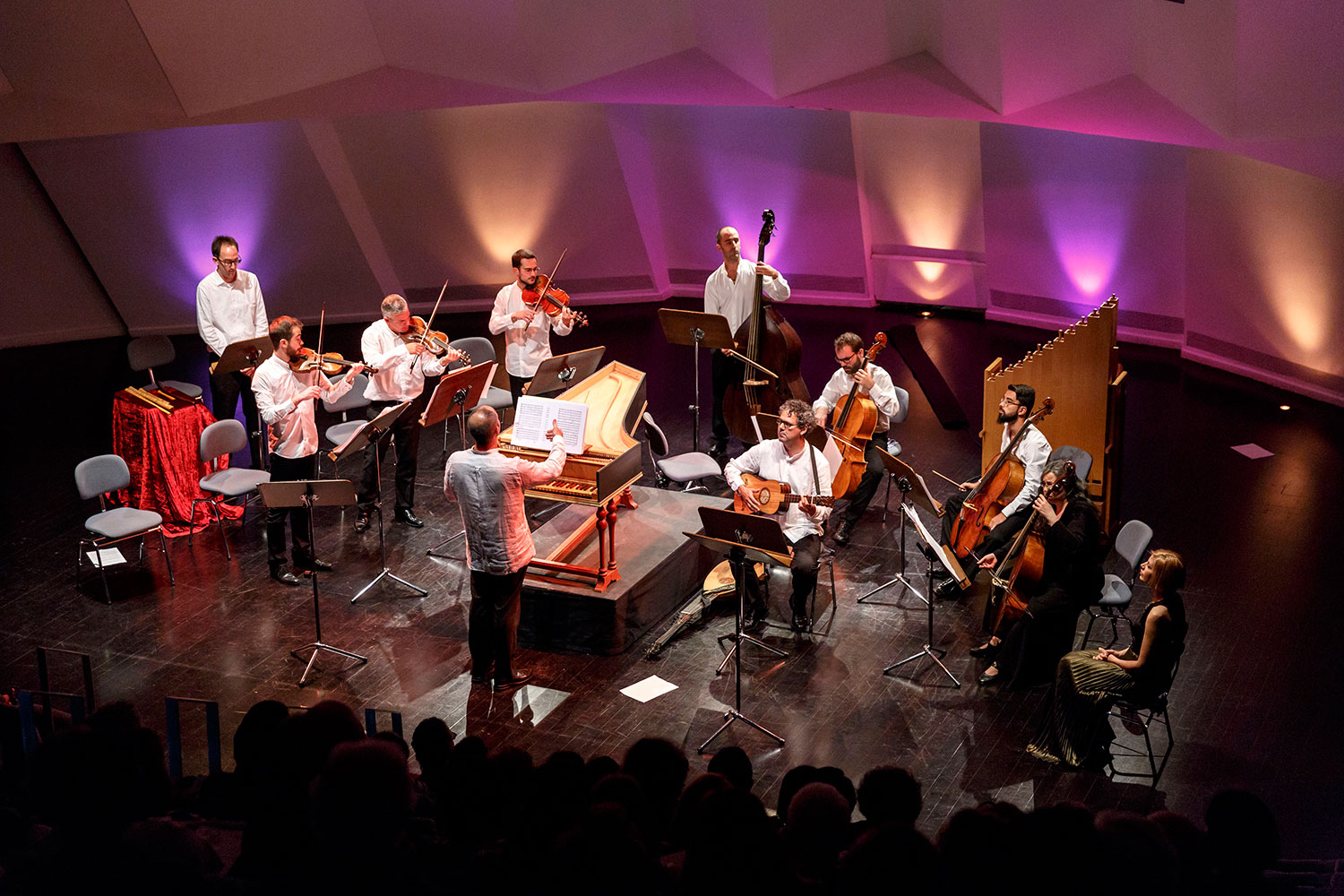 Tenerife Baroque Orchestra is a project of Cabildo de Tenerife within the Tenerife 2030 project, as it is set on creating new audiences for different art disciplines, ever widening the population's interest in art. Within the new model for building citizen awareness, rising the social and cultural value of the artistic proposals of the Auditorio de Tenerife, the Orquesta Barroca de Tenerife (OBdT) was set up as an alternative to the standardization of music from the past in current society. A group of professionals educated in the exquisite sensitivity of musical performance with historical criteria, they bring the sound of the Baroque world to the new island audiences with an updated approach, building relationships, participation, research and development, with an eye to a better participative future.
"Monteverdi. Operatic Legacy" was the title of the introductory concert of the OBdT, which offered the alluring melodies of Claudio Monteverdi (1567-1643) that changed the history of music for ever. This first concert pays tribute to the Baroque master on the 450th anniversary of his birth. The operatic legacy of the master with his timbres of unexpected changes of affect, dissonances and consonances for love and indifference, the emphasis on poetry to suit the temperament of warriors and lovers with their feelings stirring up as reality -understood as a process of change- unfolds in the moral jungle of human passions. This will be the best musical performance of this new Tenerife group.
The members of the OBdT's first concert include guest conductor Juan de la Rubia, Adrian Linares, Baroque violin and concert master, Juan Carlos Gómez, Baroque violin, Víctor Gil, Baroque viola, Fernando García and Diego Pérez, Baroque cello, Juan Carlos Baeza, double bass, Carlos Oramas, Baroque theorbo and guitar, Raquel García, positive organ, Calia Álvarez, viola da gamba, Daniel Bernaza, recorders and bugle and Daniel García, bass sackbut.
The concerts for the 2017/18 season will take place on Thursdays at the Chamber Hall. The OBdT starts on 17 September with "Baroque Virtuosos", a concert conducted by Jacques Ogg, with pieces by Biber, Schmelzer, Rosenmuller and Muffat. On 14 December we can enjoy "Natale", conducted by Alfonso Sebastián including pieces by Scarlatti, Stradella and Vivaldi. On 15 February 2018 they will play "Más estaciones que Vivaldi", again with Juan de la Rubia to perform Vivaldi, ending the season on 17 May with "Händel & Friends", with Jacques Ogg and compositions by Blow, Purcell and Händel.
The OBdT has also scheduled some of the concerts for the following season 2018/19 (also on Thursdays): "Bachiana", on 13 September conducted by Raúl Moncada and pieces by J.B. Bach and J.S. Bach, and "Noël a la francesa" on 13 December. This concert will be conducted by Bruno Procopio with compositions by Lully, Charpentier and Marais. Prestigious musicians will join the different concerts of the OBdT as guests.