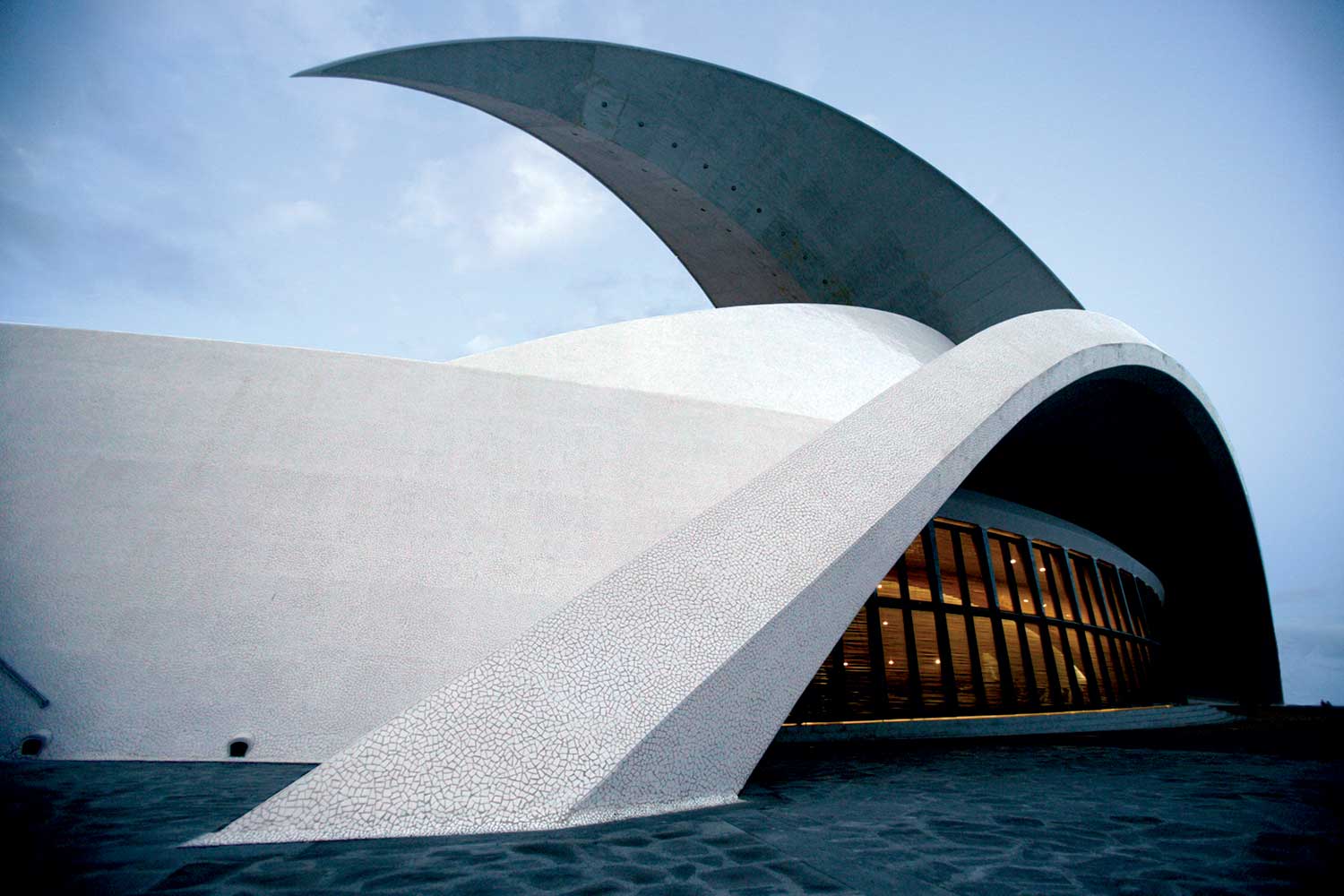 AUDITORIO DE TENERIFE PRIVACY POLICY
Who is responsible for processing your personal data?
AUDITORIO DE TENERIFE, SAU (henceforth "Auditorio de Tenerife") with legal address at Avda. de la Constitución 1, 38003, Tenerife is the controller of your personal data.
How did we obtain your personal data?
We have obtained your personal data through your previous relationship with Auditorio de Tenerife, or through your current connection with us because you are a customer, a goods and services supplier, you attend events, shows, concerts, conferences or other kind of activities or because you have asked us to send you information regarding our activities, publications and events by directly subscribing to our Newsletter.
Forms
Your data may be or have been obtained either from paper forms, forms on our website www.auditoriodetenerife.com, or any other printed or digital forms of projects managed by the Auditorio team, as well as through Auditorio de Tenerife's social networks or units dealt with by our management team.
Social networks
Social networks are increasingly being used and Auditorio de Tenerife is present in some of them. This is another means of contacting you.
The data collected on social networks sometimes includes personal information that is available online and to the general public. We also offer the possibility of subscribing to our newsletter through forms available in these social networks. We always make sure that the information we use is properly attributed to its source or used anonymously.
These social networks have their own privacy policies that explain how they use and share your personal data. We recommend that you read carefully the privacy policies before using these social networks to make sure you agree with the way your personal data is collected and shared.
Website
We collect and store limited personal information and anonymous global statistics of every user who visits our website, either because you actively provide us with that information or because you are surfing our websites. The information gathered includes the internet protocol address (IP) of the device you are using, your browser, your operating system, date and time of access, the internet website address through which you logged into our websites and also information on how you use our site.
We use this information to learn about how long it takes for our website to load, how it is used, the number of visits and the kind of information that is most attractive to visitors. It also helps us check whether our website is working properly, detect failures or mistakes in its functioning so that we can solve them and improve its performance, thus offering a better service to our users.
This information is collected through cookies. For further information please see our cookies policy on Auditorio de Tenerife website.
What personal data do we process?
The data we process with the lawful basis explained below are as follows:
Data needed to communicate and maintain a relationship with you:
Name
Surname
E mail
Telephone
Postal address, if you are buying tickets and subscriptions to paid events.
Age
ID/passport/NIF
If you have voluntarily provided this information in previous communications, we may also have the following data:
Profession
Job
School, group, company or association you belong to or represent
Age
Tax details if you have invoiced us
We would also like to inform you that we will process those additional data you may voluntarily provide in your future exchanges and interactions with Auditorio de Tenerife, including those provided through social networks or other applications.
Why do we process your personal data?
To meet our goals to:
Encourage the role of music and the performing arts in the creation of critical and open citizens, widening individual and collective possibilities of taking part in the sustainable development of Tenerife through culture.
Be a model in professional structuring and training in music and the performing arts in Tenerife, carrying out permanent cross-sector work in the cultural and artistic fields (throughout the value chain), with other fields (tourism, social, education, innovation), in order to achieve the circulation of local cultural creation and production both locally and abroad.
Comply with our institutional values:
All the artistic, social, educational and professional programmes and activities directly and indirectly promoted by Auditorio.

The way we communicate and interact with our community.

The experience offered to different live/online audiences and users, including spaces and infrastructure that host initiatives and added-value services offered to the different types of users who take part in Auditorio's activities.
From this premise, we send information on Auditorio de Tenerife's and third parties' activities whose aim and nature Auditorio de Tenerife deems relevant for its readers and followers. We send this information via SMS, telephone, postal mail, email, even after our relationship is over, unless the addressee states otherwise, to make satisfaction surveys, to send promotional communications on activities and initiatives of a similar nature to those you have previously taken part in.
The recipient can refuse to receive this type of informative and promotional communications now and at any time by sending an e-mail to This email address is being protected from spambots. You need JavaScript enabled to view it. or sending a request to our postal address stating in all cases the reference PROTECCIÓN DE DATOS [DATA PROTECTION].
Why can we process your personal data? Legal bases
User's registry: if you register for any of the activities promoted by Auditorio de Tenerife either directly or indirectly, your data will be used to create your user's account and manage your future exchanges with us. The legal basis to process such data is User's consent.
Also, with the aim of having your personal data up to date you can let us know of any changes by writing to This email address is being protected from spambots. You need JavaScript enabled to view it.
Purchasing or hiring: if the User introduces his/her personal data in a form to purchase tickets, subscriptions, enrolment, products or services offered by Auditorio de Tenerife, he/she is authorizing Auditorio to process their data in order to manage the service requested, paying, invoicing and providing services. The legal basis for processing these data is User's consent and the proper execution of the contract as processing the data is necessary to execute it.
Contact: Users who introduce their data in forms in order to ask questions or make suggestions, or who otherwise provide their data to contact Auditorio de Tenerife, be contacted by the platform or its users, give their consent for us to process your data with the aim of dealing with your inquiry and/or contact the User. The legal basis for data processing is User's consent.
Publicity to customers: Auditorio de Tenerife can send you publicity of the services, products and/or articles available on its website, as for instance new features and/or discounts on programmes, events, services or products provided that the User has previously requested it. The legal basis for processing these data is User's consent and the legitimate interest of Auditorio de Tenerife to have a professional and business contact with the customer. Customers can withdraw their consent whenever they wish.
Publicity to users: if the User authorizes it, Auditorio de Tenerife can send them publicity on services, products and/or articles available on our website, as for instance new features and/or discounts, among others. The legal basis for processing these data is User's consent. Consent can be withdrawn at any time.
Processing your personal data with the aim of keeping your connection to Auditorio de Tenerife as a supplier, artistic company, exhibitor, attendee or service provider is legitimate as it is necessary in order to meet the contractual obligations derived from these relationships.
We process your personal data to send promotional information on Auditorio de Tenerife's activities or initiatives similar to those you have previously taken part in, in response to the legitimate interest the User has to be kept updated if they so wish and it is authorized by current regulations.
The details requested in our forms, are usually compulsory (unless the requested field states otherwise) in order to fulfil the aims explained above and are in line with our corporate purpose. Therefore, these aims cannot be fulfilled if the data required is not provided or if they are not provided properly.
Data transfer to third parties
Auditorio de Tenerife does not contemplate transferring data to third parties. It can only do so for the reasons explained below:
When necessary to fulfil the obligations deriving from the activities you voluntarily take part in.
Suppliers who need to access your data in order to provide services hired by Auditorio de Tenerife from the said suppliers, with whom Auditorio de Tenerife has signed confidentiality and personal data processing contracts as required by the regulations in order to protect your privacy (for example, when buying tickets on an external booking platform, the analysis and interpretation software of users' buying behaviour, platforms to make and store data from surveys done to users, or sending communications via an external marketing email platform).
If Auditorio de Tenerife made other transfers of personal data in the future, you would be duly informed.
Do we transfer data internationally?
Auditorio de Tenerife has contracts with technological suppliers from countries which have regulations equivalent to Europe's. These services include email marketing, digital survey platforms, ticketing services, analytics… Confidentiality and data processing contracts have been signed as requested by the European Union, applying the necessary guarantees and safeguards to protect your privacy.
How long will we keep your data for?
Your personal data will be kept for as long as you have a relationship with Auditorio de Tenerife. Once this relationship is finished for whatever reason, they will be kept for 6 years, which is the period suggested by experts on data analysis of the cultural sector to learn about users' behaviour. In this case, they will be processed for the purpose of data analytics and of proving the fulfilment of our legal or contractual obligations. Once the said prescribed periods are over, your data will be deleted or, alternatively, anonymized.
What are your rights?
You can exercise your right of access, right to rectify, erase and portability, to restrict or suppress your data processing, via the postal and electronic addresses stated above.
These rights are as follows:
Right of access
You have the right to obtain confirmation as to whether Auditorio de Tenerife is processing personal data related to you or not, as well as to access the personal data Auditorio de Tenerife has about you.
Right to rectification
You have the right to ask Auditorio de Tenerife to rectify your personal data when they are inexact or to complete them if they are incomplete.
Right to erasure/right to be forgotten
You can ask us to erase your personal data when, among other reasons, the data are no longer necessary for the purposes they were collected.
Right to restrict processing
You have the right to restrict the processing of your data, in which case we will only keep them to deal with or defend against complaints.
Right to data portability
You have the right to receive your personal data in a structured format, commonly used and mechanically readable and to transfer them to another controller when processing is based on consent or on a contract and it is made by automated means.
Right to object
You can object to your personal data being processed on the basis of a public or legitimate interest pursued by Auditorio de Tenerife. In this case, Auditorio de Tenerife will stop processing your data except for legitimate pressing reasons or when dealing with or defending against possible complaints.
If you believe processing your personal data violates the regulations or your right to privacy you can lodge a complaint:
To our organization via the postal and electronic addresses stated above.
To the Agencia Española de Protección de Datos [Spanish Data Protection Agency], via their website or their postal address.