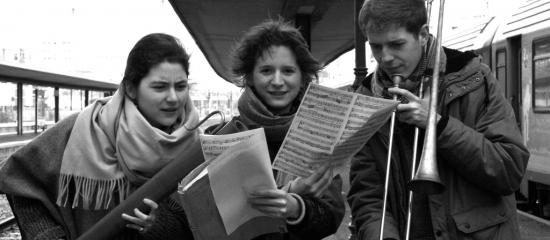 FLORES MUSICALES, FROM DRESDE TO NAPLES
Concert by the Ensemble Il Passeggero
Music/Fimante
Auditorio de Tenerife (Sala de Cámara)
Concert of the Festival de Música Antigua de Tenerife (Fimante) [Tenerife Early Music Festival] at the Auditorio de Tenerife.
Many 16th and 17th century musicians travelled to Italy one or several times, particularly to Rome, Florence or Venice. The most talented composers met in these creative and artistic imitation hubs. They would immediately take the new sounds and the latest musical creations across Europe, driven by the idea of beauty and expressiveness of a revisited Antiquity.
Girolamo Frescobaldi appears as an unavoidable figure of Italian Renaissance; principal organist in St. Peter's Basilica in Rome, musicians from all over the world came to him and he exercised deep influence on performing and composition techniques. Through their journeys, musicians contributed to feed a musical source that quickly became common to all nations. For example, this programme includes -penned by different authors- the song "La Mónica" (in French "Une jeune fillette") and "Doulce mémoire", based on a poem by King Francis I. With the help of the phenomenal technical progress, including the press, instrumental music was also at its height. Instruments like recorders, dulzainas, violas and even harpsichords were built in families. It was a time to experiment new instrument prototypes that would encourage the same sound perfection. Human genius was boiling over stimulated by the exchanges among nations, the arts and the sciences. We find this inventiveness, which is at times exuberant, in the pieces by Storace and Bertoli, in which the instrumentalist reaches the limits of a virtuoso without overlooking the essential elegance, the sprezzatura, without which no human act is worthy of praise.
With this programme Il Passeggero invites us to make a journey, to immerse ourselves in a Europe that is full of life and movement, with plenty of ideas and experimentation. Alternating games of skill and colour, these concerts revive the dialogues of composers and their different aesthetics, which are close together by their sensitivity and great expressive force.
Giovanni Battista Buonamente (c.1595-1642)/Jan Pieterszoon Sweelinck (1562-1621)
Ballo del Gran Duca
Antonio de Cabezon (1510-1566)
El Canto del Caballero
Girolamo Frescobaldi (1583-1643)
Sonata detta la Tromboncina
Girolamo Frescobaldi (1583-1643)
Parte sopra la Monica (1615)
Philipp Friedrich Böddecker (1615-1683)
Sonata sopra la Monica (1651)
Giovanni Maria Trabaci (1575-1647)
Toccata prima secondo tono
Adam Jarzebski (a.1590-c.1648)
Concerto 4 a due, fagotto e trombone (1627)
Heinrich Schütz (1585-1672)
Kleine geistliche Konzerte 2, Op.9 - SWV 308
Johann Caspar Kerll (1627-1693)
Capriccio sopra il Cucu
Antonio de Cabezon
Dulce Memoriae
Girolamo Frescobaldi
Partite sopra Passacagli
Antonio Bertoli (1598-p.1645)
Sonata settima (1645)
Bernardo Storace (c. 1637-1707)/Tarquino Merula (1595-1665)
Ciaconna
Rémi Lécorché, sackbut and recorder
Adeline Cartier, harpsichord
Isaure Lavergne, dulzainas and recorder plus artistic director of the ensemble
Tickets available soon.
The show is not available to children aged under 5.
Subscribe to our Newsletter