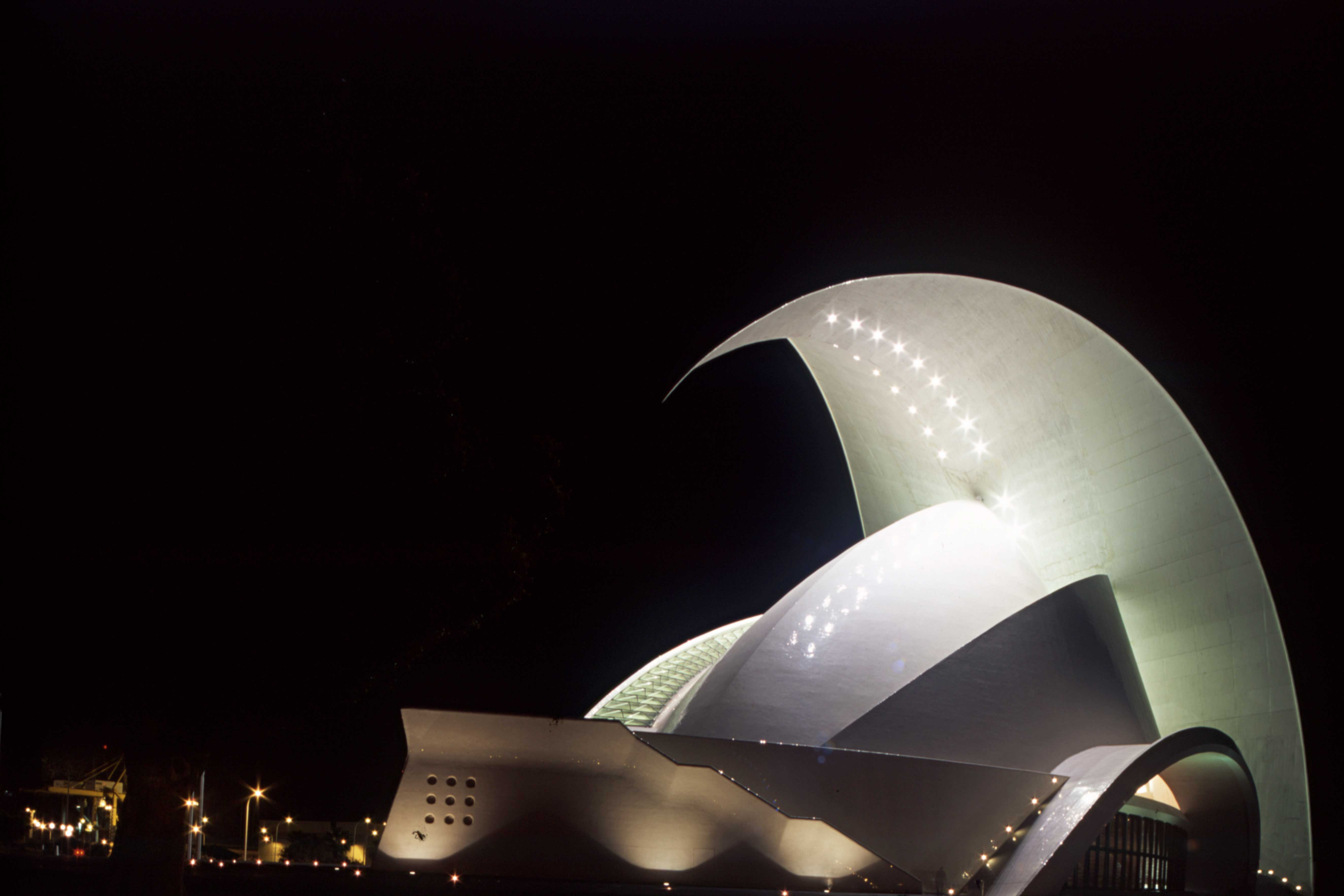 GENERAL CONDITIONS OF SALE
General information from the Auditorio de Tenerife
The Auditorio only accepts tickets that have been bought in its official points of sale.
Out of respect for wheelchair users, spectators who buy a seat adapted for wheelchair users without being one will not be able to enter the theatre. As stated in the notices displayed before purchase, they will not have the right to a refund.
The Auditorio de Tenerife is a smoke-free venue. Therefore, smoking is not allowed anywhere in the building.
The organization can alter or modify the event's programme for justified reasons.
Changes and refunds are allowed in the case of suspension or cancellation.
Users wishing to make a complaint, claim, or suggestion need only talk to front of house, box office or reception staff. The claim form must be filled out at the Auditorio and your ticket is also necessary.
Proof of entitlement to discount tickets must be provided on entering the theatre. Rate changes or refunds cannot be made once tickets are issued.
On entering the building, the public may be searched according to law. People carrying dangerous objects, with symptoms of being drunk, of having taken drugs or narcotics or who behave violently or aggressively with other members of the public will not be admitted to the building. The Auditorio de Tenerife reserves the right of admission.
Sale channels
Box office
In agreement with the prevention measures against COVID-19 the box office is available by appointment Monday to Friday from 10:00 am to 5:00 pm and Saturday from 10:00 am to 2:00 pm, except holidays.
The box office is in the main lobby, by the restaurant area and has a sign that reads "Taquilla" at the top.
You can ask for information and make an appointment by phone Monday to Friday from 10:00 am to 2:00 pm on 922 568 625, except holidays.
Make your appointment here (Here is the step by step guide to make it even easier)
Two hours before the event
– To avoid people gathering at the box office and to comply with the Auditorio's regulations, users coming to collect or buy tickets for the show of the day will be served first.
– We recommend you arrive with time enough to collect your tickets during the box office opening hours. The beginning of the show will not be delayed and admission to the theatre once the show has started is not allowed.
– The box office does not guarantee change for 200- and 500-euro notes is available.

– To collect your ticket at the box office you need to come with the confirmation email or internet booking number, plus the ID of the person who bought the tickets. To collect a ticket on behalf of someone else you must present an authorization and ID.
Telephone sale
Opening hours: Monday to Friday 10:00 am to 5:00 pm and Saturday from 10:00 am to 2:00 pm on 902 317 327, except holidays.
Telephone sale involves adding an extra 1 € to the ticket price for the call centre management fee.
Sale on the website
From September 2020, the sale system on our website automatically blocks the prevention and safety areas of the seats next to those you have chosen. This allows you to buy as many seats as you wish, provided that they are for people you live with. The system automatically makes sure the safety distance required is applied.
Internet sale involves adding an extra 1 € to the ticket price, for the ticketing platform management fee.
You can print your tickets at home, bring them in the passbook or collect them at the Auditorio's box office up to two hours before the show.
On our website you can also buy tickets for:
ESPACIO LA GRANJA. Only individual seats are allowed. Please see admission terms here.
EL TEATRO EL SAUZAL. Please see admission terms here.
Methods of payment
The Auditorio accepts cash payments (at the box office) or card payments (at the box office, telephone sale and internet sale) except American Express. To prevent the spread of COVID-19 paying by card is recommended.
Auditorio's theatre and admission rules
Out of respect for the artists and the audience, in compliance with Law 7/2011, of 5 April, about Classified Activities and Public Shows plus other additional administrative measures and Decree 86/2013, of 1 August, that approves the Reglamento de Actividades Clasificadas y Espectáculos Públicos [Regulations for Classified Activities and Public Shows], Auditorio de Tenerife, INFORMS:
Entry to the auditorium is not allowed once the show has started. If for any reason a spectator asks to leave the theatre during a show, he/she will not be allowed entry again.
Please switch off your mobile phone, watch alarm or any device that issues a sound and/or light.
If you wish to eat or drink you can go to the GastroMAG, but please do not enter the theatre with food or drink.
Collaborate in enjoying the show and avoid making any type of noise during the performance, both in the auditorium and its surroundings.
We know you like leaving a record of the time you spend with us, but you cannot do it during the show. You can take pictures or make videos before or after the show.
We keep to the maximum seating capacity allowed.
You can only enter the building during opening hours.
People under 16 will only be admitted without their parents or tutors to children, youth, or family shows.
The underage cannot come to shows that finish after 11:00 pm. Children under 5 cannot come to shows that are not meant for children or families whatever time they finish. Other restrictions to admit underage people may be established based on the contents of the show.
You can read Auditorio de Tenerife's specific conditions of sale, admission, and the measures implemented to tackle COVID-19 on https://auditoriodetenerife.com/en/safety-and-prevention-measures, like this:
Information about refunds due to COVID-19
Auditorio de Tenerife made reunds of all tickets for shows cancelled up to 15 December 2020. The deadline for requesting refunds for COVID-19 cancellations is 31 December 2022.
If you wish to send us a query please write to This email address is being protected from spambots. You need JavaScript enabled to view it. We will be happy to help you as soon as possible.
If you bought your ticket at the box office or by phone
You can only make an appointment to come to the box office for a refund. Please make your appointment online here or call 922 56 86 25 (only for information and to make an appointment Monday to Friday 10:00 am to 2:00 pm).
Box office opening times (by appointment only): Monday to Friday 10:00 am to 5:00 pm and Saturday from 10:00 am to 2:00 pm, except holidays.
If you bought your ticket via the website
The amount will be automatically refunded in the same card used for the purchase. You do not need to write to us or send us any details as we have all the necessary information on our system. If it were necessary, we would contact you.
If you paid by debit card, the amount will appear as a deposit in your account and if you paid by a credit card the statement will show a positive deposit. The deposit is usually made 15 days after we send you the cancellation notice to the email address you gave us during the buying process.
If you are a subscriber
As with other users, the proportion of subscription shows you did not enjoy will be reimbursed.
Did you buy your subscription via the website?
We have made a deposit in the same card you used to buy the subscription via the website. If you are an Ópera de Tenerife subscriber and have not received your refund or have any problems please contact us at This email address is being protected from spambots. You need JavaScript enabled to view it.
Did you buy your subscription at the box office or by telephone and paid cash or by card?
The refund of the subscription tickets will be made by bank transfer.
We only need you to fill in this form if you are an Ópera de Tenerife subscriber or this form if you are an Orquesta Sinfónica de Tenerife subscriber, indicting your bank account number and enclosing a document featuring the account number where you would like us to reimburse you.
Please take into account the following:
The subscriber who fills in the form must also be the holder of the enclosed bank account.
Every subscriber needs to fill in their own form: for example, if you come with your partner and you each have a subscription in your name, you need to fill in two forms.
On the other hand, if the same person has several subscriptions in his/her name, they only need to fill in one form.
If you have a subscription for Ópera de Tenerife and one for the Sinfónica de Tenerife, you need to fill in two forms.
Postponed shows
When the dates of a show are changed, the Auditorio de Tenerife has opted for refunding the tickets as a general procedure.
The ticket sale process with the new date will be announced well in advance.
Auditorio de Tenerife can only accept responsibility for the terms and refunds of tickets for shows that have been sold through our platform. Any other sale channel will have to deal with the refunds according to their own terms. You would need to contact the promoter or the sale platform where you bought your ticket to be informed about it.