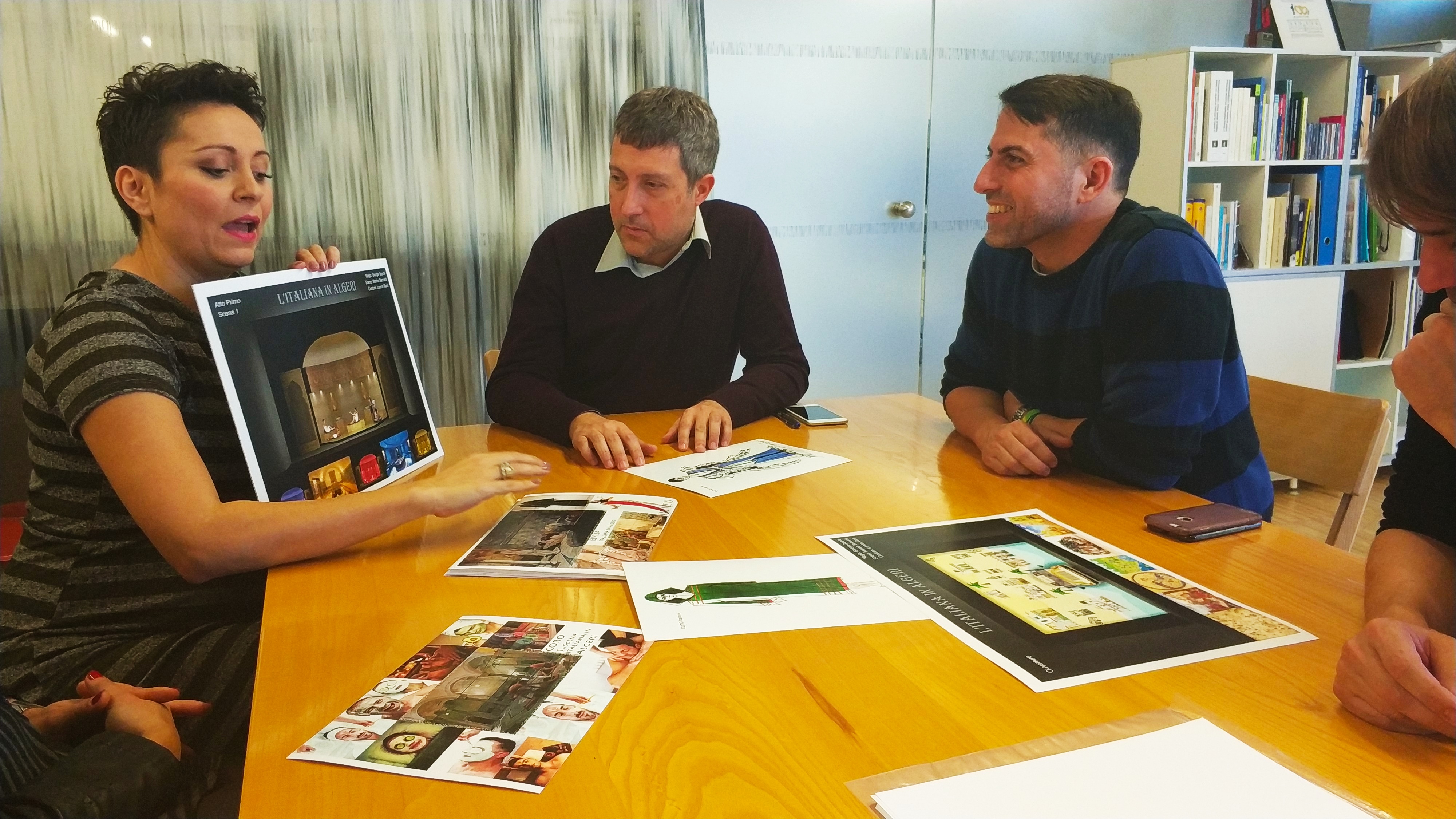 Ópera de Tenerife organisers have decided that Rossini's The Italian Girl in Algiers is the opera the singers of the sixth Opera (e)Studio will perform. The details of this production were presented to the Director of Culture and Education, José Luis Rivero, on Wednesday, 10 by the stage director Giorgia Guerra.
Guerra, who has collaborated with previous Ópera de Tenerife seasons, explained that "Rossini discusses himself, this piece is like a picture of his soul, it's comical, visual…it has it all. It's a kind story with a happy end" to then add "characters are immersed in a comical surreal atmosphere set in a spa of the 80s Algiers, with an amusing colourful wardrobe".
Apart from the stage director, the meeting with the Director of Culture was also attended by the intendant of Ópera de Tenerife, Alejandro Abrante, stage designer Mónica Bernardi and wardrobe designer Lorena Martín.
José Luis Rivero considers the proposal to "be a new collaboration with Giorgia Guerra", who was involved in the productions of The Fairy Queen (2013), Don Quixote (2014) or Werther (2016); he also pointed out that "Opera (e)Studio is a fundamental part of the Ópera de Tenerife season". The Director of Culture stressed that "the artistic team is made up of women, following Auditorio de Tenerife's policy on gender equality".
Rossini's The Italian Girl in Algiers is the debut in Ópera de Tenerife of Nikolas Naegele, current conductor at Deutsche Oper Berlin. The four performances will be on stage from 25 to 28 October at the Concert Hall of Auditorio de Tenerife. In the first five years their shows included Cosí fan tutte, Cinderella, Fígaro's Weddings, Don Pasquale and Capuletos y Montescos.
Ópera de Tenerife set up the Opera (e)Studio Academy in 2013 with the aim to boost young talents through comprehensive artistic improvement. It has its permanent venue at Auditorio de Tenerife and is directed by maestro Giulio Zappa. The project fosters the professional development of young artists who have just finished their academic studies or are at the very beginning of their careers.