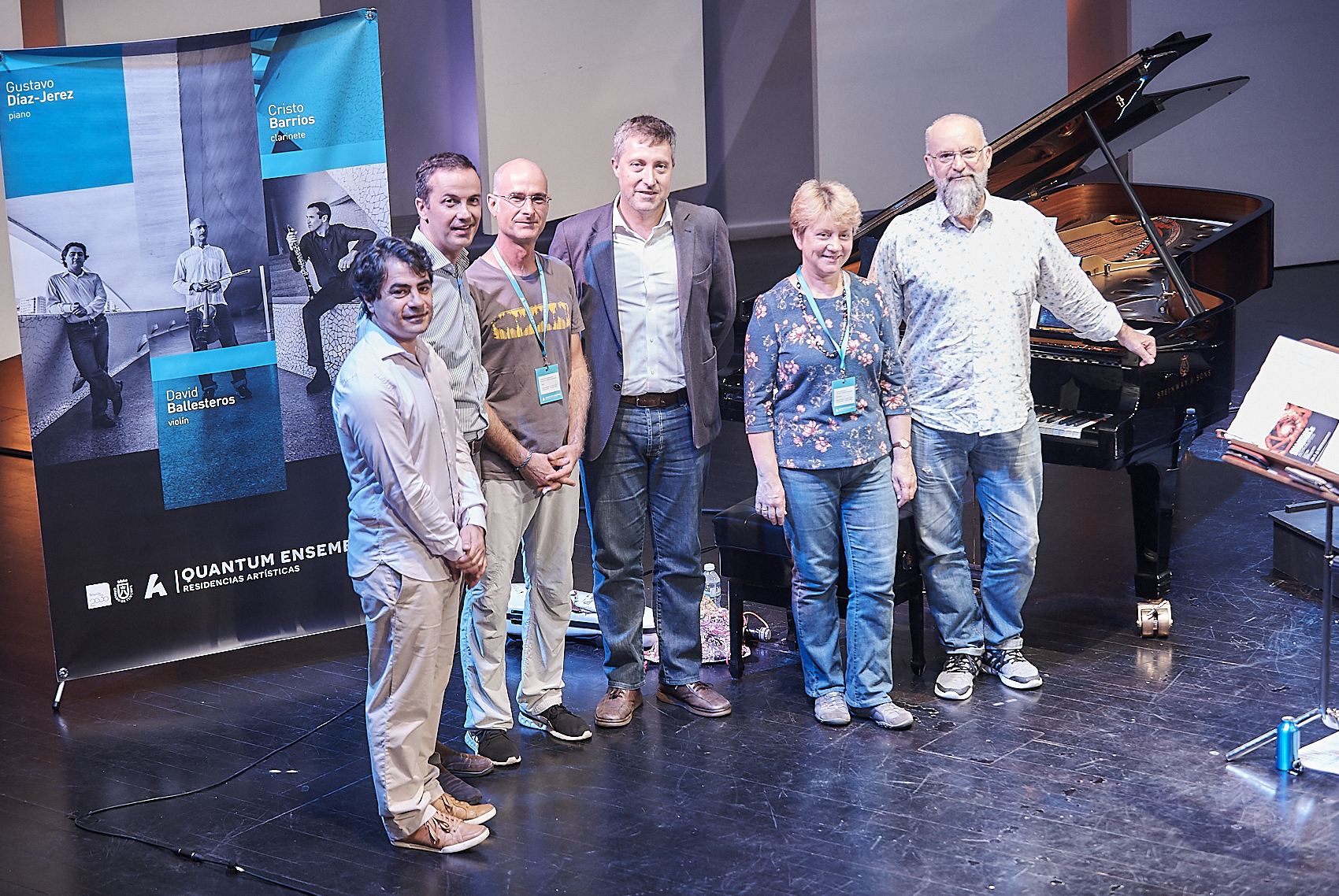 The Cabildo presented the sixth season of Quantum Ensemble on Monday, 15 October at a press conference. The new season of this Auditorio de Tenerife resident ensemble includes seven concerts, the first of which - Apocalipsis - is to take place on Wednesday, 17th at 7:30 pm at Sala de Cámara. The Island Director for Culture, José Luis Rivero, and the Quantum Ensemble musicians, Cristo Barrios, Gustavo Díaz-Jerez and David Ballesteros, explained the new programme which, in addition to the concerts, includes talks, master classes for Conservatory students and rehearsals opened to groups at risk of social exclusion.
José Luis Rivero stated that "Auditorio de Tenerife is very proud of Quantum Ensemble, a catalyst for following projects, like Orquesta Barroca de Tenerife and Lava dance company". "Since it was set up in 2013, Quantum Ensemble has always been a quality collaborating group that approaches classical music in a more flexible, friendly manner", Rivero explained, to then add that "Quantum is a great musical reality in our country and abroad, which has an influence on our community where they teach but also learn".
Pianist Gustavo Díaz-Jerez, who was recently awarded the Composición Musical award by Fundación Martín Chirino, said that "we, as Canarian people, are proud to be able to offer our art to the audience this way", and pointed out that "we're one of the few ensembles in Spain to carry out community activities".
Clarinet player Cristo Barrios went over the season concerts and highlighted that "we've followed our own taste in the programme and have included contemporary music from the 20th and 21st centuries, premieres and Canarian composers".
Finally, violinist David Ballesteros admitted that "Quantum Ensemble's concerts are a good opportunity for people who are not familiar with this type of music". "We've got a big responsibility when we invite groups who don't usually have access to music or whose education has not put them in touch with it. Both these groups and us benefit from this relationship", he explained.
In their first season concert, Apocalipsis, they will play Quartet for the End of Time, by Olivier Messiaen, which was composed during the 2nd World War at a concentration camp and premiered in one of the barracks. The three founding members of Quantum Ensemble plus the cellist Ángel Luis Quintana will use a rare instrument, the theremin, to be played by Lydia Kavina, granddaughter of Léon Theremin's first cousin.
The second concert, Despedida [Farewell], will take place on 22 November at Paraninfo of Universidad de La Laguna and will include pieces by Schubert and Penderecki. The last show in the year is on 20 December, Ecos, a map of Scandinavian music that includes the performance of mezzosoprano Marta Fontanals-Simmons and the Coro Juvenil de Auditorio de Tenerife. Shéhérazade, a homage to the narrator and heroine of One thousand and one nights, opens 2019 on 21 February. We can enjoy Artes on 21 March, a programme designed to highlight how different works of art and different art forms relate to one another. On 11 April Retrato [Portrait] includes the chamber music by composer Leonard Bernstein along with the Spanish Brass Luur Metalls. The season closes on 9 May with Claroscuro, that includes Vienna quartet Minetti and will focus on great masters in the history of music: Mozart and Shostakovich. Each concert has guest musicians and singers invited by the members of the Ensemble to suit the needs of the repertoire.
In addition to the season concerts, Quantum Ensemble also performs outside Tenerife and takes part in the Festival de Música de Canarias with two shows. Quantum Ensemble's main differentiating feature is their modern approach to classical music, turning it into a more friendly and flexible art form. In addition to master classes, sessions for groups and before-the-show talks, this ensemble offers close contact between the audience and the musicians, sharing their views before the concert starts and at the interval.
Musicians Cristo Barrios, Gustavo Díaz-Jerez and David Ballesteros are not only the funding members of the ensemble but they are also the core of the group. The community activity of Quantum Ensemble consists of sensory sessions that help to approach music in a different way and as a tool of musical expression to groups who are at risk of social exclusion, physically and intellectually-disabled people, the elderly, prison users, etc. These activities are part of the Learning and Community areas of Auditorio de Tenerife, which enjoy the cooperation of Fundación Cepsa and Obra Social "la Caixa" that also offer their volunteer service in these sessions.
Every Friday, after the concert, Quantum Ensemble gives a Performance Class, designed for instrumentalists and singers, students of Conservatorio Profesional y Superior de Música de Santa Cruz de Tenerife and collaborating companies and institutions. Cristo Barrios leads the workshop in which he seeks to reflect on the role of the interpreter in the creative musical process, as well as develop the creative abilities in students. José Luis Rivero also mentioned that the season brings a new feature: the QB Package, which offers an additional 15 per cent discount for the 2018 concerts by Orquesta Barroca de Tenerife and Quantum Ensemble. Tickets and packages can be bought at the Auditorio de Tenerife box office from 10:00 am to 7:30 pm Monday to Saturday, via the internet on www.auditoriodetenerife.com or calling 902 317 327.