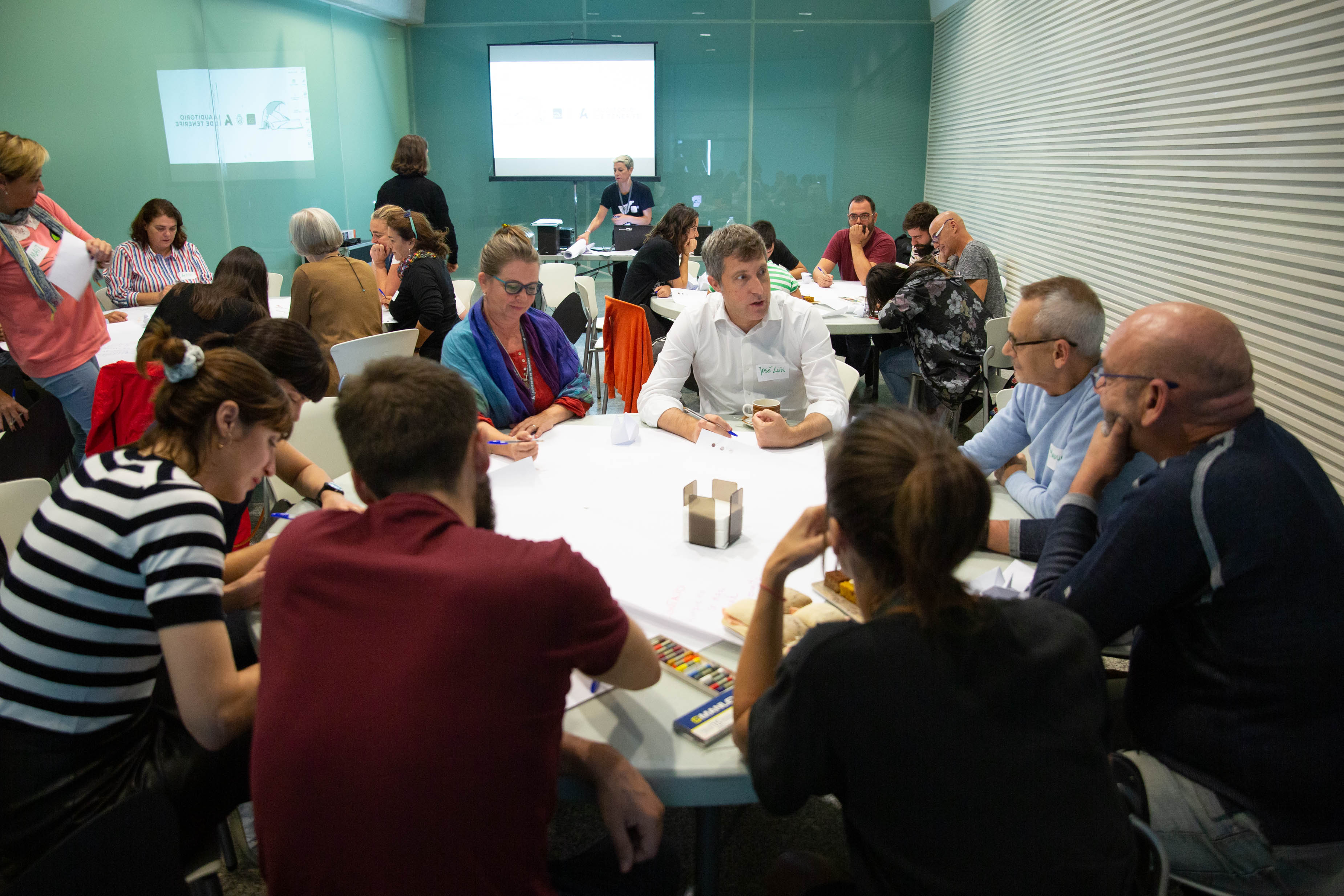 On Friday, 16th, Tenerife Danza's social scheme, Danza en Comunidad, had a meeting with some thirty representatives of the 21 groups they work with, including programmers and collaborators. Their aim was to analyse the work done in the past year and design new goals for next year, starting in February 2019 with two new schemes. The island director for Culture and Education of Cabildo de Tenerife, José Luis Rivero, welcomed the agents involved in Danza en Comunidad, and said that "in this work meeting we'll find new ways of carrying on with our collective work".
José Luis Rivero also stated that "when we started to outline this project, there was a wish to open this path; we knew it was going to be a collective process of trial and error and that it wasn't going to be easy to get into the groups without being part of them". About the meeting, he explained that "the project can't go on wisely without contrasting experiences and needs of everyone involved."
Danza en Comunidad's coordinator, dancer Laura Marrero, explained that "the meeting was taken to the cafeteria" and said that "regarding social issues, it won't work unless you have a good relationship". She also thanked Helena Berthelius, coordinator of the Tenerife Danza's Pedagogic Unit, for taking part at the start of the project.
One of the new programmes is called Transmisión, and it consists of taking a piece that has been practised by a group, with their values and processes, to another group of suitable sensitivity. Another new feature is making longer visits for certain groups, whose needs and characteristics require more than eight sessions a year to get results, as for example functional diversity groups. This way it will turn into a regular process and dance can become part of their routine, as is the case at Centro de Educación Especial Hermano Pedro.
The sixth Danza en Comunidad has just finished and the starting point was the concepts of identity and living together, so meetings in this regard have been held to open and close the year. In the first contact in February, major synergies arose, with Danza en Comunidad in the role of mediator. One of the people involved in the open call managed to get the social brand Dona Kolors included in the Feria Internacional de la Moda de Tenerife [Tenerife International Fashion Fair]. "This does not only benefit us but also the agents involved, as new collaborations may come up", stated Marrero, who leads a group of professionals including Cristina Hernández, Raquel Jara and Carmen Cruz.
The work methodology used by Danza en Comunidad is to first start with meetings to discuss theories (like this one) that lead to practices where movement is the key. The process ends with a performance by the members of the group. Each group builds a different line of action. The idea is "for them to share with us the full experience of a professional dancer" Laura Marrero explained.
This year-long scheme allows people to start dancing in these groups and then go on in following seasons either individually or in weekly sessions held at Auditorio de Tenerife facilities. Also, the open call means that anyone who is interested in sharing these processes can take part in the sessions without having any experience or belonging to a group.