QUANTUM ENSEMBLE MOVES TO PARANINFO AT LA LAGUNA UNIVERSITY FOR THEIR CONCERT 'DESPEDIDA'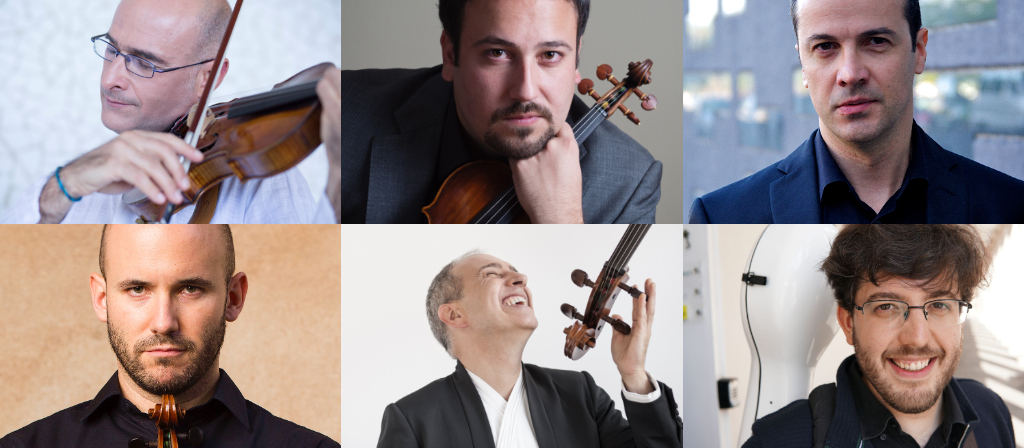 Auditorio de Tenerife resident group Quantum Ensemble, is going to La Laguna University's Paraninfo for their concert Despedida [Farewell] on Thursday, 22nd at 7:30 pm. They Will be playing String Quintet in C major, one of the last compositions by Franz Schubert, and Quartet for clarinet and string trio, by Krzysztof Penderecki.
David Ballesteros (violin), Adrián Marrero (violin), Cristo Barrios (clarinet), Lander Etxebarria (viola), Asier Polo (cello) and Iván Siso (cello) are the musicians who will be playing at the University's Paraninfo. An hour before the concert, there will be a talk in the same venue by Juan Manuel Ruiz, composer, essayist, music critic and Member of the Real Academia Canaria de las Bellas Artes [Royal Canarian Academy of Fine Arts].
Finished two months before he died in 1828, String Quintet in C major is one of Franz Schubert's last compositions. Ever since it was premiered in 1850, there has been speculation about it being a farewell; particularly because of the depth of its contents and the moment it was composed but also because of the unusual instrumentation. According to Cristo Barrios, "Schubert avoids adding a second viola to the traditional string quartet, as Mozart and Beethoven had done, and adds a second cello instead, possibly with the aim of getting a deeper sound". Barrios highlights that "the quintet is fragile and vulnerable, feelings dear to Schubert and the Romantics in general".
Krzysztof Penderecki's Quartet for clarinet and string trio according is strongly influenced by the mood of Schubert's quintet, and more widely by the musical personality of Alban Berg, according to Penderecki himself. "Therefore, the piece connects emotionally with the expressive tone of the 19th century, Schubert being its greatest exponent, while aesthetically is fully rooted in the 20th century", Cristo Barrios explained.
Tickets can be bought at Auditorio de Tenerife box office from 10:00 am to 7:30 pm, Monday to Saturday; on the website www.auditoriodetenerife.com on this link or calling 902 317 327. You can also buy them at Paraninfo box office in La Laguna University one and half hours before the show starts. Students will enjoy a special discount for this concert, in addition to the usual offers at Auditorio de Tenerife.
Also, as part of the outreach work Quantum Ensemble usually carries out, a group at risk of social exclusion will attend one of the rehearsals to enjoy a didactic session with the musicians. This week, an association of people with autism will have a sensory session on Wednesday, 21st at 5:00 pm at the Paraninfo. On the day of the concert, Friday 23rd, Cristo Barrios, founding musician of Quantum Ensemble, is giving a Performance Class to students of the Conservatorio Profesional and Conservatorio Superior de Música de Santa Cruz de Tenerife, institutions that collaborate with this activity.