Quantum Ensemble's new season offers seven concerts featuring tens of international musicians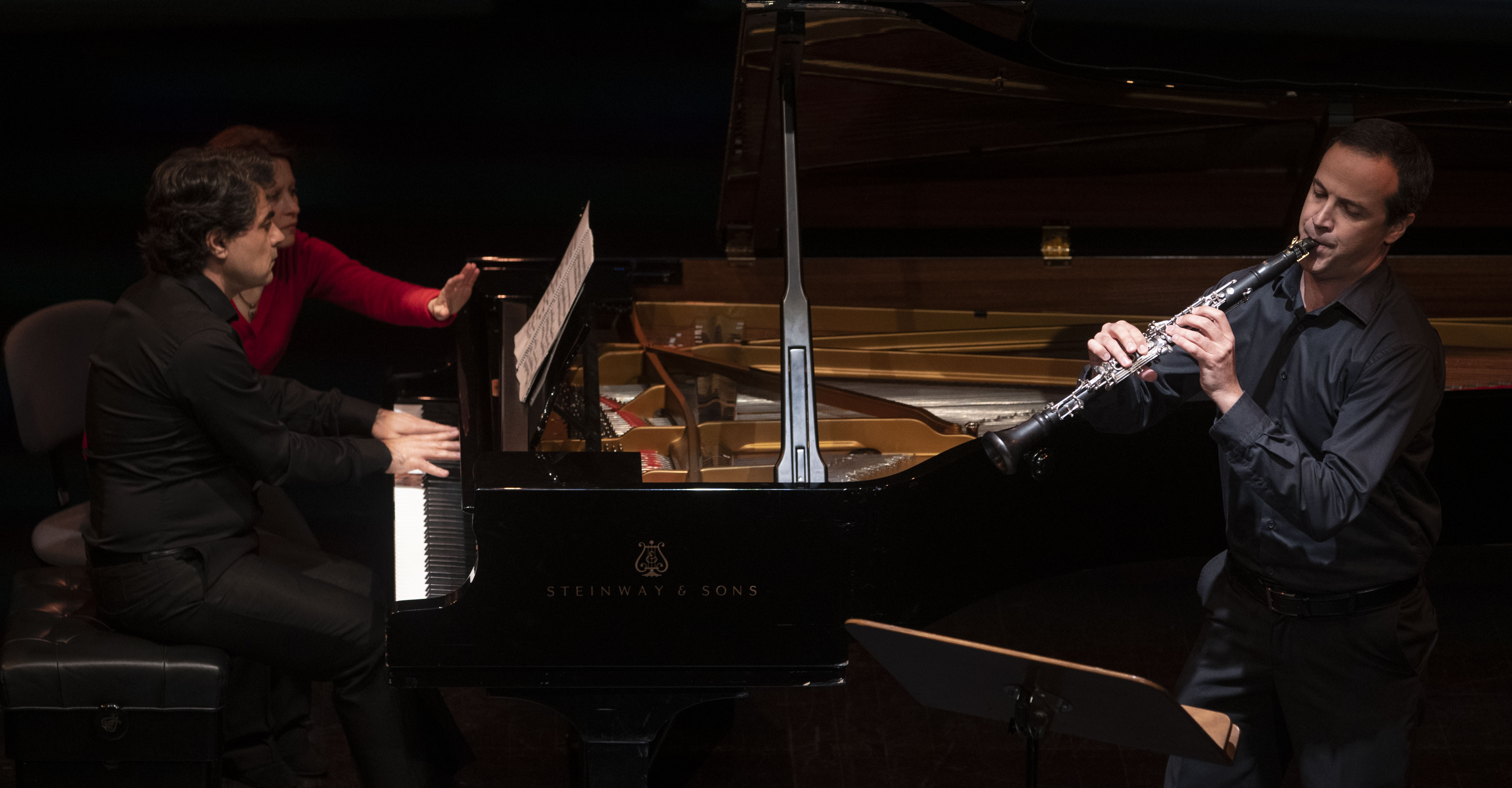 Quantum Ensemble, the chamber music ensemble resident in Auditorio de Tenerife, will give seven concerts in their 2019/2020 season. In addition to international performers, they are also inviting ensembles, singers, choirs plus a dancer to round off their offer. The group is led by its founding musicians, Cristo Barrios and Gustavo Díaz-Jerez. The first concert, Vínculos, will take place on 17 October at Auditorio de Tenerife's Sala de Cámara.
The ensemble, who has a modern, more flexible, and warmer approach to the interpretation of classical music, is calling in international musicians like cellist Tim Gill, violinist Priya Mitchell, clarinettist Romain Guyot, violinist Frederieke Saeijs, pianist Rolf Hind and ensembles like Elias String Quartet, Fauré Quartett and Lendvai String Trio. We will also have the chance to listen to soprano Anna Dennis, mezzo soprano Marta Fontanals-Simmons and baritone Tristan Hambleton.
Pre-concert talks are reinforced this season. They are free of charge and are held at the same place of the concert one hour before it starts. The talks look into the repertoire, its contexts and the guest musicians, and will be given by personalities like the manager of Scherzo magazine, Juan Lucas; the director of the music programme of Fundación Juan March, Miguel Ángel Marín; the University of Leeds lecturer, Víctor Durà-Vilà; or the director and presenter of the RNE show Entre dos luces, Carlos Santos.
Vínculos brings together composers Arnold Schoenberg, Alexander Zemlinsky and Gustav Mahler, three figures who through their co-existence in time and space in the Vienna of the late 19th century and early 20th century illustrate the extraordinary creative wealth of this Austrian city.
The second concert in the season will be Fricciones, on 22 November, featuring the performance of dancer Carmen Macías. The repertoire will confront creative styles and personalities in two pair of composers whose biographies overlap in space and time: Benjamin Britten and Harrison Birtwistle; and John Cage and Aaron Copland.
The end of the year brings Texturas, on 19 December. The unquestionable protagonist of this concert is the piano quartet Fauré Quartett, with a special programme that includes compositions by George Enescu, Gabriel Fauré and Paul Dukas.
Espejos is on in February 2020, featuring three works which are most unusual in current repertoires. These are very different compositions by Wolfgang Amadeus Mozart, Francis Poulenc and Bohuslav Martinů. Lendvai String Trio is playing in this concert.
Quantum Ensemble's next concert is Estructuras, on 20 March, with three compositions spanning three centuries, an evidence of the time and stylistic ambition of the Tenerife ensemble's repertoire. It also features the premiere of a piece composed by Gustavo Trujillo expressly for this concert.
Voces comes on 23 April with a programme that makes a contrast between outstanding compositions by Gioacchino Rossini with the work of two 20th century Italian composers: Luigi Nono and Salvatore Sciarrino.
Finally, Quantum Ensemble's last concert this season is Prisma to be held on 14 May. They will be counting on Camerata Lacunensis, conducted by José Herrero and eleven clarinets, which are needed to perform Steven Reich's New York Counterpoint. The event also includes works for mixed choir with and without piano by Samuel Barber and George Crumb's composition for two pianos and two percussionists.
Quantum Ensemble is part of the Education and Social Area of Auditorio de Tenerife with their new didactic concerts for schoolchildren and their usual outreach activities, which offer sensory work sessions to bring music to people in a different way, also used as a means of expression. They carry out these activities with different social groups included people with functional diversity, at risk of exclusion, users of penitentiaries, etc.
Tickets for all these concerts, which are held at 7:30 pm at Auditorio de Tenerife's Sala de Cámara are available through Auditorio's usual sale channels: at the box office from 10:00 am to 7:30 pm, Monday to Saturday except holidays, via www.auditoriodetenerife.com or by phone on 902 317 327.