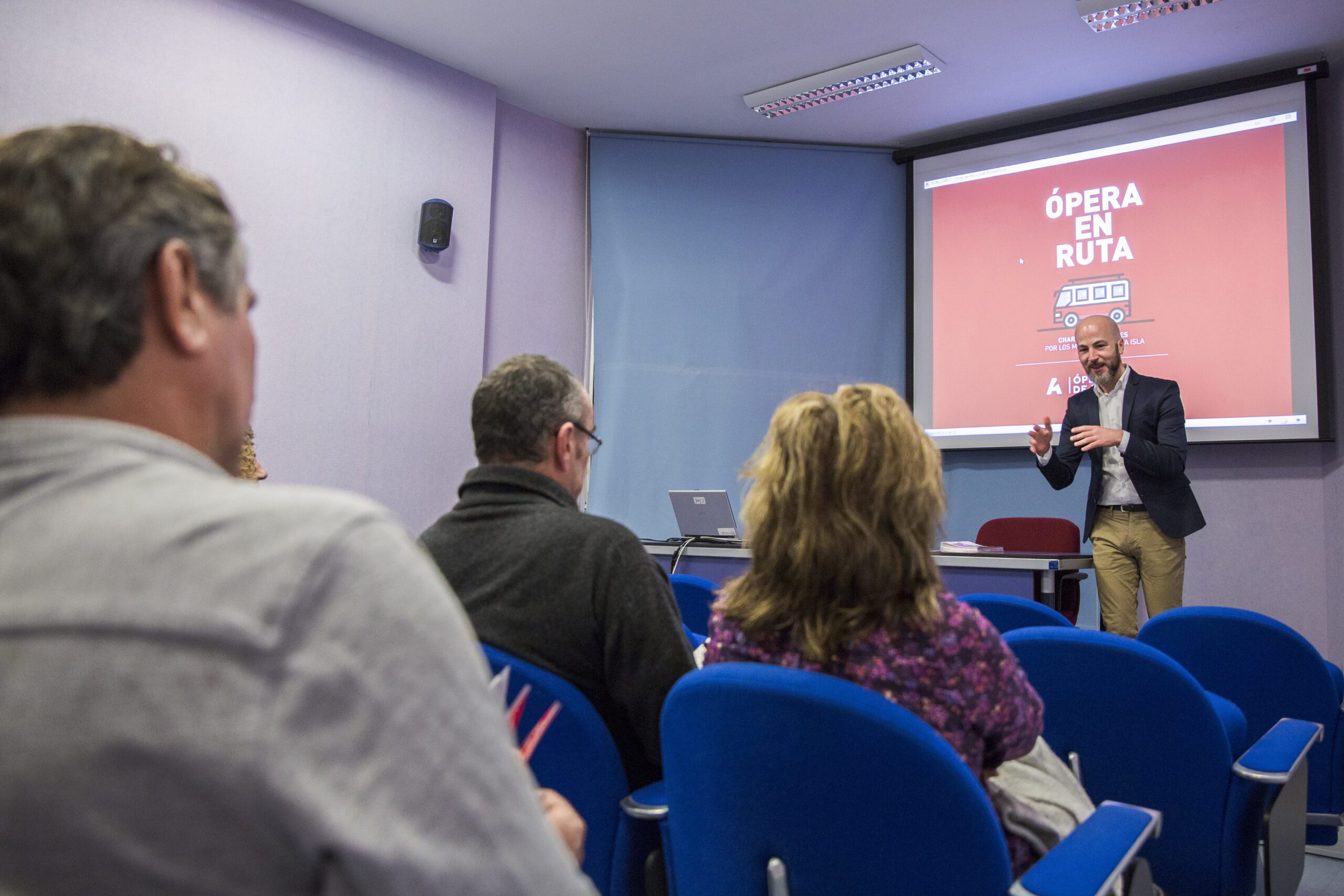 Ópera de Tenerife is taking Der Diktator and Der Kaiser von Atlantis, a double programme in concert version, to nine municipalities of the island through the programme Ópera en Ruta [Itinerant Opera]. In sixty-minute talks the audiences will learn about the main features of these two operas.
There will be a total of nine talks to be held in the afternoon at different venues of the island's Public Library network. The talks, that started in La Orotava, will be held in Candelaria on Friday, the 29th, at the Biblioteca Pública de Garachico on 2 December, at Biblioteca Adrián Alemán de Armas, in La Laguna on the 3rd; at Biblioteca Pública del Estado de Santa Cruz on the 4th; at Biblioteca Municipal de la Villa de Adeje on the 5th; at Biblioteca de Tabaiba on the 9th; at Biblioteca Municipal de Santa Úrsula on the 10th and finally, at Biblioteca Tomás de Iriarte in Puerto de la Cruz on 11 December.
This double programme brings together two operas that were composed by Austrian authors in the first half of the 20th century. Through the use of sarcasm, they tackle the issue of totalitarian power. When Ernst Krenek composed Der Diktator in 1928 fascism already ruled in Italy and it was to reach Germany soon. Viktor Ullmann's Der Kaiser von Atlantis was composed in 1943 at a concentration camp.
Der Diktator [The dictator] is a tragic opera in one act with music and libretto in German by the composer and was premiered at Hessisches Staatstheater in Wiesbaden on 6 May 1928. This short work with a tremendous rhythm and composed in a melodic style that resembles Puccini's, portrays the irresistible attraction of populist power, represented by a character who many thought to be inspired by Mussolini.
Der Kaiser von Atlantis [The Emperor of Atlantis] is a one-act opera by Austrian composer Viktor Ullmann and libretto in German by Peter Kien. It was composed while in prison at Theresienstadt concentration camp, where they were both jailed for being Jewish. In fact, Der Kaiser von Atlantis, a surrealist legend of a tyrant that is leading humanity to a cruel massacre, pushing Death himself to go on strike, was composed with all the characteristics the Nazis considered as 'degenerate music' (atonality, jazz...). When the camp authorities realized the figure of Emperor Overall was a not very veiled parody of Adolf Hitler, they forbade its premiere. Ullmann was deported to Auschwitz in 1944 where he was killed in the gas chamber.
In addition to the learning experience, Ópera en Ruta will also seek to undo some myths about the world of opera such as its supposed elitism or language barriers in performances; dress code and Auditorio de Tenerife's ticket sale channels will also be dealt with.
Ópera en Ruta is part of the communication strategy of Ópera de Tenerife and Auditorio de Tenerife for the new 2019-2020 season. In addition to spreading opera, it also adds to the economic drive of this Tenerife project, which encourages the local cultural industry.