Renowned clarinettist Romain Guyot will play in 'Espejos', the new concert by Quantum Ensemble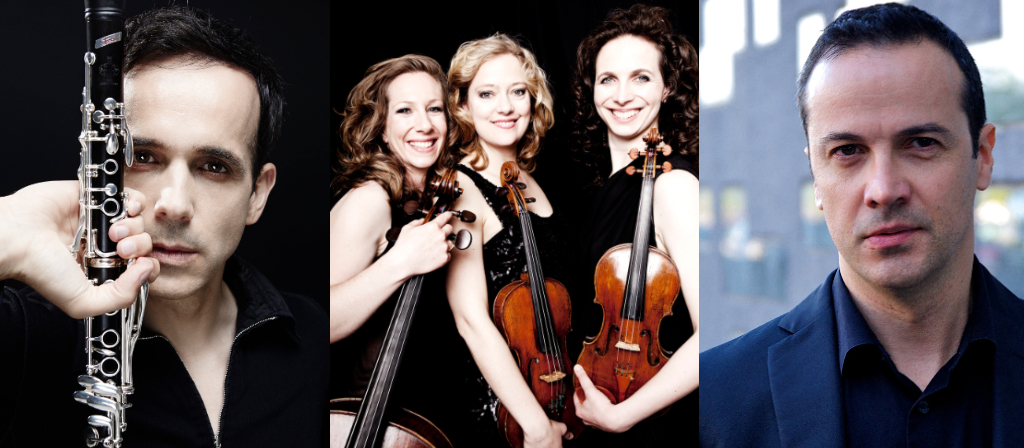 Auditorio de Tenerife's Sala de Cámara, managed by the Department of Culture, Youth, Education and Sport of the Cabildo de Tenerife which is led by councillor Concepción Rivero, will host Quantum Ensemble's concert Espejos on Thursday, the 13th at 7:30 pm. The ensemble will be joined by renowned clarinettist Romain Guyot and the Lendvai String Trio (on their 15th anniversary) to deal with an unusual repertoire that includes three works by Wolfgang Amadeus Mozart, Francis Poulenc and Bohuslav Martinů. Clarinettist Cristo Barrios, founding member of Quantum Ensemble, rounds off the event.
Carlos Santos, conductor and presenter of Radio Nacional de España's programme Entre dos luces, will give a talk at the Sala de Cámara one hour before the concert to introduce both the programme and the musicians' biographies to the audience. Admission to the talk is free of charge.
This concert presents three works of music which are seldom included in today's programmes. Víctor Durà-Vilà, lecturer at the University of Leeds, explained that "these are pieces that show different kinds of affinities and contrasts among themselves" and the time difference between the three composers "seems shortened by the adherence of these last two composers [Poulenc and Martinů] to the postulates of neoclassicism in a very important part of their compositions and the unavoidable influence which Mozart exercised over those following this trend".
Espejos starts with Mozart's Divertimento in E Flat Major, K 563 (1788) for violin, viola and violoncello. After the break they will play the Sonata for two clarinets fp 7 (1918) by Martinů. The concert will end with all the musicians onstage to perform Serenade in F Major for two clarinets and string trio Nº 4, H 334 (1951).
Tickets can be purchased at Auditorio de Tenerife box office from 10:00 am to 7:30 pm Monday to Saturday except holidays; on www.auditoriodetenerife.com or calling 902 317 327.
Quantum Ensemble's first activity this week starts tomorrow [Wednesday, the 12th] at 10:00 am with a masterclass by Romain Guyot for students of the island's conservatoires. At 16, Romain Guyot was named the first clarinet of the European Union Youth Orchestra. Five years later, he was named the first clarinet of the Orchestre National de l'Opéra de Paris. In 1996 he won the Young Concert Artist International Auditions in New York, one of the greatest honours for a young soloist, as well as the Munich ARD competition with the Debussy Wind Quintet. As a soloist, he has played in Europe, Japan, Korea, China, South America and the United States. He currently teaches at the Haute Ecole de Musique de Genève, in Switzerland, and at the National University of Seoul, Korea. In addition, he is the first clarinet of the Chamber Orchestra of Europe.
At 5:00 pm on Wednesday in the Sala de Cámara, Quantum Ensemble will give an outreach concert: a sensitive musical session for groups of young people that is carried out with the help of volunteers of Obra Social "la Caixa", an institution that collaborates with Auditorio de Tenerife's Education and Social Department.
Simultaneously, another activity of this department will take place: the second theoretical session of the Taller de Comunicación Didáctica para la Música [Workshop on Didactic Communication for Music], that includes teaching resources, a talk and presentation by Belén Otxotorena, who is an actor, narrator and dramatization teacher. The lesson will be put into practice the following day, Thursday the 13th at 11:00 am in the Sala de Cámara, with 300 students coming from seven secondary schools in the municipalities Arafo, Arona, Los Realejos, Puerto de la Cruz and Santa Cruz de Tenerife.