Sinfónica de Tenerife start their outreach programme with the concert Suena… ¡El Circo!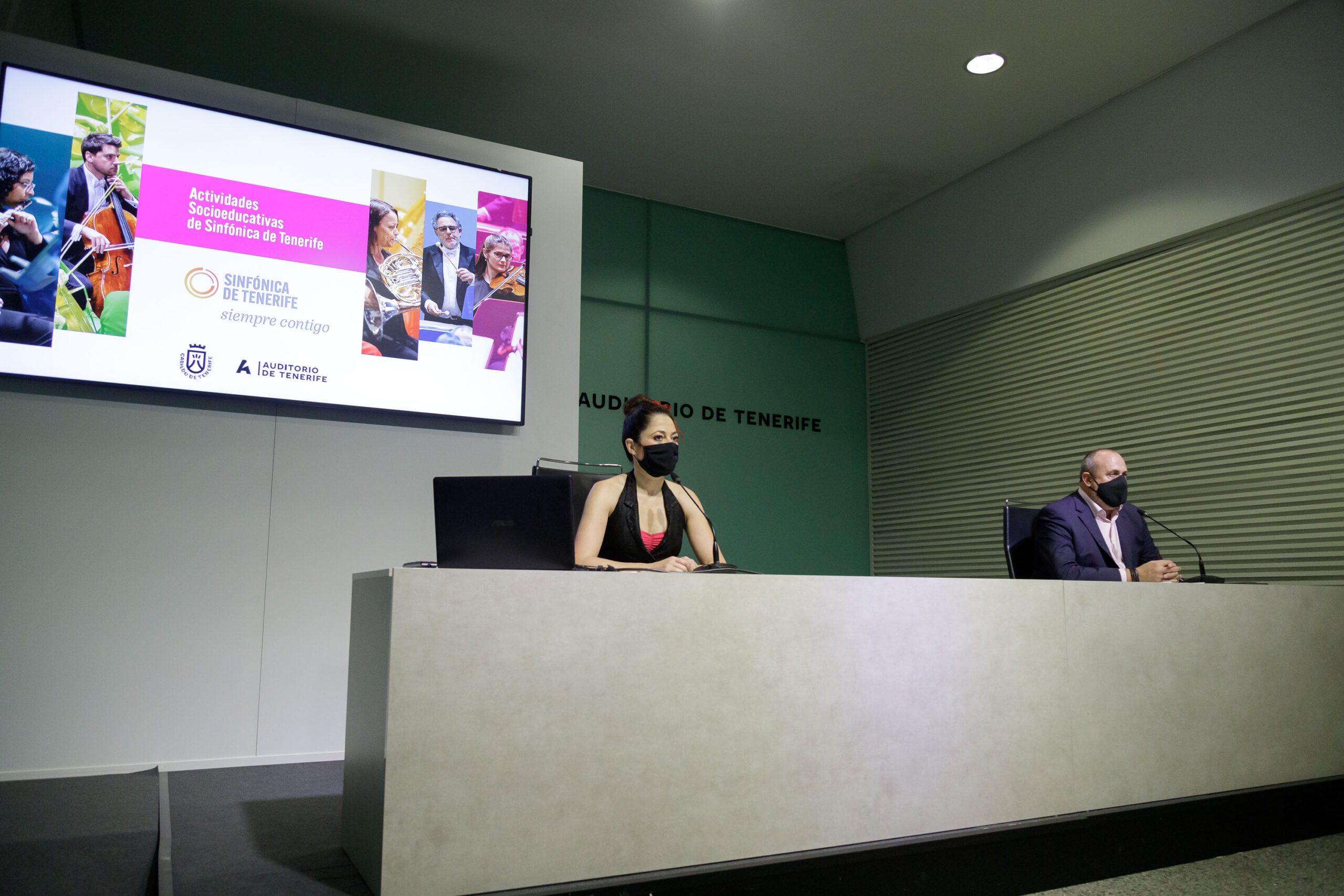 The ensemble presented a new Música Abierta programme, an initiative that will visit public health centres and Tenerife II
Through the Sinfónica de Tenerife, Cabildo de Tenerife's Department of Culture, run by councillor Enrique Arriaga, has started a new outreach programme with the concert Suena… ¡El Circo! Apart from a school and family programme, the ensemble will visit public health and old people's homes under the Instituto Insular de Atención Social y Sociosanitaria IASS, as well as the Tenerife II prison in November. The programme was presented today at a press conference held in Auditorio de Tenerife
The councillor of Culture, Enrique Arriaga, highlighted "the Cabildo de Tenerife's absolute commitment to culture and Sinfónica de Tenerife's will to serve the community through a musical immersion with special collectives". In this regard, Arriaga pointed out "the fundamental role this type of activities have in a social and health situation like the one we're currently experiencing"; since, according to him, "they bring joy back to the young and the elderly through music".
Sinfónica de Tenerife's collaborator for outreach activities, Ana Hernández-Sanchiz, stated that "the increasing demand has allowed us to take the cultural offer out of the usual circuits, even in such an atypical year". Hernández-Sanchiz stressed that "it's important to carry out this kind of activities with different types of groups", as they welcome these cross-disciplinary shows "with respect and excitement"; in addition to involving "parallel work in areas like the emotion management".
In addition to the press conference, a total of 60 people with functional diversity of the Plena Inclusión scheme attended the premiere of Suena… ¡El Circo! This show combines sound, imagination, and movement through a quintet made up of flute, oboe, clarinet, horn, and tuba, plus a trombonist and a percussionist. The musicians were joined by the voice of narrator Ana Hernández-Sanchiz and the juggling of El Gran Rufus. The programme included fragments by Hartmann, Dukas, Fucik, Mancini, Offenbach, Rota or Khachaturian.
The musical tale La historia de Felipe by Wolfgang Hartmann is the backbone of a concert featuring other works set in the circus world that have been adapted for a wind and percussion group.
Due to the health situation caused by COVID-19, concerts for school children will be done through a new method that includes a recording to be made on Friday, 13 November. This audiovisual work comes with Learning Resources that will be delivered to the schools wishing to do classroom work with them.
Other projects during the season include two programmes for students and families scheduled for February and May titled Cuando el río suena…música lleva and Beethoven y otros héroes, respectively.
The Cabildo de Tenerife is committed to offering a first-rate cultural programme that is available to all kinds of audiences, especially the young, through innovative, cross-disciplinary shows. In the 2019/20 season more than 2,000 schoolchildren from 28 centres of 8 municipalities on the island took part.
Tickets for the Conciertos En Familia on Thursday, the 12th and Saturday, 14 November are sold out. New similar concerts are scheduled for the second part of this season.
Through Música Abierta, a Sinfónica de Tenerife ensemble made up of violins, viola, cello and flute, will visit the Centro Penitenciario Tenerife II on 24 and 25 November. A day later, they will play at the CAMP Reina Sofía in Güímar and at the Residencia de Mayores in Ofra. The series ends on Friday, 27 November at the Hospital Ntra. Sra. de los Dolores en San Cristóbal de La Laguna and at the Hospital de la Santísima Trinidad en Icod de Los Vinos.
This musical option, with narrator Ana Hernández-Sanchiz, brings together works from different periods and styles including authors like Foster, Boccherini or Mozart.