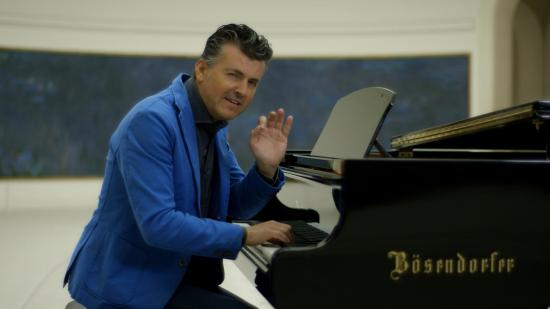 Ramón Gener
Informative performance
Opera/Ópera de Tenerife
Auditorio de Tenerife (Chamber Hall)
The Auditorio de Tenerife is bringing the musician and cultural disseminator Ramón Gener to decipher the 2023-2024 season of the Ópera de Tenerife in an enjoyable and familiar way.
A devotee of music and communication, Ramón Gener, author of Si Beethoven pudiera escucharme, El amor te hará inmortal, Beethoven, un músico sobre un mar de nubes, This is Opera and This is Art, among others, is coming to the Auditorio de Tenerife to reveal the ins and outs of the new season of Ópera de Tenerife.
This great disseminator of music and art will outline the different perspectives from which each title of the season can be discovered: feelings, music, themes, and characters... This is an opportunity for everyone who wants to discover more and for those who have never dared to come to an opera.
Ramón Gener, born in Barcelona, holds a degree in Humanities and Business Studies. He began his studies as a musician aged 6 at the Higher Conservatoire of Music of the Liceu, training which he completed later with the pianist Anna Maria Albors.
Through a recommendation from the soprano Victoria de los Ángeles he began to study singing under her supervision. He completed his vocal studies in Warsaw with the baritone Jerzy Artysz and in Barcelona with the tenor Eduard Giménez.
After a career lasting several years as a baritone, he stopped singing and began a new stage as a musical disseminator offering conferences on opera, "classical" music, and art.
The impact of these conferences led him to the world of television. First, at a regional level on TV3 with the programme Òpera en texans, and then nationally and internationally with programmes such as This is Opera, This is Art and 200, una noche en el Prado. The programmes have been recorded in Spanish and English, and have been broadcast and continue to be broadcast in many countries worldwide.
On the radio he collaborates on the programme No es un día cualquiera on Spanish National Radio (RNE).
He has published three books: Si Beethoven pudiera escucharme (2013), El amor te hará inmortal (2016) and Beethoven, un músico sobre un mar de nubes (2020).
He is currently continuing with his conferences, classes, and contributions to RNE. Likewise, he is immersed in the preparation of his new TV programme and his new book.
The meetings will be held in the Chamber Hall at 7:30 p.m.:
Presentation of the opera season 'Universo Ópera': 07/06/2023
María Moliner: 04/10/2023
Manon: 07/11/2023
Samson et Dalila: 28/11/2023
Trouble in Tahiti: 17/01/2024
Rusalka: 21/02/2024
Before and after the conference, the Agapea bookshop will set up a stand in the hall of the Auditorium where books by Ramón Gener, who will be signing copies at the end of the event, will be available for purchase.
The price for the general public is eight Euros and, for pass holders, there is a discount of 50% which reduces the cost of the ticket to four Euros.
Access is only allowed to children over five years of age.
For further information, please check the general purchase terms and hall conditions.
If you have any questions while purchasing your tickets, you can write to This email address is being protected from spambots. You need JavaScript enabled to view it. or call 922 568 625 from Monday to Friday from 10:00 a.m. to 2:00 p.m., except for public holidays.
Subscribe to our Newsletter