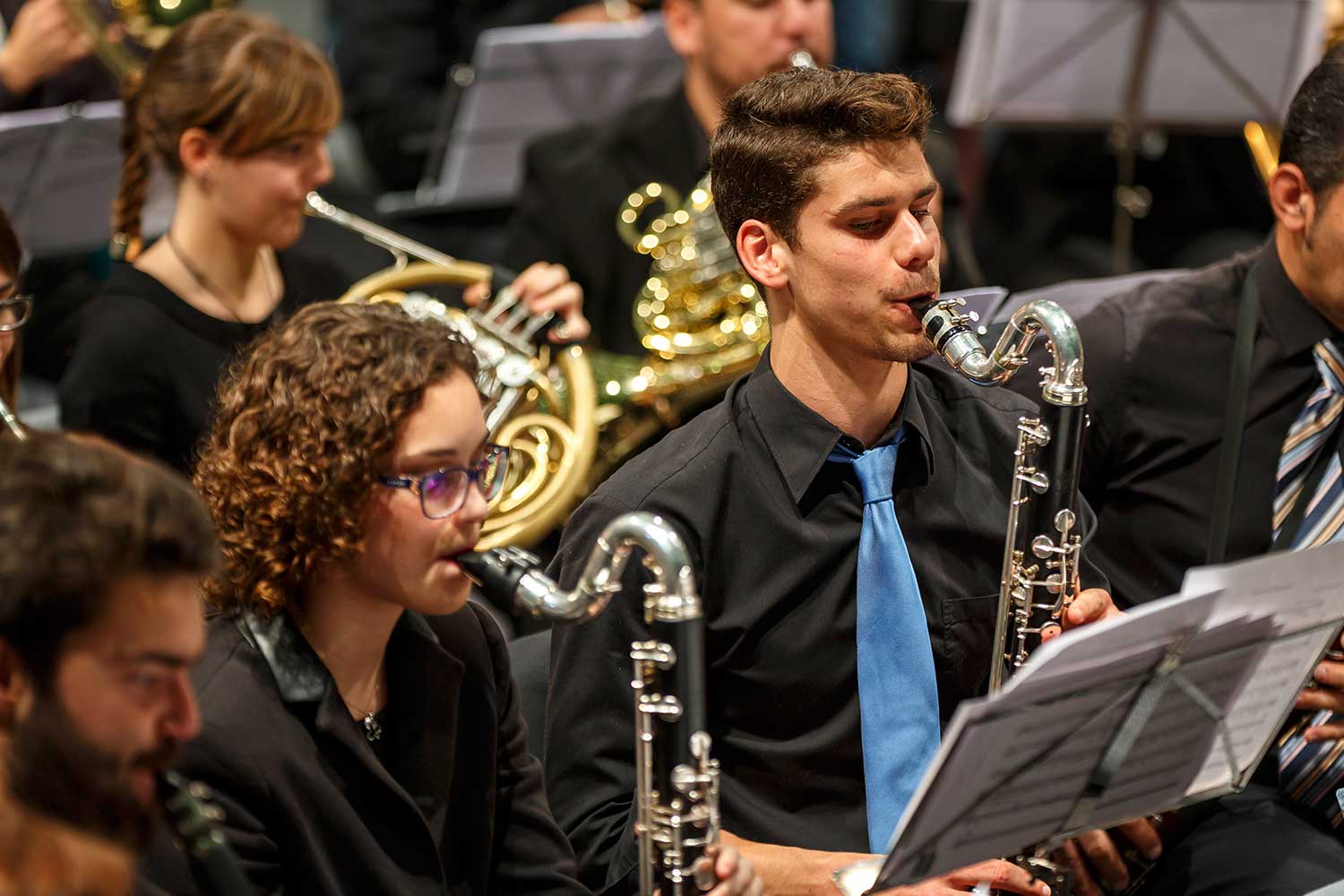 Resident artists
Auditorio de Tenerife is a meeting point for artists from different fields like dance or music, who fill the spaces with inspiration and talent. Groups like Tenerife Danza, devoted to reflecting on movement; or Quantum Ensemble, dedicated to contemporary music from an open-minded standpoint, are resident at the Auditorio. The same goes for Tenerife Symphony Orchestra which, with over 80 years of experience, gets hold of the Symphony chamber every Friday. We also welcome regular visits from singers of all genres and especially, dancers in search of their own place to develop their full potential and find new means of expression through research.
Commissioned Work
In "La redención del hombre" (scheduled package7), the OST presents a piece by Canaries composer Dori Díaz Jerez, Prisma, commissioned by Fundación SGAE and AEOS, thus continuing the OST tradition of looking after new work. In the last seasons we have had pieces like eCosmos, by Emilio Coello Cabrera (2014/15 season), premiered in schedule package 15, and Chigaday, by Gustavo Díaz Jerez, also premiered in schedule package 15 of the 2015/16 season.
International opera singing competition
One of the main goals of Tenerife International opera singing competition (which in its fourth year held in the 2016/17 season was won by Russian Julia Muzychenko) is for participants to have the chance of displaying their artistic value. The competition becomes an effective means to achieve a more successful professional development of higher artistic quality.
This format is supported by the collaboration of an international jury made up of reputed professionals with wide experience in this type of competitions.
Young critics
A new programme to allow young people aged 15 to 21 to see and analyse the different artistic and cultural proposals available in Tenerife. With this new experience, some fifteen youths can participate in workshops to meet companies and art or music groups to analyse shows including genre, contents and means of expression.
The idea behind the programme is to create a group of young people –through active participation- that will be part of the scheduling of the Culture Office of Cabildo de Tenerife. Participants attend certain cultural events, with the collaboration of guest artists, who add information to develop critical approaches resulting from these meetings and shows.
Young Choir
The Young Choir was set up in May 2016 as part of the Learning and Community section of Auditorio de Tenerife and is in tune with the Tenerife 2030 Scheme. It is made up of 42 singers aged 15 to 21 and directed by Roxana Schmunk. It also has the support of the choir Camerata Lacunensis, their godparents, who accompanied them in their first performance in December 2016.
A year on, the group now has a performance schedule in both institutional and cultural events, singing in conventional and non-conventional venues, for example at the Cabildo de Tenerife Gold Medal Awards to different institutions and personalities. They also take part in different activities in the city of Santa Cruz de Tenerife.
The Auditorio de Tenerife Young Choir received two awards at the Lisbon Verao Choir Festival, which took place from 23 to 26 June 2017: they were awarded the Primer Gold in their section (under 25) and the Jury's Special Prize for their expressive singing. Recently they won the Canaries Choral Singing Competition, which was held within the 2nd Canaries Music Week (10-18 November 2017).