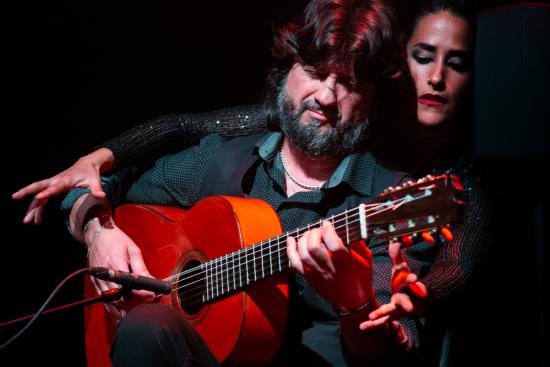 Ended
Caminos
'Caminos', a concert by Juan Gómez 'Chicuelo'
Music/Jazz
Auditorio de Tenerife (Sala de Cámara)
As part of its Chamber Music Cycle, the Auditorio de Tenerife has programmed the concert Caminos by Juan Gómez Chicuelo, a new project comprised of tangos, alegrías, bulerías and granaínas, with an extraordinary group that opens up new sound pathways in flamenco.
The pure touch of Chicuelo, the delicate drums of David Gómez and the masterful cello of Martín Meléndez envelop the dance of Karen Lugo who, in turn, adds new forms by dancing on the slightest whisper. With no singing, box drum or palms, the repertoire of Caminos is created from stories with Flamenco rhythms. From a nana (Flamenco lullaby) to a tribute to Djiango Reinhart, the alegrías are transformed with the cello of Meléndez and the bulerías with the drums of Gómez. The show combines freshness, strength and art, and conveys it with the same naturalness as the connection that is created on stage between the four artists.
Juan Gómez Chicuelo, guitar
Karen Lugo, flamenco dancer (bailaora)
Martín Meléndez, cello
David Gómez, percussion
"Indeed, there is something technological in Karen Lugo's dance, who glided on stage at once flamenco and robotic, with a tremendously human and digital flow at the same time, as if modelled in 3D. There is something futuristic in Chicuelo's crystalline touch. In addition, David Gómez plays with precision and discretion, an ideal counterpoint to the exuberance of Martín Melendez's cello. Although this is not the future, at least it is something quite opposed to nostalgia or reverence for the past".
Monge, Álvaro (2021)
Access is only allowed to children over five years of age.
For further information, please check the general terms and purchase conditions.
If you have any questions while purchasing your tickets, you can write to This email address is being protected from spambots. You need JavaScript enabled to view it. or call 922 568 625 from Monday to Friday from 10:00 a.m. to 2:00 p.m., except for public holidays.
Subscribe to our Newsletter