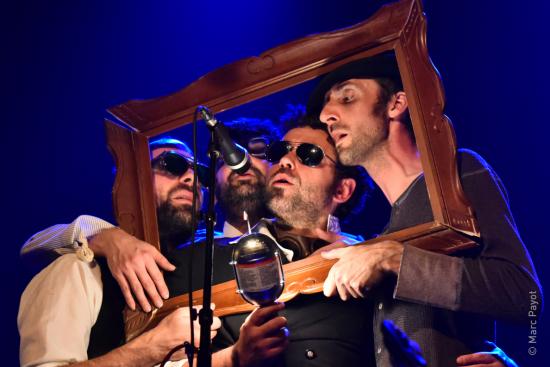 Length
80 min. + 20 min. de descanso
Music/Ciclo de Cámara
Auditorio de Tenerife (Sala de Cámara)
Auditorio de Tenerife presents Perfoms Tom Waits, a show by L'orchestre d'hommes-orchestres (The orchestra of orchestra-men).
Armed with the colourful repertoire of uncategorizable American music icon Tom Waits, Quebec City's L'Orchestre d'Hommes-Orchestres offer an event that is more of a carnival show or musical circus than just a concert. Using nearly 100 objects and invented instruments on stage, the six frenzied multi-instrumentalists perform in front of each other and over each other, trading instruments and vocals, putting their fingers between the strings, spokes in their wheels, ropes round their necks.
Creation: L'orchestre d'hommes-orchestres
Text and music: Tom Waits, Chuck E.Weiss, Kathleen Waits-Brennan
Lighting concept: Marc Tétreault
Operated by: Philippe Lessard-Drolet
Performance: Bruno Bouchard, Gabrielle Bouthillier, Jasmin Cloutier, Simon Elmaleh, Patrick Ouellet, Danya Ortmann
Sound enginer and technical director: Frédéric Auger
Access is only allowed to children over five years of age.
For further information, please check the general purchase terms and hall conditions.
If you have any questions while purchasing your tickets, you can write to This email address is being protected from spambots. You need JavaScript enabled to view it. or call 922 568 625 from Monday to Friday from 10:00 a.m. to 2:00 p.m., except for public holidays.
Subscribe to our Newsletter