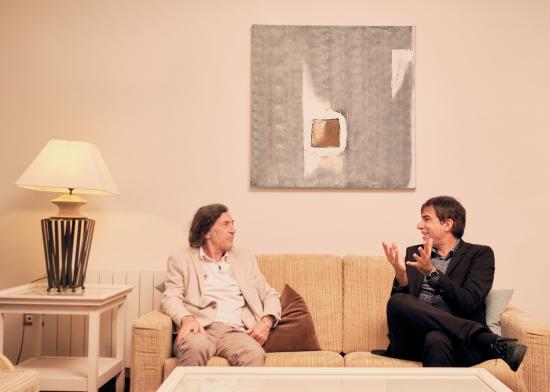 Music/Jazz
Auditorio de Tenerife (Sala de Cámara)
As part of its commitment to jazz, the Auditorio de Tenerife is offering the concert "La vida en el agua" (Life in Water) by Alexis Alonso and Jorge Pardo.
The renowned Canarian pianist and composer Alexis Alonso and one of the great jazz and flamenco legends in Spain, Jorge Pardo, have joined forces to create an intimate show as a duo that exudes sensibility, strength and emotion from the first note.
The brilliance of the flautist and saxophone player from Madrid accompany the beauty of the compositions of Alexis Alonso and his magic on the piano. The seed of this partnership lies in the collaboration of Jorge Pardo in one of the songs of the latest piano solo project of Alexis Alonso, Love in Floating Bridges.
Love in Floating Bridges (2021) also had institutional support for its production from the Canarian Institute of Cultural Development (ICDC) and its first single released from the album is indeed the duo with Jorge Pardo, La vida en el agua.
The regular characteristics of the musical creations of Alexis Alonso are exuded in abundance in Love in Floating Bridges (beauty, creativity, emotion…). The project musically reflects on what has happened on a human level during these very difficult times and in addition to Pardo it also involved another luxury collaboration, the pianist Marco Mezquida.
Returning to the duo Alexis Alonso–Jorge Pardo, the compositions created by Alexis Alonso for Love in Floating Bridges are, along with a repertoire created by both musicians, the central core of this really beautiful project that is taking on a life of its own in 2022.
Access is only allowed to children over five years of age.
For further information, please check the general terms and purchase conditions.
The ticket purchase also entails the user's unconditional acceptance, without exception or reservation whatsoever, of all measures implemented by the Auditorio de Tenerife to combat the spread of the pandemic, such as the correct use of masks. You can check out all the measures here: https://bit.ly/3haP4fH.
If you have any questions while purchasing your tickets, you can write to This email address is being protected from spambots. You need JavaScript enabled to view it. or call 922 568 625 from Monday to Friday from 10:00 to 14:00, except for public holidays.
Subscribe to our Newsletter