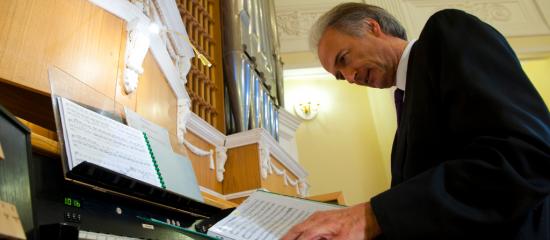 LOVE, SUFFERING AND MYTH
Organ concert
Music/Organ
Auditorio de Tenerife (Sala Sinfónica)
As part of its organ concert cycle, the Auditorio de Tenerife is offering, in collaboration with the San Miguel Arcángel Royal Canarian Academy of Fine Arts (RACBA), a matinee with the organist Heinrich Walther.
It has always been said that César Franck (1822-1890) is the musician of late fruits, as although his catalogue is extensive and he has many and varied works dotted throughout his career, there is no doubt that those of the last decade are the most notable and enduring. And among them the symphonic poem Psyché et Eros for orchestra and choir of 1887-88 stands out, based on a text by Sicard and Foucaud, in turn inspired by the Metamorphoses of Apuleius, but having said that, with certain modifications. Divided into seven movements with the tempo lento dominating in four of them, it lends itself like few other scores to transcription for organ, due to its mellow, legato sounds led by the dense string sections, which describe the story with sensual and even voluptuous sounds. It exudes the purest romanticism marked by melodies with broad arches and marked chromaticism in the harmony that moves us to the core and we suffer with Psyché for his unrequited love for Eros or we are pleased with her for the forgiveness granted and the sublimation of their love at the end of the score.
Despite being a work full of beauty, it has not been performed a lot and I am not even sure if it has ever been performed on this island, therefore it is a great chance for music lovers to be able to hear it in this organ version being offered by Heinrich Walther, which will surely not disappoint, due to his great experience with these kinds of projects transcribing symphonic music for his instrument.
And in the year in which Franck composed his Psyché, the Basque composer José María Usandizaga (1887-1915), who died young, was born in San Sebastian. After studying in his homeland, he moved to Paris to further his studies at the famous Schola Cantorum which was run by the no less famous Vincent D'Indy. And it is from those years in the French capital that this Suite in A major dates to, its four traditional movements, Prélude, Menuet, Sarabande and Finale (in the form of a Gigue) brings us closer to the academic world of the Schola, filtered through the freshness and vigour of its author who was only 17-years-old. A worthy prelude to the great symphonic monument of Franck.
Dr. Rosario Álvarez Martínez
José María Usandizaga (1887-1915)
Suite in A major, Op. 14
(Transcription by Heinrich Walther from 2014/15)
Prelude
Menuet
Sarabande
Finale
César Franck (1822-1890)
Psyché, Symphonic Poem FWV 47
(Transcription by Heinrich Walther from 1990, 2015 and 2018)
Le sommeil de Psyché (Lento)
Psyché enlevée par les Zéphirs (Allegro vivo)
Les jardins d'Eros (Poco animato, Lento)
Psyché et Eros (Allegretto modéré)
Le chatiment (Quasi Lento),
Souffrances et plaintes de Psyché (Lento)
Apothéose
Access is only allowed to children over five years of age.
For further information, please check the general terms and purchase conditions.
If you have any questions while purchasing your tickets, you can write to This email address is being protected from spambots. You need JavaScript enabled to view it. or call 922 568 625 from Monday to Friday from 10:00 a.m. to 2:00 p.m., except for public holidays.
Subscribe to our Newsletter