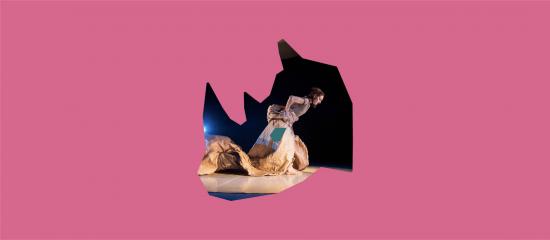 Malebable
A show for children aged 0 to 5
Dance/FAM
Auditorio de Tenerife (Sala de Cámara)
The Auditorio de Tenerife presents Malebable, a show by Helena Lizari as part of the FAM Primavera Festival.
Malebable is a sensory movement show specifically created for children aged 0 to 5 using stimulation and imagination. The body and objects dance together creating a series of poetic images. It is a journey through sensations, the senses. An adventure of perception through textures, touch. It is elastic, soft, malleable, flexible, transformable, solid…
Every show is a journey. Malebable leads you through objects and textures to an imaginary world created by two characters and driven by the engine of imagination. The characters gradually transform according to the materials that are brought onto stage, thus creating a guiding thread in the narration. Malebable is a game of changing textures, a game of gazes. Does the transformation of the object change the gaze? Or does the gaze change the object you are looking at? A game of change, a game of imagination in movement. What can there be inside a piece of paper? Is it, in reality, a piece of paper or a mountain? Can a piece of plastic and a piece of paper establish a dialogue? Is elasticity infinite? Or "engaging"? Suggestions that linger in the air, inviting the child to think and intuit through their imagination.
Concept and direction: Helena Lizari
Creation and interpretation: Junyi Sun, Helena Lizari
Costume: Pepa Martínez
Set design: Miquel Ruiz / Helena Lizari
Lighting and sound: Carlos Parada
Assistant director: Koos Vos and Ana Eulate
Photography: Alessia Bombaci
Video: Catarina Costa
Malebable is a co-production by the Mercat de les Flors in collaboration with the El Més Petit de Tots Festival and L'estruch de Sabadell-Adjuntament de Sabadell.
The seats next to the stage are reserved for the target audience of this show (children from 0 to 5 years old accompanied by a maximum of 2 adults). Please purchase your seats accordingly (pink sector for the target audience and green sector for the rest).
Each child can be accompanied by a maximum of two adults.
Children who have not reached the age of two on the day of the show will not need to purchase a ticket if they are not going to occupy a seat. When accessing the hall, you will be required to have a document proving the minor's age (ID card or family book). Pushchairs and prams are not allowed in the hall.
For further information, please check the general terms and purchase conditions.
The ticket purchase also entails the user's unconditional acceptance, without exception or reservation whatsoever, of all measures implemented by the Auditorio de Tenerife to combat the spread of the pandemic, such as the correct use of masks. You can check out all the measures here: https://bit.ly/3haP4fH.
If you have any questions while purchasing your tickets, you can write to This email address is being protected from spambots. You need JavaScript enabled to view it. or call 922 568 625 from Monday to Friday from 10:00 to 14:00, except for public holidays.

Subscribe to our Newsletter