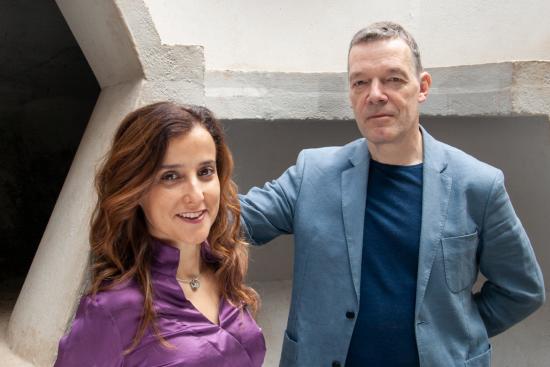 Mystik
Recital for two pianos
Music/Chamber Music Cycle
Auditorio de Tenerife (Sala de Cámara)
Auditorio de Tenerife offers, within its Chamber Music Cycle, the concert Mystik, a recital for two pianos.
Johann Sebastian Bach and Olivier Messiaen join hands in this recital whose common denominator is music at the service of spirituality and religious solemnity. Just over 200 years separate the life trajectory of both composers, united in this programme by their unconditional mysticism.
It begins with three transcriptions of the choral preludes and cantatas written by the master from Leipzig and arranged for piano four hands by the Hungarian composer and pianist György Kurtág, all of them a faithful reflection of his unwavering faith and his transcendent vision between the earthly and the spiritual. Olivier Messiaen, for his part, manifests a mystical sense of communion with nature. Written in 1943 during the occupation of France, Visions de l'Amen consists of seven ecstatic meditations for two pianos on biblical verses ranging from Genesis to Revelation. A driving theme that Messiaen himself called "the theme of creation" acts as a unifying element that runs through the entire work, from its beginning, Amen de la création, with grandiose and solemn chords, to Amen de la Consommation in a long chorale of final glory.
Two composers who reaffirm the human and spiritual values of music through a strongly polyphonic language, solid sonorities and a moving expressiveness with two identical instruments, where it is not the contrast of two different timbres that comes into play, but the dialogue between the human being and the divinity.
Johann Sebastian Bach (1685-1750)
(Transcript by György Kurtág)
Das alte Jahr vergangen ist BWV 614

Gottes Zeit ist die allerbeste Zeit (Sonatina BWV 106) - Actus tragicus
Olivier Messiaen (1908–1992)
Visions de l'Amen
-Amen de la Création
-Amen des étoiles, de la planète à l'anneau
-Amen de l'agonie de Jésus
-Amen du Désir
-Amen des Anges, des Saints, du chant des oiseaux
-Amen du Jugement
-Amen de la Consommation
Access is only allowed to children over five years of age.
For further information, please check the general terms and purchase conditions.
If you have any questions while purchasing your tickets, you can write to This email address is being protected from spambots. You need JavaScript enabled to view it. or call 922 568 625 from Monday to Friday from 10:00 a.m. to 2:00 p.m., except for public holidays.
Subscribe to our Newsletter