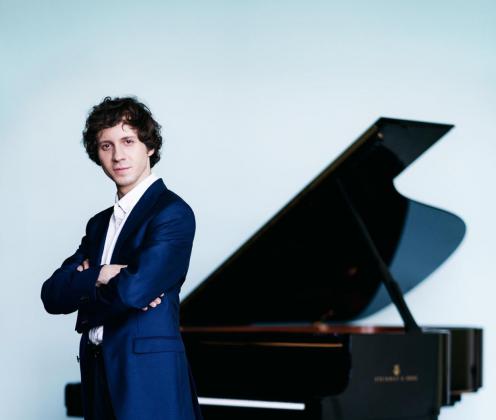 Length
95 min. aprox. + 20 min. of intermission
Music/Chamber Music Cycle
Auditorio de Tenerife (Sala de Cámara)
The Chamber Music Cycle of Auditorio de Tenerife presents a concert by the renowned Russian pianist Rafal Blechacz.
The former winner, in 2005, of the prestigious Chopin Competition in Warsaw (the second Polish pianist in history, only preceded by Krystian Zimmerman thirty years earlier) will open this recital with one of the Partitas by Bach that is most expressive and full of contrasts. The austerity, melancholy and lyricism of his dances stand out, in contrast with the rhythmic vigour of the Rondeaux and the last Capriccio. Melodic and rhythmic energy define the character of the two works by the master from Bonn chosen for this programme. The sonata number 5, composed in 1796, is an early example of the unique symphonic style that Beethoven would develop. His organic means of composing pre-empts that of his fifth symphony and the 32 Variations, also in C minor, flow between one another strongly and continuously, offering a real display of piano playing technique. The programme continues with another of the iconic cornerstones of the piano repertoire, the Prélude, Fugue et Variation op. 18 by César Franck, before concluding with the last sonata by Frédéric Chopin. This work does not abandon the dramatic structure inherited from the classics, but it contains all the essence of romantic music par excellence. Through these four major composers, the pianist Blechacz will go on a journey through piano literature with a common denominator: classical forms approached through different harmonic languages.
Johann Sebastian Bach (1685-1750)
Partita No. 2 in C minor, BWV 826
Ludwig van Beethoven (1770-1827)
Sonate No. 5 in C minor, Op. 10 No. 1
-Allegro molto e con brio
-Adagio molto
-Finale: Prestissimo
Ludwig van Beethoven (1770-1827)
32 Variations in C minor, WoO 80
-Intermission-
César Franck (1822-1890)
Prelude, Fugue and Variation in B minor, Op. 18
Frédéric Chopin (1810-1849)
Sonate No. 3 in B flat minor, Op. 58
-Allegro maestoso
-Scherzo
-Largo
-Finale. Presto, non tanto
During the purchase process, the user will have to choose between one or two pre-set seats previously distributed throughout the hall. Please contact the box office if you want to buy a single ticket, and the pre-set seats are sold out. If you have any questions while purchasing your tickets, you can write to This email address is being protected from spambots. You need JavaScript enabled to view it. or call 922 568 625 from Monday to Friday from 10:00 to 14:00, except for public holidays.
The ticket sales close 15 minutes before the start of the show to finish setting up the hall and ensure that our audience has a completely safe experience.
Access is only allowed to children over five years of age.
For further information, please check the general terms and purchase conditions.
Ticket purchase also entails the user's unconditional acceptance - without exception or reservation - of all measures implemented by the Auditorio de Tenerife to combat the spread of the pandemic, without exception or reservation whatsoever, such as the correct use of masks and the attendance at the event only with people you live with. You can check out all the measures here: https://bit.ly/3haP4fH.
Subscribe to our Newsletter