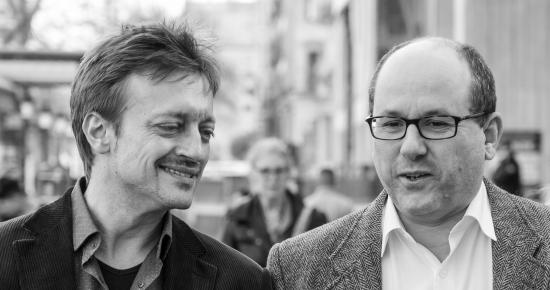 Elegance, politics, denunciation and epithalamium
To Jordi Cervelló in memoriam
Length
110 min. (including 20 min. intermission)
Music/Chamber music cycle
Auditorio de Tenerife (Sala de Cámara)
As part of its Chamber music cycle, the Auditorio de Tenerife is offering the concert Elegancia, política, denuncia y epitalamio. A Jordi Cervelló in memoriam, by Iturriagagoitia-Bagaría Duo.
Elegance, politics, denunciation and epithalamium
In general, concert programmes try to explain what the works that are going to be performed have in common. Now, however, we have the atypical case where the works are very different from one another and show more of an attraction of polar opposites than through sympathetic vibration. Hence the four words of the title, concepts that have little or nothing to do with one another.
The first sonata by Mozart is part of a group that the composer, who had recently settled in Vienna (in Vienna at last!) devoted to a female pianist. They were new in their genre, as they demanded two performers of an extremely high level, and show the composer's clear desire to amaze the new audience of the city, squeezing the most out of his endless creativity packed with ideas. Mozart in his purest form, perfection, surprise and elegance.
More than a century later, Janáček wrote this sonata for violin and piano, and it was the only one that he published for this group. This sonata is framed by the context of the First World War and the pro-Russian position of the Moravia region, which aimed to come under Russian control and get out of German rule. Doesn't the world spin? With a very intense and dramatic character, it cannot be said that this is not a politicalwork.
The subtitle of the concert is a declaration -of love in this case- for the composer Jordi Cervelló, who passed away in September 2022... We were linked by a great friendship. This duo is a rich mixture of styles, a constant dialogue with a dialectic that ranges from the most passionate and dramatic to the most ethereal and sublime. Who does not hear Shostakovich in this sonata? Who does not feel the denunciation faced with the excesses of the world? A fighter up until his death, Cervelló did not stop condemning everything that seemed unfair to him, plainly and without any shame. With this work, we are now offering our sincere tribute to him.
To finish the concert, the sonata of Cesar Franck will be performed, one of the most inspired works of chamber music of the 19th century. The work was created as a wedding present for the great violin player Eugène Ysaÿe, hence the epithalamium, and it exudes romanticism, delicacy, love and harmony. It could be said that its style is the perfect blend of German form and French improvisation, a synthesis of the romantic spirit that had finally achieved perfection. The sonata has been transcribed for endless instruments and chamber groups. The four movements are very different to one another, like the entire programme, but they share some thematic elements that give overall unity to the work.
There isn't a single element in common between these sonatas, however, we are convinced that it makes all the sense in the world to programme them together. What will it be?
Iturriagagoitia-Bagaría Duo
Images: ©May Zircus
Wolfgang Amadeus Mozart (1756-1791)
Violin Sonata No. 25 in F major, KV377 (374e)
Allegro
Theme & Variations. Andante
Tempo di Menuetto
Leoš Janáček (1854-1928)
Sonata for Violin and Piano
Con moto
Ballada
Allegretto
Adagio
Jordi Cervelló (1935-2022)
Duo-Sonata for violin and piano
Allegro appassionato
Quasi un lamento
Scherzando - Allegro
-Intermission-
César Franck (1822-1890)
Sonata in A major for Violin and Piano, FWV 8
Allegretto ben moderato
Allegro
Recitativo-Fantasia: Ben moderato
Allegretto poco mosso
Access is only allowed to children over five years of age.
For further information, please check the general terms and purchase conditions.
If you have any questions while purchasing your tickets, you can write to This email address is being protected from spambots. You need JavaScript enabled to view it. or call 922 568 625 from Monday to Friday from 10:00 a.m. to 2:00 p.m., except for public holidays.
Subscribe to our Newsletter