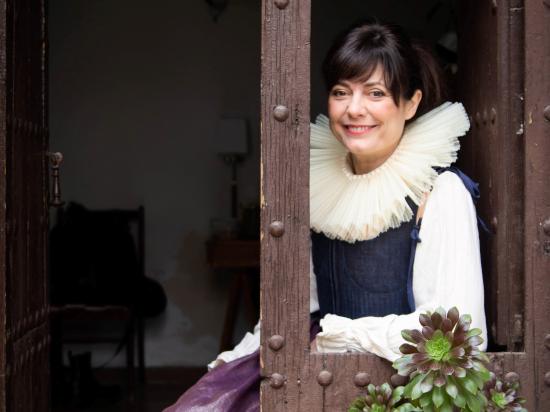 Ended
Al son de Cervantes
Family concert by the Tenerife Symphony Orchestra
2 Shows
19 Nov 11:00 h.and 19 Nov 12:30 h.
Music/Sinfónica de Tenerife
Auditorio de Tenerife (Sala de Cámara)
"Al son de Cervantes" ("To the Beat of Cervantes") is a family concert offered by the Tenerife Symphony Orchestra.The 11:00 a.m. session is for babies only and the 12:30 p.m. session is open to all and recommended for children over three years of age (full information in the "Tickets" section).
Tickets available for the baby session at 11:00 am. Session for children over three years old at 12:30, sold out.
Two comedians from the Golden Age, called La Cervantona and El Cervantillo, are in charge of bringing the different episodes of Don Quixote a bit closer to the little ones –episodes that serve as the basis for Telemann's musical work–, as well as guiding them in their active listening. Through poetry, juggling, and humour, they will fulfil their mission of narrating, evoking, and inviting listening while involving the audience together with the musicians of the symphony.
Music: G. F. Telemann and J. B. Lully
Script and narration: Ana Hernández Sanchiz
Circus performer El Gran Rufus
Musicians: String ensemble, Tenerife Symphony Orchestra and harpsichord
Jean Baptiste Lully (1632-1687)
Chaconne des Scaramouches of "Le Bourgeois Gentilhomme"
Georg Philipp Telemann (1681-1767)
Burlesque de Quixotte
-Overture
-Don Quichotte's Awakening
-Attack of the Windmills
-Sighs Of Love For Princess Dulcinea
-Sancho Panza Tossed In A Blanket
-Rocinante's gallop
-Sancho Panza's donkey galop
-Don Quixotte at Rest
→The 11 am session is for babies between 0 and 3 years of age The tickets can be purchased at the Auditorium's box office from Monday to Friday from 10.00 a.m. to 2.00 p.m. and Saturdays from 10:00 a.m. to 2:00 p.m., except for public holidays. Otherwise write us an email at This email address is being protected from spambots. You need JavaScript enabled to view it. or dial 902 317 327 during the same opening hours as the box office. This concert is specifically for babies from 0 to 3 years of age, and they may be accompanied by a maximum of two adults. Children who have not reached the age of three on the day of the show will not need to purchase a ticket if they are not going to occupy a seat. When accessing the hall, you will be required to have a document proving the minor's age (ID card or family book). Pushchairs and prams are not allowed in the hall.Sold out.
→The 12:30 pm session is open to all the family and is recommended for children over three years. The tickets can be purchased through the website www.auditoriodetenerife.com, at the box office or dial 902 317 327 from Monday to Friday from 10.00 a.m. to 2.00 p.m. and Saturdays from 10:00 a.m. to 2:00 p.m., except for public holidays. Children who have not reached the age of three on the day of the show will not need to purchase a ticket if they are not going to occupy a seat. Pushchairs and prams are not allowed in the hall. Sold out.
For further information, please check the general terms and purchase conditions.
If you have any questions while purchasing your tickets, you can write to This email address is being protected from spambots. You need JavaScript enabled to view it. or call 922 568 625 from Monday to Friday from 10:00 to 14:00, except for public holidays.
Subscribe to our Newsletter