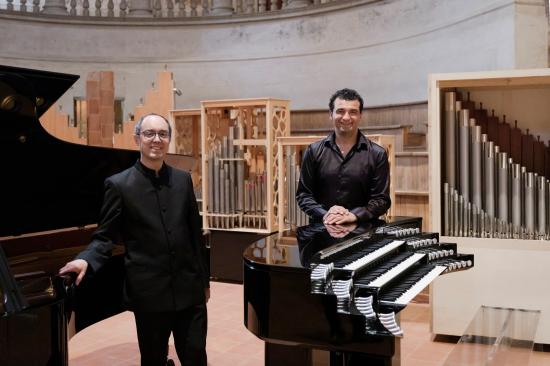 FROM BACH TO GERSHWIN
Symphonic piano and organ
Music/Ciclo de órgano
Auditorio de Tenerife (Symphony Hall)
As part of its organ concert cycle, the Auditorio de Tenerife is offering a matinee with the organist Paolo Oreni and the pianist Alessandro Marangoni.
The programme includes an unusual combination of piano and organ, which will play together like chamber and symphonic music at the same time, exploring all the timbric and colour possibilities of these two instruments, which are not normally heard or played together.

The programme begins with the Bach Concerto BWV 1052 in the Busoni version to move on to two pieces from the great solo piano repertoire by Chopin with the Scherzo No. 2. It will continue with the organ through the Prometheus of Liszt, in the version by Jean Guillou, maestro of Paolo Oreni and a great organist who has also played the organ of the Auditorio de Tenerife. The Italian composer Carlo Galante (from Milan) has written Gioachiniana, a work dedicated to the duo Marangoni-Oreni on themes by Rossini. These concert arias are very pleasant for the audience with a Spanish ending, in which the two instruments play blending into a single instrument. The concert concludes with the famous Rhapsody in Blue by Gershwin in a transcription for piano and organ by Marangoni and Oreni with a fascinating symphonic final. The duo Alessandro Marangoni and Paolo Oreni are trying to bring back the repertoire for piano and organ, and even commission contemporary composers to create new compositions for this duo
Johann Sebastian Bach (1685-1750)
(Transcr. by F. Busoni)
Concert for piano and organ in D minor, BWV 1052
Allegro
Adagio
Allegro
Frédéric Chopin (1810-1849)
Scherzo No.2 in B flat minor, Op. 31
Carlo Galante (*1959)
Gioacchiniana, concertante arias on themes by Rossini for piano and organ
Franz Liszt (1811-1886)
(Transcr. by Jean Guillou)
Prometeo, Symphonic Poem for Organ
George Gershwin (1898-1937)
(Transcr. by A. Marangoni and P. Oreni)
Rhapsody in blue for piano and organ
Access is only allowed to children over five years of age.
For further information, please check the general purchase terms and hall conditions.
If you have any questions while purchasing your tickets, you can write to This email address is being protected from spambots. You need JavaScript enabled to view it. or call 922 568 625 from Monday to Friday from 10:00 a.m. to 2:00 p.m., except for public holidays.
Subscribe to our Newsletter