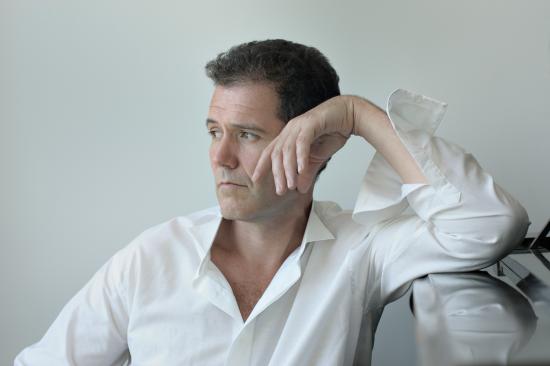 Inspiraciones trascendentales
Piano concert
Length
110 min. aprox.(including 20 min intermission)
Music/Ciclo de Cámara
Auditorio de Tenerife (Chamber Hall)
The Chamber Music Cycle of Auditorio de Tenerife presents the concert Inspiraciones trascendentales (momentous inspirations) by the pianist Sergei Yerokhin.
Inspiraciones trascendentales (momentous inspirations)
The great masters do not copy each other, but they inspire each other.

The recital will open with three iconic preludes by Debussy. At the beginning of the 20th century, Debussy surprises the world by introducing new scales into music that had never been heard before in classical music and gives rise to a new reality. Pictorial impressionism turns into acoustic impressionism. We will listen to "Mists", Feuilles Mortes (dead leaves) and the third of the preludes "The Gate to Wine", famous for Debussy being inspired by the postcard that master Falla sent him from Granada with the famous Moorish gate to the city. A whole world of sensations, of impressionist colours, of flights, of revolutionary reality.
Debussy was undoubtedly the genuine revolutionary of 20th-century music, with consequences that are still enduring in all our sonorous places.

Robert Schumann's Fantasy is one of the cornerstones of the piano of all time. And it could not be any other way. Written by the king of poetry as a tribute to Beethoven, dedicated in turn to his friend Franz Liszt without forgetting for a single bar his beloved Clara, this incredible architecture compels the performer and the audience to face something solemn and transcendent. It was written in three movements that cover Beethoven's life, including fragments from his lieder, symphonies and piano concertos. The sonata is, in a way, a musical biography of the genius of Bonn. The letter of profound gratitude that Liszt sent to Schumann after receiving the score has been preserved.

The second part of the concert is entirely devoted to Rachmaninov, the last of the great pianists/composers who could still afford to tour Russia and the USA internationally. Those were different times.
Sergei will tackle some reference preludes – which have nothing to do with Debussy's preludes – to finish with the Sonata No. 2. This piece is said to be reserved for pianists with a colossal technique, as the composer himself was. It premiered in 1913, and although Strawinsky, Busoni or Schöenberg had already broken some ground, Rachmaninov wrote an overwhelmingly post-romantic sonata, evidencing that the Beethovenian impulse was not yet over. The socialist revolution had not yet taken place, and personal, individual writing was still frowned upon; so Rachmaninov wrote music without slogans or strings attached. If he was tied to anything, it was to the Beethovenian legacy of self-referential music, where from an initial cell an entire sonata can be unravelled.

Debussy was inspired by Chopin while remaining Debussy. Robert Schumann was inspired by Beethoven while remaining Schumann. And Rachmaninov was inspired by Chopin and Beethoven while remaining Rachmaninov. Momentous inspirations are like climbing a mysterious stairway to the heavens of humanity.
Claude Debussy (1862-1918)
3 Preludes - Book 2 for solo piano, L.123
Brouillards (Fog)
Feuilles mortes (Dead Leaves)
La puerta del Vino (The Gate of Wine)
Robert Schumann (1810-1856)
Fantasie in C major, Op.17
Durchaus fantastisch und leidenschaftlich vorzutragen (Quite fantastic and passionately delivered; In the tone of a legend)
Mässig. Durchaus energisch (Moderate. Quite energetic)
Langsam getragen. Durchweg leise zu halten (Taken slowly. Keep quiet throughout)
-Intermission-
Sergei Rachmaninov (1873-1943)
Prelude in B minor, Op.32, No.10
Prelude in E Flat major, Op.23, No.6
Prelude in F major, Op.32, No.7
Piano Sonata No.2, Op.36
Allegro agitato
Non allegro
Allegro molto
Access is only allowed to children over five years of age.
For further information, please check the general terms and purchase conditions.
If you have any questions while purchasing your tickets, you can write to This email address is being protected from spambots. You need JavaScript enabled to view it. or call 922 568 625 from Monday to Friday from 10:00 to 14:00, except for public holidays.
Subscribe to our Newsletter