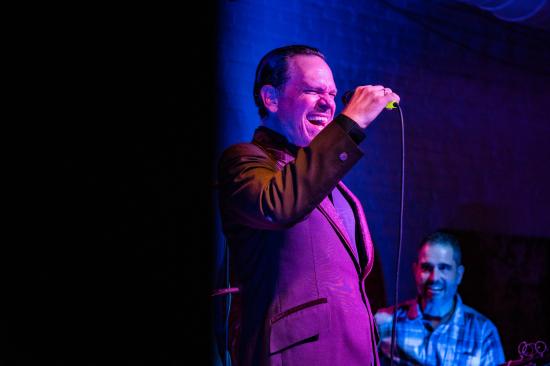 Kurt Elling
feat. Charlie Hunter
Music/Canarias Jazz & Más
Auditorio de Tenerife (Sala Sinfónica)
En su 32º edición, el Auditorio de Tenerife recibe varios conciertos del Festival Internacional Canarias Jazz & Más.
Reconocido por su singular combinación de swing robusto y perspicacia poética, el dos veces ganador de premios Grammy Kurt Elling se ha asegurado un lugar entre los vocalistas de jazz más importantes del mundo. El New York Times proclamó a Elling como "el vocalista masculino más destacado de nuestro tiempo". A lo largo de veinticinco años de giras y grabaciones, Elling ha ganado tres Prix du Jazz Vocal (Francia), dos premios Echo alemanes, dos premios Edison holandeses, y ha sido nominado a un premio Grammy quince veces. Lleva catorce años encabezando las encuestas de los críticos y lectores de DownBeat, y ha ganado doce premios de los periodistas de jazz como "Vocalista masculino del año".
La voz de Kurt Elling es reconocible al instante, abrazando a los oyentes con su cálido y rico barítono y recorriendo toda su gama de cuatro octavas como improvisador virtuoso y narrador convincente. The Guardian (Reino Unido) ha calificado a Kurt Elling como "una especie de Sinatra con superpoderes" y "uno de los mejores vocalistas de jazz de todos los tiempos".
Elling ha grabado y realizado giras con Branford Marsalis, Danilo Pérez, Stefon Harris, Fred Hersch, James Morrison y Charlie Hunter. Ha actuado en numerosas ocasiones con conjuntos más grandes como la Clayton/Hamilton Orchestra, la National Youth Orchestra (dirigida por Sean Jones), The Bob Mintzer Big Band, The BBC Concert Symphony (dirigida por Guy Barker) The Metropole Orkest (Holanda), The Irish Radio and Television Orchestra (dirigida por Brian Byrne), la Scottish National Jazz Orchestra y la WDR Orchestra and Big Band (Alemania).
The Wall Street Journal dijo: "Elling combina la autenticidad con una originalidad asombrosa". El Washington Post declaró que, "desde mediados de los años 90, ningún cantante de jazz ha sido tan atrevido, dinámico e interesante como Kurt Elling".
El dinamismo de Elling aumenta exponencialmente por el hecho de que genera constantemente nuevo material vocal escribiendo y grabando letras propias y definitivas para las composiciones de compositores de jazz fundamentales como John Coltrane, Keith Jarrett, Pat Metheny, Jaco Pastorius, Wayne Shorter y Joe Zawinul. Además, Kurt Elling ha colaborado en la creación de actuaciones multidisciplinares para el Teatro Steppenwolf de Chicago y la ciudad de Chicago. El Jazz At Lincoln Center se estrenó mundialmente The Big Blind, un musical de jazz completamente nuevo que Elling está escribiendo con su colaborador Phil Galdston ("Save The Best For Last"). El poeta Robert Pinsky declaró: "En el arte de Kurt Elling, la voz del jazz da una nueva presencia espiritual al antiguo, dulce y poderoso vínculo entre la poesía y la música".
La formación con la que actuará en el 32º Festival Internacional Canarias Jazz & Más la componen Kurt Elling (voz), Charlie Hunter (guitarra híbrida -guitarra + bajo), Kenny Banks Jr. (teclados) y Marcus Finnie (batería).
El Festival Internacional Canarias Jazz & Más pone a disposición del público dos abonos:
→ Abono Jazz: incluye los cuatro conciertos del festival en Auditorio de Tenerife y cuesta 85 €.
→ Abono Jazz Sinfónica: Incluye los dos conciertos del festival que se celebran en la Sala Sinfónica del Auditorio de Tenerife y cuesta 60 €.
Ambos abonos solo pueden adquirise en taquilla o por teléfono (902 317 327) en horario de lunes a viernes de 10:00 a 17:00 horas y sábado de 10:00 a 14:00 horas, excepto festivos
El acceso solo está permitido a mayores de cinco años.
Si lo desea, puede consultar las condiciones generales de compra y normas de sala.
Para cualquier duda en el proceso de compra puede escribir a This email address is being protected from spambots. You need JavaScript enabled to view it. o llamar al teléfono 922 568 625 de lunes a viernes de 10:00 a 14:00 horas, excepto festivos.
Subscribe to our Newsletter