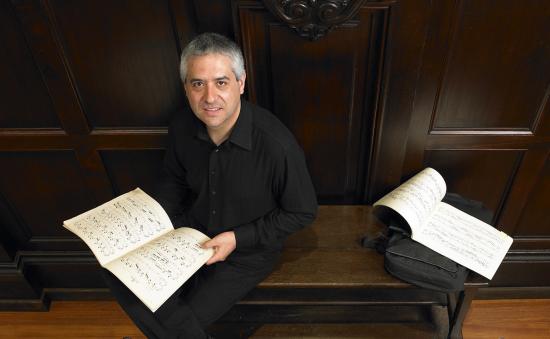 A LOOK AT A HISTORICAL PROGRAMME
Organ concert
Music/Órgano
Auditorio de Tenerife (Sala Sinfónica)
Auditorio de Tenerife is offering, in collaboration with the San Miguel Arcángel Royal Canarian Academy of Fine Arts, a concert by the organist Esteban Landart, who will play the colossal instrument housed in the walls of Symphony Hall.
On 1 October 1878, one of the great organs by the famous builder Aristide Cavaillé-Coll was inaugurated at the Concert Hall of the Trocadéro Palace in Paris, built for the World's Fair of that year. For that solemn occasion, works were commissioned to Caesar Franck, the organist of the Sainte Clotilde Church, and Charles Marie Widor, organist at the Temple of Saint Sulpice, who performed their own compositions that night: the so-called 'Three Pieces' ('Fantasy', 'Cantabile', and 'Heroic Piece') of the former and the 'Symphony for Organ No. 6' of the latter, who was a composer and organist noted for having transferred the orchestral genre of the symphony to the organ. The organ of our Auditorium, with its four keyboards and rich registration, among which is the human voice required by Franck for his 'Fantasy', lends itself like no other to the interpretation of this suggestive romantic repertoire.
Rosario Álvarez
C. FRANCK (1822-1890)
Trois pièces:
Ch.M. WIDOR (1844-1937)
6ème Symphony in G minor Op. 42 nº2
Ticket sales close two hours before the start of the show to finish setting up the hall and ensure that our spectators have a completely safe experience.
Access is only permitted to people over five years of age.
Purchase of a ticket also entails unconditional acceptance by the user, without exception or reservation, of the measures implemented by Auditorio de Tenerife to combat the spread of COVID-19, such as the correct use of masks and attendance to the event only with people you are living with.Check out all the measures here: https://bit.ly/3haP4fH.