José Bros, Raquel Lojendio and María José Montiel at Auditorio de Tenerife's Gala lírica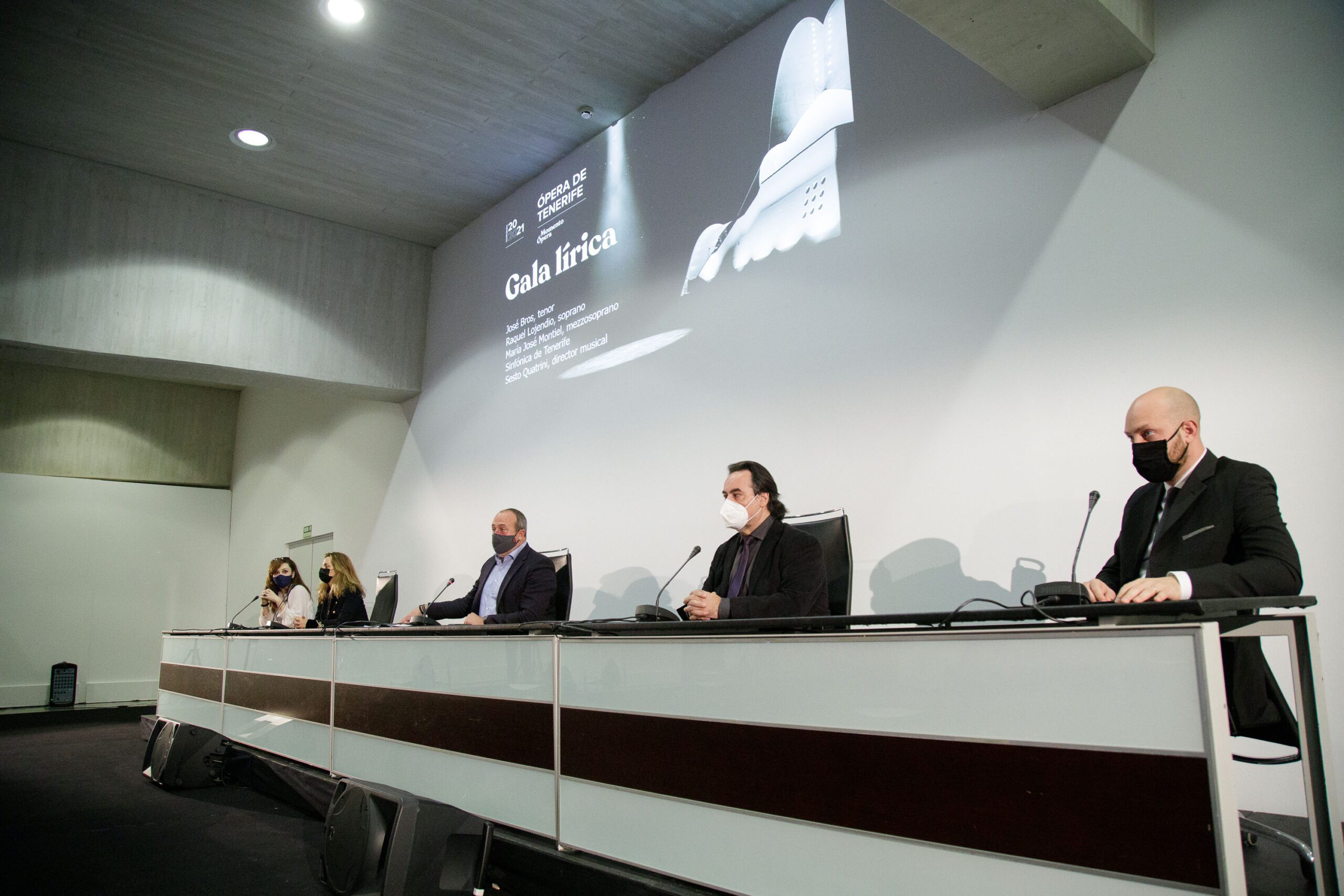 The show, to take place on Saturday, features Italian music director Sesto Quatrini leading Sinfónica de Tenerife
Auditorio de Tenerife, under the Cabildo de Tenerife's Department of Culture run by councillor Enrique Arriaga, presents the Opera Gala, Ópera de Tenerife's third title in the 2020/2021 season. The show, which is taking place on Saturday, the 12th at 7:30 pm at Auditorio de Tenerife's Sala Sinfónica features tenor José Bros, soprano Raquel Lojendio and mezzo soprano María José Montiel.
The councillor of Culture revealed the details of the gala along with the singers and Sesto Quatrini, who is to lead the Sinfónica de Tenerife. Arriaga announced that "tickets are sold out" and pointed out that "Auditorio de Tenerife is one of the few international theatres to keep active, offering a fully safe cultural programme, as this third opera title will show".
José Bros stated that "it's a pleasure to be in Tenerife with this wonderful crew who works to make sure everything meets the highest standards". "I thank the work of those who don't get to be seen, especially our stage manager, who looks after us more than ever to make sure rehearsals are safe; we must be prudent and do our part too". Lastly, he asked for the audience's support, "I am myself a consumer of culture and have not stopped going to the theatre". Bros said goodbye revealing that "the gala is going to be full of great emotions, a balm for the soul of every spectator".
Tenerife-born Raquel Lojendio is "delighted to be back on my island to sing". As an artist, Lojendio explained that "an open theatre in the current circumstances means that there is intelligence and sensitivity behind it and Auditorio de Tenerife proves that it can be done". That is why she asks for the audience's support because "What can be better than filling our time with beauty?".
María José Montiel is delighted to be at Ópera de Tenerife for the first time, as her engagements have made it impossible up till now; she feels at ease with the other singers: "We've sung together many times". The mezzo soprano, who sang at the Auditorio fifteen years ago in a festival, said that "this is a time to defend culture because we just can't remain in darkness: we've all fed on culture during this period, be it a book, a TV series or online concerts".
The musical director was grateful for being at Ópera de Tenerife, a presence that was forged two years ago with a project that had to be postponed. Quatrini talked about the programme, "where Donizetti and Puccini feature prominently". "Although opera emerged in Italy, it's a European product and we must support it", Quatrini explained. He also shared that his agent died from COVID-19 last March, something that has deeply affected him. "My only wish is that we go back to normal soon and that theatres can be full of people again", the maestro said, to then add that "theatres are safe places, more than a shopping centre or even our homes".
The repertoire includes arias of L'elisir d'amore, La bohéme, Carmen or La traviata, created by composers like Gaetano Donizetti, Giacomo Puccini, Georges Bizet and Giuseppe Verdi, among others.
The Sinfónica will open the gala with Donizetti's Sinfonia de Don Pasquale. It will then be the time for the singers, who will first sing solo. Bros will interpret the famous aria Una furtiva lagrima of L'elisir d'amore, again by Donizetti; then Lojendio will sing Quando men vo of Puccini's La bohème, and O mio Fernando of La favorita, by Donizetti in Montiel's voice.
The programme continues with Donna reale... Un lampo, un lampo orribile by Roberto Devereux, Donizetti; Intermezzo of Suor Angelica, Puccini; Viens, Mallika... Sous le dôme épais of Lakmé, Delibes; Preludio acto III of Edgar, Puccini; È la solita storia del pastore of L'arlesiana, Cilea; Preludio, L'abbandono and La tregenda de Le Villi, Puccini; Mon cœur s'ouvre à ta voix de Samson et Dalila, Saint-Saëns; Ecco: respiro appena… Io son l'umile ancella" of Adriana Lecouvreur, Cilea; C'est toi, c'est moi of Carmen, Bizet; and Libiam ne' lieti calici of La traviata, Verdi.
On the stage of Sala Sinfónica the musicians, singers and conductor will comply with all the safety measures to give the audience a wonderful show. The superb new acoustic shell at Auditorio de Tenerife, is made of module panels that will reflect the performance of some of the best opera arias towards the audience.
Audience members are kindly asked to come to Auditorio early enough to enter the theatre gradually. On buying the tickets, users accept the measures implemented at this Cabildo cultural centre to tackle COVID-19, such as wearing a face mask properly and at all times or coming only with people you live with. The full measures and the AENOR-certified contingency plan are available on Auditorio's website. Both the GastroMag and the car park are open to the public.