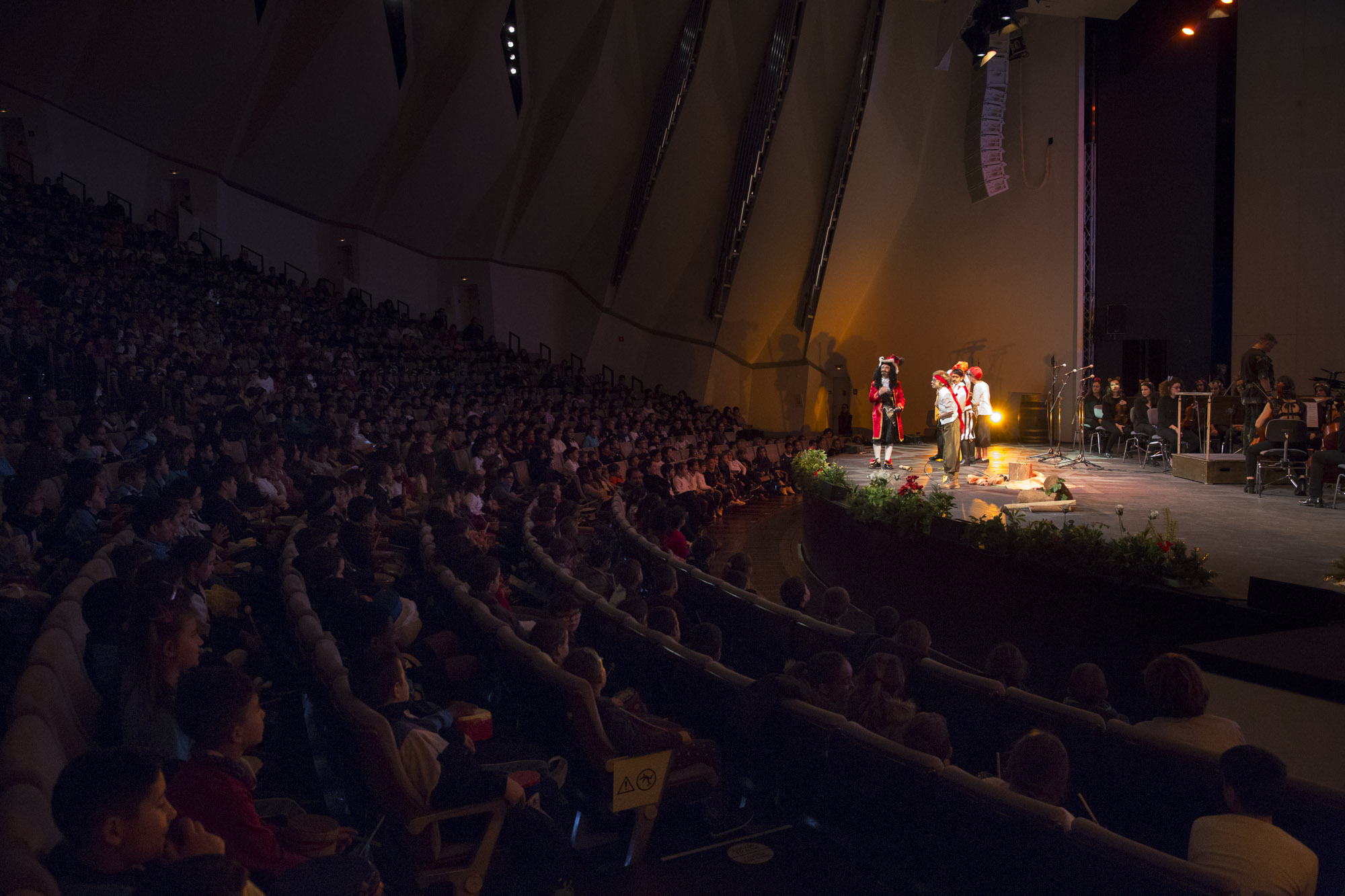 On Tuesday, the 29th, Auditorio de Tenerife welcomes 2,950 schoolchildren who are coming to watch two learning performances by Orquesta Filarmónica Juvenil de Tenerife Miguel Jaubert [Miguel Jaubert Tenerife Young Philharmonic Orchestra]. El bosque encantado-re-mi-fa-sol [The enchanted Forest-D-E-F-G] is the show the group is offering young islanders this year.
Different schools from twelve municipalities across the island are taking part: Adeje, Arico, Arona, Candelaria, Granadilla, La Laguna, La Orotava, Los Realejos, San Miguel, Santa Cruz de Tenerife, Santa Úrsula and Tacoronte. The 88 young musicians are joined by 11 actors and four singers to turn Auditorio de Tenerife's Sala Sinfónica into a great enchanted forest.
Their programme includes both classic pieces (L'Arlésienne-Suite nº2 by Georges Bizet, Tritsch Tratsch Polka by Johann Strauss and Hungarian Dance nº 5 by Johannes Brahms), and current great hits (Pharrell Williams's Happy arranged by José Cubas and What a wonderful world by Louis Amstrong), film soundtracks (themes from The Lord of the Rings by Howard L. Shore arranged by J. Whitney and Recuérdame, from the film Coco, by K. Anderson López and R. López) and even local songs (Vivo en un archipiélago by Manuel Negrín).
El bosque encanta-do-re-mi-fa-sol is inspired by classic tales that take place in groves, the perfect setting for the imagination, fantasy, and mystery. The hero in this story dreams of becoming a musician but to achieve it, he must overcome some obstacles that stop him from finding the way back home. He is not alone as he has a wide range of characters from classic tales who, like him, will discover music's saving powers.
The music director is José Antonio Cubas Delgado, who teaches trombone at Conservatorio Superior de Música de Canarias and Conservatorio Profesional de Música de Santa Cruz de Tenerife. Stage direction is by art historians Gerardo Fuentes Pérez and Tania Marrero, while María Jesús Cuéllar Moreno is in charge of pedagogic direction. She is principal lecturer at the Specific Didactics Department of La Laguna University.
Orquesta Filarmónica Juvenil de Tenerife Miguel Jaubert was set up in September 2012 with Fundación DISA as their main sponsor. This group is part of the social project of Asociación Canaria para la Difusión de la Música (Acadim) [Canarian Association for the spreading of music] and it is a children's orchestra that makes music for children, thus following the original idea of the founder of the project, Miguel Jaubert Gómez.