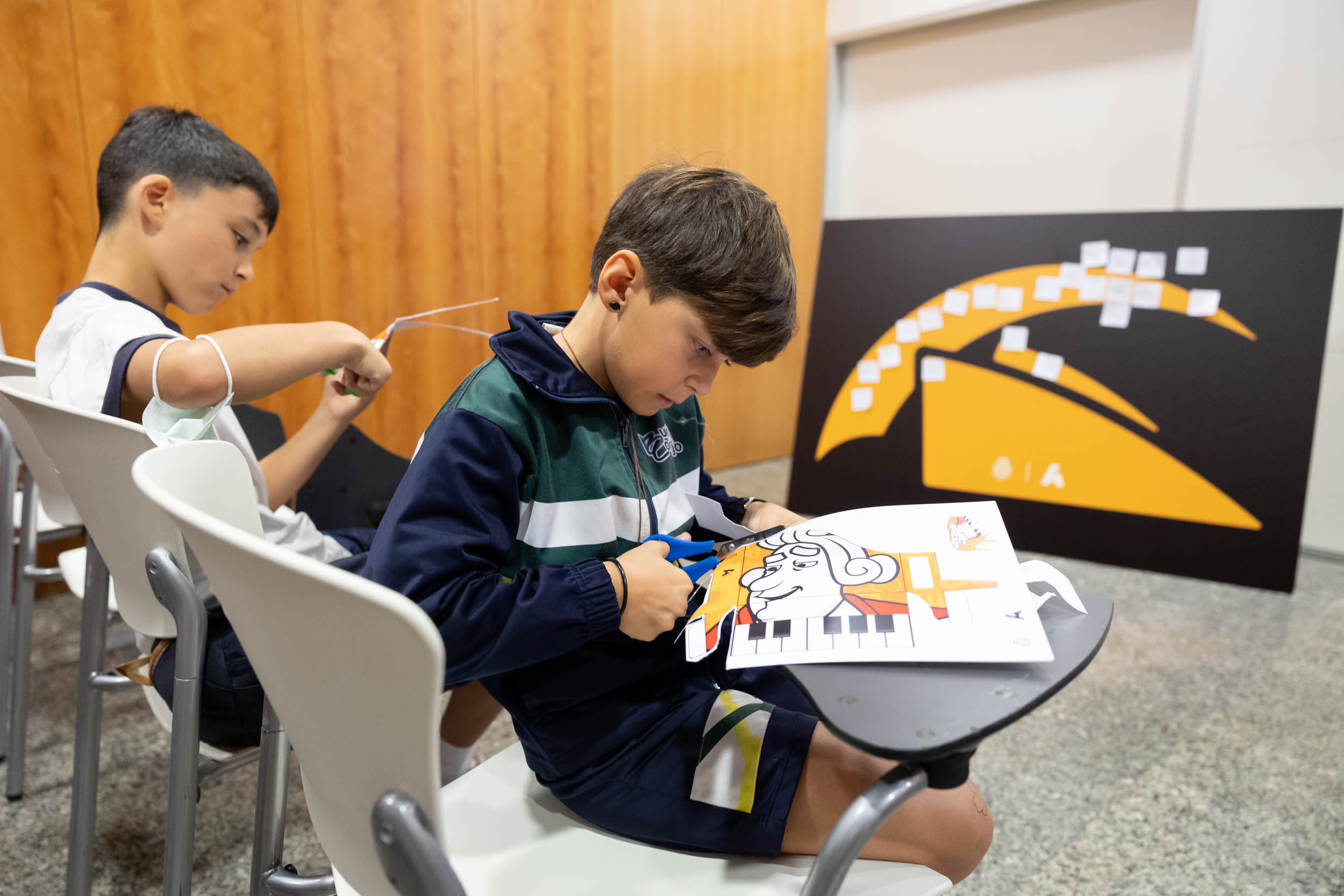 Activities adapted to different levels, exclusive content and personalised materials comprise the offer
The Auditorio de Tenerife is a cultural venue linked to the Department of Culture of Tenerife Island Council that is managed by its island's Minister of Culture, Enrique Arriaga. For this school year the Auditorio is launching a new programme of guided visits for educational centres. This is a cross-disciplinary educational activity that consists of carrying out a process of training and informing the public during school hours, meant for all levels.
Taking into account the needs and characteristics of each educational stage, the Educational and Social Department of the Auditorio has designed this proposal with two lines of work, addressed to show the Auditorio to students as a centre of cultural activity and as an architectural space. One of the most important aims is to give rise to autonomous and critical students.
One of the spaces in the Auditorium has been adapted into a training classroom where schoolchildren can enjoy specialised workshops featuring educational activities. The dossier of this new programme can be consulted in the Educational and Social Area of the website www.auditoriodetenerife.com.
These characteristics make this initiative pioneering thanks to the visit to the building adapted to each educational cycle and in small groups, supervised activities and with materials and teaching resources produced according to the level and an educational classroom equipped for pupils.
For Pre-School Education, a fun and participative visit is offered, during which pupils will discover a first-hand artistic perspective of the cultural institution. Through the different activities, the three areas of this level will be worked on: autonomy, knowledge of the environment and communication and representation. Thus, their autonomy is encouraged with individual visit tickets to stamp, they discover the building and its surrounding area with puzzles and sheets to colour in, and pupils take a deeper look at musical language using audiovisual materials screened in the educational classroom.
The Primary Education visit will be focused on displaying architectural aspects of the Auditorium of Tenerife. Pupils will also discover the different performing arts professions needed to produce an artistic show, and also, using videos, get a closer look at the cultural offer of the programming appropriate for their age which they can enjoy in the auditorium and its unique spaces. They will also carry out manual activities.
In Secondary Education and Baccalaureate, the aim is for pupils to get an introduction to being critical viewers. They will be provided with information to help them to develop sufficient critical autonomy to choose the cultural proposals that are of interest to them, and to also discover the different channels for accessing them. After guided access to the information on the website and social networks, online activities will be carried out using games with Kahoot and advanced crafts such as an origami building. Lastly, they will watch videos on programming for Secondary pupils and the unique spaces of the Auditorium.
Educational centres interested in requesting a guided visit can send an email to This email address is being protected from spambots. You need JavaScript enabled to view it. with the following information: name of the centre, municipality, person and contact telephone number, year group, number of pupils and accompanying staff and the preferred dates or time period. They can also contact the Educational and Social Department of the Auditorium of Tenerife by calling 922 568 600 extension 167.