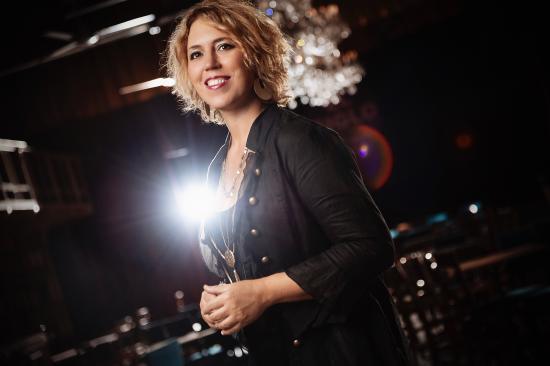 Bach-Busoni, Chopin, Schumann e improvisaciones
Piano performance
Length
1 h. 30 min. aprox. (con descanso incluido)
Music/Chamber music cycle
Auditorio de Tenerife (Sala de Cámara)
As part of its Chamber music Cycle, the Auditorio de Tenerife is offering the concert Bach-Busoni, Chopin, Schumann and Improvisations by the pianist Gabriela Montero.
The Venezuelan pianist Gabriela Montero is presenting herself to the Tenerife public for the first time with a performance in which she will display her extraordinary talent for improvisation, thanks to which she has achieved great international recognition and a multitude of followers all over the world.
After an initial part with works by Bach-Busoni, Chopin and Schumann, a romantic repertoire that she is an exceptional performer of, Gabriela Montero will invite the audience to suggest musical themes on which to improvise. It will be an absolutely surprising concert and a real musical experience, unique and unrepeatable.
Johann Sebastian Bach (1685-1750)
Transc. by Ferruccio Busoni (1866-1924)
Chaconne in D minor, BWV 1004
Andante maestoso, ma non troppo lento
Frédéric Chopin (1810-1849)
Balada No. 3 in A flat major Op.47
Frédéric Chopin (1810-1849)
Polonaise Fantaisie in A flat major Op.61
-Intermission-
Robert Schumann (1810-1856)
Kreisleriana Op.16
Äußerst bewegt (Extremely moved)
Sehr innig und nicht zu rasch (Very intimate and not too fast)
Sehr aufgeregt (Very excited)
Sehr langsam (Very slow)
Sehr lebhaft (Very lively)
Sehr langsam (Very slow)
Sehr rasch (Very fast)
Schnell und spielend (Fast and playful)
Gabriela Montero (1970)
Improvisations on themes lost to the public
Access is only allowed to children over five years of age.
For further information, please check the general terms and purchase conditions.
If you have any questions while purchasing your tickets, you can write to This email address is being protected from spambots. You need JavaScript enabled to view it. or call 922 568 625 from Monday to Friday from 10:00 a.m. to 2:00 p.m., except for public holidays.