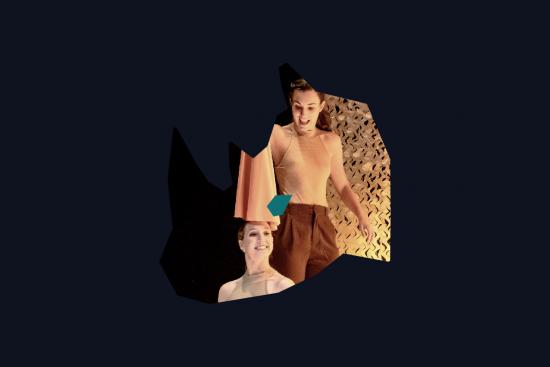 Ehuna
A family dance show
Dance/FAM
Auditorio de Tenerife (Sala de Cámara)
Auditorio de Tenerife presents, as part of its FAM Otoño (Autumn Moving Arts Festival) programming, the family show Ehuna, by Teatro Paraíso.
To make dance flow through the movement traced by the body with fabric and air: that is the notion that inspires Ehuna. The creative universe of Cristóbal Balenciaga is the starting point of a proposal for young children that explores the way in which the body relates to movement, doing so through pieces of fabric, felt, and clothing. And, in fact, this new project which materialised in two Basque creation centres also has the support of the Cristóbal Balenciaga Museoa.
According to Balenciaga, harmony has to combine three elements perfectly: the dress, the body, and the air. His revolutionary concept and his fascination with the fluidity and emptiness that separates the body from the clothing take the stage in this production with which Dantzaz and Teatro Paraíso reinterpret the work of the brilliant Basque fashion designer, taking as a starting point the notion that "the dress is the first inhabited space".
The creative process has brought together Gipuzkoan dancers and creators Jone Amezaga and Miren Lizeaga, advised by the Kunarte/Teatro Paraíso and Dantzaz teams. On stage, the body, the fabrics, the dresses, and the air immerses the little spectators in a poetic and profound world. But "Ehuna" is more than a typical show, as it adds to the exhibition a mediation and community action programme aimed at families and young spectators.
The process of creating "Ehuna" was undertaken simultaneously at Kunarte, the Centre for Artistic Innovation and Early Childhood in Vitoria-Gasteiz, and Dantzagunea, the Dance Service of the Provincial Council of Gipuzkoa in Errenteria. The piece debuted on November 17 at the 44th Vitoria-Gasteiz International Theatre Festival and could also be seen at the Encuentros TeVeo Festival in Valladolid, as well as in various towns in the province of Álava within the framework of the Haziaraba Festival.
Choreography performance: Jone Amezaga del Frago and Miren Lizeaga Gonzalez
Dramaturgy: Rosa A. García
Costume: Maialen Miranda
Set design: Ana Fernández Alonso
Music: François Couture
Lighting: Kandela Iluminación
Photography: Blanca Razquin
Show recommended for children aged between 1 and 5.
Children who have not reached the age of two on the day of the show will not need to purchase a ticket if they are not going to occupy a seat. When accessing the hall, you will be required to have a document proving the minor's age (ID card or family book). Pushchairs and prams are not allowed in the hall.
For further information, please check the general terms and purchase conditions.
If you have any questions while purchasing your tickets, you can write to This email address is being protected from spambots. You need JavaScript enabled to view it. or call 922 568 625 from Monday to Friday from 10:00 a.m. to 2:00 p.m., except for public holidays.