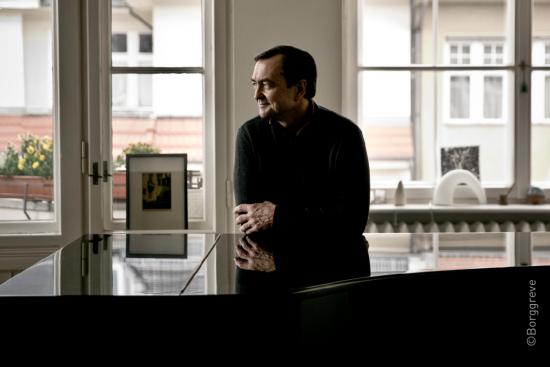 Length
1 h. 40. min (descanso de 20 min. incluido)
Music/Ciclo de Cámara
Auditorio de Tenerife (Sala de Cámara)
The Chamber Music Cycle of Auditorio de Tenerife presents the concert Fantasías (Fantasies), performed by pianist Pierre-Laurent Aimard.
Throughout the history of music, fantasia has been the musical genre par excellence in which composers have found the structural refuge enabling them to have maximum freedom in terms of organisation and the perfect mechanism for giving free rein to their creativity. From the spinet and virginal of the Renaissance, to the harpsichord of the Baroque, the fortepiano of Classicism before reaching the modern piano, all these instruments have featured in this "musical" form of great imaginative and improvisational character.
In this performance, the acclaimed international pianist Pierre-Laurent Aimard presents a journey through the world of fantasia for keyboard, from the 16th and the early 17th century, with the fantasia of the Dutch composer Jan Pieterszoon Sweelinck. His work encompasses the period from the end of the Renaissance and the early baroque period, to the Fantasy on Iambic Rhythm for piano composed in 1985 by the British composer George Benjamin. There is also room for the Russian composer Andrei Volkonsky who composed Musica stricta in 1957, a fantasia piece of great historical importance for Russian music, as it was the first to use the twelve-tone technique. A technique that the composer used intuitively, as he himself stated, "the flexible use of a technique or method can only improve the quality of a piece of music".
The performance had to include three of the most important fantasias by Mozart. His extraordinary improvisational genius is further enhanced by language that is as free as it is bold. Continuing with classicism, there was also a performance of the second of the sons of J. S. Bach, Carl Philipp Emanuel, with his Fantasia for piano full of colour and dynamism, and L. van Beethoven with his Fantasia op. 77 which could be considered one of his freest works in terms of form and content (its second section even has a theme with variations). Finally, Fantasias is a performance that explores five centuries of history with a musical genre and a great variety of forms, imbued by its distinctive free nature.
Wolfgang Amadeus Mozart (1761-1791)
Fantasia no. 3 in D minor, K 397
Jan Pieterszoom Sweelinck (1562-1621)
Fantasia à 4 : echo swwv 261
Wolfgang Amadeus Mozart (1761-1791)
Fantasia in C minor, K 475
Andrei Volkonsky (1933-2008)
Musica stricta (Fantasia ricercata)
-Intermission-
Wolfgang Amadeus Mozart (1761-1791)
Fantasia in F minor, K. Anh. 32 (fragment)
Carl Philipp Emanuel Bach (1714-1788)
Fantasia for keyboard in C major, H 284 Wq 59/6
Wolfgang Amadeus Mozart (1761-1791)
Fantasia in C minor Kv.396
Ludwig van Beethoven (1770-1827)
Fantasia in G minor op. 77
George Benjamin (1960)
Fantasy on Iambic Rhythm for Piano
Tickets, coming soon
Access is only allowed to children over five years of age.
For further information, please check the general terms and purchase conditions.
If you have any questions while purchasing your tickets, you can write to This email address is being protected from spambots. You need JavaScript enabled to view it. or call 922 568 625 from Monday to Friday from 10:00 a.m. to 2:00 p.m., except for public holidays.