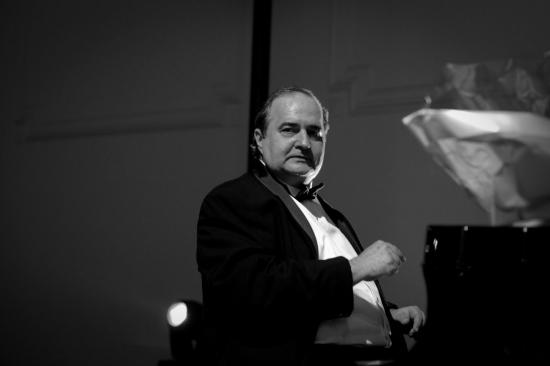 Prats romántico
Piano concert
Length
75 min. + 20 min intermission
Music/Chamber music cycle
Auditorio de Tenerife (Sala de Cámara)
The Chamber Music Cycle of Auditorio de Tenerife presents the concert Prats romántico by the pianist Jorge Luis Prats.
The Cuban pianist Jorge Luis Prats has been defined as a true colossus of the keyboard, taking the combination of mastery and the rigour of the best Russian school with the warmth that is assumed from an artist from the tropics to exceptional levels.
He is recognised as one of the most important pianists of our time. His debut in 2008 at the prestigious "Meister Pianisten" at the Concertgebouw in Amsterdam, received so many ovations that Prats played the same series again over the following three years, which had only happened previously with the pianists Alfred Brendel and Grigory Sokolov.
Jorge Luis Prats has gone on tours around Europe, Latin America, China, Japan and Korea, playing with orchestras such as the Royal Philharmonic in London, BBC Symphony, Mariinsky Theatre Orchestra, Frankfurt Radio Symphony, Berlin State Opera Orchestra, Wiener Symphoniker, Orchestre de Paris, and with most of the Spanish orchestras: Orquesta Nacional de España, Sinfónica de Galicia, Sinfónica de Castilla y León, Sinfónica de Barcelona, Orquesta de Valencia, Sinfónica de Tenerife, Filarmónica de Gran Canaria, Oviedo Filarmonía, etc.
He will perform a truly beautiful and demanding programme with two of the romantic composers who wrote best for the piano: Robert Schumann (1810-1856) whose Symphonic Studies op.13 will be performed, and Frédéric Chopin (1810-1849), with his Preludes op.28.
The performance will conclude with the spectacular transcription for piano solo that Maurice Ravel produced of his orchestral work La Valse. Sensual, grandiose music and a real challenge for the pianist.
Robert Schumann (1810-1856)
Symphonic Studies Op.13

-Intermission-

Frédéric Chopin (1810-1849)
24 Preludes Op.28

Maurice Ravel (1875-1937)
La Valse
Access is only allowed to children over five years of age.
For further information, please check the general terms and purchase conditions.
Ticket purchase also entails the user's unconditional acceptance, without exception or reservation whatsoever, of all measures implemented by the Auditorio de Tenerife to combat the spread of the pandemic. You can check out all the measures here: https://bit.ly/3haP4fH.
If you have any questions while purchasing your tickets, you can write to This email address is being protected from spambots. You need JavaScript enabled to view it. or call 922 568 625 from Monday to Friday from 10:00 to 14:00, except for public holidays.