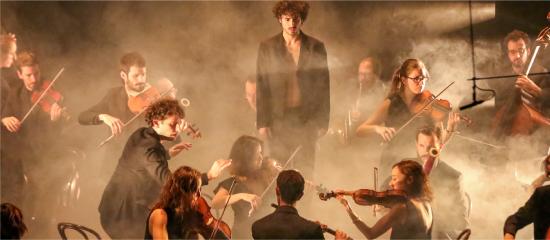 Length
65 min. + 20 min. of intermission
Music
Auditorio de Tenerife (Sala Sinfónica)
The Auditorio de Tenerife presents the show La danse du soleil by the Swiss orchestra Geneva Camerata, with the Spanish dancer Martí Corbera and the choreographer Juan Kruz Díaz de Garaio Esnaola, who will also dance during this performance in Tenerife.
Selected by the New York Times as "one of the best performances of the year in the world of classical music", Dance of the Sun presents a hypnotic and stupefying journey between music and dance, revealing an ode to life, hope, loss, and love. On stage, thirty musicians dance while playing by memory masterpieces by Lully and Mozart, with the renowned dancer Juan Kruz Díaz de Garaio Esnaola who delivers an unforgettable, stunning, and emotional performance.
Martí Corbera, dancer
Juan Kruz Díaz de Garaio Esnaola, choreography and dancer
David Greilsammer, conductor
Geneva Camerata, orchestra
Jean-Baptiste Lully (1632-1687)
Le Bourgeois Gentilhomme LWV 43 – Orchestral Suite
Intermission
Wolfgang Amadeus Mozart (1756-1791)
Symphony No. 40 in G Minor KV 550
-Molto Allegro
-Andante
-Menuetto-Trio
-Allegro assai
Violins
Javier Aguilar Bruno
Diego Castelli
Cécile Dorchêne
Timoti Fregni
Emilija Kortus
Sara Meloni
Jesús Merino
Lorena Padrón Ortiz
Yumi Onda
Stéphanie Park
Violas
Avishai Chameides
Elif Genç
Lucia Ortiz
Elia Portabales
Cellos
Céline Barricault
Ira Givol
Bernadette Kobële
Double basses
Youen Cadiou
Julie Stalder
Flutes
Roy Amotz
Ory Schneor
Oboes
Sergio Simón Álvarez
Vincent Tizon
Clarinets
Benoît Savin
Mathieu Steffanus
Bassoons
Povilas Bingelis
Fabio Gianolla
Horns
Simon Kandel
Clément Guignard
Percussion
Marion Frétigny
Harpsichord
Justine Charlet
"Wildly innovative…The Geneva Camerata has laid down a marker for classical music" - The New York Times
"A hypnotic journey" - UT Magazine
"A sensational experience for the ears and for the eyes" - Le Temps
"The musicians' performance was overwhelming - they were at the same time instrumentalists, dancers, and actors" - Klassika Plus
Access is only allowed to children over five years of age.
For further information, please check the general terms and purchase conditions.
Ticket purchase also entails the user's unconditional acceptance, without exception or reservation whatsoever, of all measures implemented by the Auditorio de Tenerife to combat the spread of the pandemic. You can check out all the measures here: https://bit.ly/3haP4fH.
If you have any questions while purchasing your tickets, you can write to This email address is being protected from spambots. You need JavaScript enabled to view it. or call 922 568 625 from Monday to Friday from 10:00 to 14:00, except for public holidays.