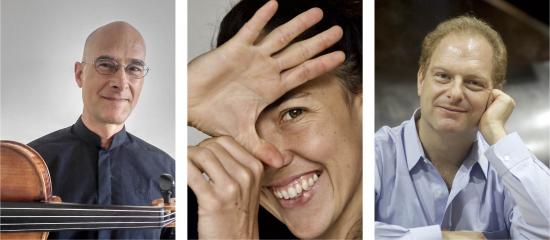 Music/Ciclo de Cámara
Auditorio de Tenerife (Sala de Cámara)
The Chamber Music Cycle of Auditorio de Tenerife presents the concert titled Microcosmos by the Ensemble Resonancias, comprised of Paloma Hurtado (dancer), Javier Lanis (piano) and David Ballesteros (violin).
This dance and music show is based on choreographed musical miniatures; it describes the various reflections of the audible universe which permanently surrounds us.
Like short stories, each of these pieces has an important identity and achieves great depth. Dvorák wrote to his publisher, Simrock: "I have just as much fun creating these pieces as I do writing symphonies. Beethoven and Schumann also composed short pieces when they felt it necessary."
The "nuevo tango" ("new tango") of Astor Piazzolla, the enigmatic Erik Satie, and the meditative "Mirror in the Mirror" by Arvo Pärt are fundamental axes in the programme, with pieces by Dvorák, Martinu, and Kabalevsky among other composers.
The programme also includes the Canarian composer Celia Rivero's world debut.
Paloma Hurtado
Paloma Hurtado de la Cruz. Nacida en Málaga el 7 de febrero de 1987. En 2007 obtiene el título de Grado Medio de Danza Contemporánea en el Real Conservatorio Profesional de Danza de Madrid. Desde 2007 reside en Tenerife y hasta el año 2015 es componente del laboratorio de danza Tenerifedanzalab. En 2012 comienza a trabajar como bailarina independiente y creadora. Desde 2015 integrante del Colectivo Lamajara, reconocido a nivel nacional e internacional por su Proyecto Labranza. En 2018 recibe el Premio Réplica a la Mejor Intérprete de Canarias por su participación en la obra "Dulces Bestias". En 2021 recibe el Premio a la Intérprete Sobresaliente del Certamen Distrito de Tetuán y el Premio a la Mejor Intérprete del Certamen Coreográfico Masdanza por su obra Ina.0. Ha trabajado con coreógrafos como Daniel Abreu, Tino Fernández (L'Explose), Anne Lebatarde (Ex Nihilo), Edmond Russo & Shlomi Twizer (Afari Esteri), Roberto Torres (cía. Nómada), Thomé Araujo (Málaga Danza Teatro).
Su repertorio incluye, entre otras producciones: Dakini-2012; Camille Claudel bio sinfonía 2013, estrenada en el Festival de Teatro de Malaga; 15 grados al Oeste 2014/2019 en sus versiones para 3/5 bailarinas creación para Auditorio de Tenerife; Ephimera-2018; Proyecto Labranza 2015-2021; Ignea-2021; INA-2022.
Su trabajo se asienta sobre pilares fundamentales que son: el sentimiento de responsabilidad frente al hecho artístico, la humildad frente a la creación y la escena, la metáfora y la poética del signo, las obras como viajes, la escena como rito, un fuerte compromiso social y de justicia. El arte surge como necesidad y como deber, para permitirnos sentir, pensar, reflexionar, cuestionarnos, compartir. Continuamente se pregunta acerca del papel del espectador en la obra de arte, buscando propiciar su lugar activo, partícipe, corresponsable del hecho escénico del que es elemento primordial.
Javier Lanis
Javier Lanis, aclamado por la crítica, sus interpretaciones destacan por su exquisita sensibilidad y desbordante energía musical. Recibió el primer premio en el Concurso Internacional de Piano Claudio Arrau (1991).
Destacan actuaciones junto a la Orquesta Sinfónica de Tenerife, Orquesta Sinfónica Nacional de Chile, Orquesta Sinfónica de Concepción, Nordwestdeutsche Philharmonie, Orquesta de cámara Dogma, entre otras, con maestros como Ola Rudner, Juanjo Mena, Joachim Harder, Víctor Pablo Pérez, Rodolfo Fischer, Mika Eichenholz o Karl-Heinz Bloemeke. De la misma manera destacan sus colaboraciones junto a destacados músicos tales como Nobuko Imai, Karine Georgian, Marco Rizzi y su participación en The Norfolk Chamber Music Festival ( 2000) junto a Claude Frank, Boris Berman, Tokyo String Quartet y Vermeer String Quartet.
Javier Lanis se ha presentado en importantes salas tales como Beethovenhalle (Bonn), Bösendorfer-Saal (Viena), Purcell Room (Londres), Sala Rachmaninoff (Moscú). Además, ha ofrecido conciertos en Israel, Eslovaquia, Francia, Japón, EE.UU., Argentina, España y Chile. En 2016 fue invitado a participar en el ciclo "Grandes Pianistas" del Teatro Municipal de Santiago de Chile.
Nacido en Santiago de Chile en 1972, Javier Lanis estudió con Elisa Alsina, y Anatol Ugorski en la Universidad de Chile, y la Hochschule für Musik Detmold (Alemania).
En la actualidad imparte clases en el Conservatorio Superior de Música de Canarias (Tenerife) y es miembro colaborador de los ensambles Resonancias y Hespérides.
David Ballesteros
David Ballesteros es violinista de la Orquesta Sinfónica de Londres, con la que interpreta y graba desde el repertorio clásico hasta música para películas como Star Wars o Harry Potter, trabajando regularmente con Simon Rattle y Valery Gergiev entre otros directores.
También es violinista de la orquesta bandArt, en donde es responsable del área de integración social, realizando actividades en hospitales, geriátricos y prisiones, para personas con necesidades especiales y en riesgo de marginación.
David estudió con Óscar Hernández en el Conservatorio de su ciudad natal, Santa Cruz de Tenerife. Asimismo estudió dirección e interpretación de la música del Clasicismo con instrumentos originales y ha trabajado con compositores como Sofia Gubaidulina, Thomas Adés, James MacMillan, y compositores españoles como Laura Vega, José Brito, Manuel Bonino, Ernesto Mateo, Sergio Rodríguez o Ernesto Aurignac.
Ha sido profesor de la Orquesta Simón Bolívar en Venezuela, la New World Symphony en los Estados Unidos, la Jove Orquestra Nacional de Catalunya, la Joven Orquesta Nacional de España y la Guildhall School of Music de Londres, entre otras instituciones y desde 2015 es profesor en el prestigioso Festival de Verbier en Suiza.
Astor Piazzolla (1921-1992)
Adiós Nonino
Río Sena
Milonga sin palabras
Erik Satie (1866-1925)
Choses vues à droite et à gauche (sans lunettes)
Erik Satie (1866-1925)
Gymnopédie 1-3
Bohuslav Martinů (1890-1959)
Intermezzo H261
-Moderato
-Poco Allegro
-Andante
-Poco Allegro
Dmitri Kabalevsky (1904-1987)
Six Pieces
Celia Rivero (1995)
Índigo (world premiere)
Antonín Dvořák (1841-1904)
Four Romantic Pieces Op.75
-Cavatina
-Capriccio
-Romance
-Elegie
Arvo Pärt (1935)
Spiegel im Spiegel
During the purchase process, the user will have to choose between one or two pre-set seats previously distributed throughout the hall. Please contact the box office if you want to buy a single ticket, and the pre-set seats are sold out. If you have any questions while purchasing your tickets, you can write to This email address is being protected from spambots. You need JavaScript enabled to view it. or call 922 568 625 from Monday to Friday from 10:00 to 14:00, except for public holidays.
The ticket sales close 15 minutes before the start of the show to finish setting up the hall and ensure that our audience has a completely safe experience.
Access is only allowed to children over five years of age.
For further information, please check the general terms and purchase conditions.
Ticket purchase also entails the user's unconditional acceptance - without exception or reservation - of all measures implemented by the Auditorio de Tenerife to combat the spread of the pandemic, without exception or reservation whatsoever, such as the correct use of masks and the attendance at the event only with people you live with. You can check out all the measures here: https://bit.ly/3haP4fH.