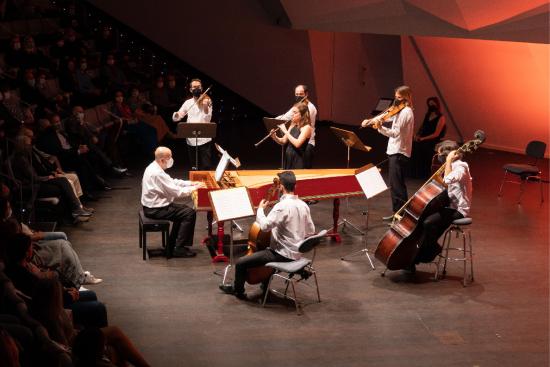 Ended
Per la notte di Natale
Music/Ciclo de Cámara
Auditorio de Tenerife (Sala de Cámara)
As part of its Chamber Music Cycle, the Auditorio de Tenerife is offering the Christmas concert by the Tenerife Baroque Orchestra: Per la Notte di Natale.
Per la Notte di Natale
With two nights of Notte di Natale, the Tenerife Baroque Orchestra invites us to welcome Christmas, with the pastoral as a Leitmotiv, in memory of the adoration of the shepherds, through a selection of musical fables from the baroque Italian repertoire.
Spiritual dialogues are breathed in this first opus by Locatelli which, in its number eight, is dedicated to the Santo Nataleas a Concerto in F minor. An intricate canonical – and classical in its structure – a labyrinth that we could view as a hypertext of movements, with episodes both prior and subsequent to the origin of the Mystery, from the Incarnation to the Birth, narrated with music in the purest Italian style of the 18th century.
Without knowing for certain what winter in Bethlehem would be like, the Concerto nº 4 in F minor, Op. 8 by Vivaldi helps to create an atmosphere for the cold Christmas Eve with its allegro-largo-allegro, through its inspiring eclogue: "This is winter, which nonetheless brings its own delights".
It is followed, without wanting to be so programmatic, by the pastoral dance by Manfredini, Symphony XII, in D Major. We can imagine it, in its largo, as a cautious approach of the shepherds to the place of Mystery with the surprise, upon recognising the Child, in the puntato that concludes the first movement. It progresses in the adagio with the beautiful lullaby of joy, concluding with the joy of recognising the Saviour in the last movement, quasi-a country prayer.
Concerto nº 6, in G minor, Op. 8 by Torelli, sviluppando a pastoral vision, confronts i tempi as a prelude – very baroque – of the Child of Passion, in its winding grave-vivace-largo, which muta towards the conviction of redemption to give us a dance full of hope. This central block of the evening could not materialize without the Vivaldi-style riposo, in E major, the song of heavenly cherubs that drops off in the first allegro, silenced -by the Mother of mothers- in the adagio, followed by the dawn chorus of birds in the last allegro -as a comment on nature- in recognition of the son of God on Earth.
To finish, we will listen to the resounding country festa by Corelli -the father of the concerto grosso alla italiana- who with his Concerto nº 8, Fatto per la Notte di Natale, in G minor, Op. 6 (Christmas Concerto), floods with effect and twists in the dizziness of its movements and in the mastery of the performers, in recognition of the impulse that the spirit breathed into him in order to bequeath us, in the repertoire of the History of Music, this beautiful work of Joy that we can now enjoy in Tenerife thanks to the vigour of our Baroque Orchestra.
Conrado Álvarez Fariña, Artistic director of The Baroque Orchestra of Tenerife
Carmen Leoni, harpsichord and guest conductor
Adrián Linares, concertmaster and baroque violin
Laura Díaz and Raquel Sobrino, baroque violins I
Lorena Padrón, Alexandra López and Giovanni Déniz, baroque violins II
Víctor Gil, Alaia Ferran and Melchor García, baroque violas
Candela Gómez and Diego Pérez, baroque violoncellos
Tomás López-Perea and Juan Carlos Baeza, violones
Carlos Oramas, archlute
Raquel García, organ
Pietro Antonio Locatelli (1695-1764)
Concerto grosso in F minor op. 1 no. 8, per il Santo Natale
Largo
Grave
Vivace-adagio
Grave-adagio
Largo-andante
Andante-adagio
Pastorale (largo-andante)
Antonio Vivaldi (1678-1741)
Concerto No.4 in F minor, Op.8, RV 297, L'inverno
Allegro non molto
Largo
Allegro
Francesco Manfredini (1684-1762)
Sinfonia in D major, Op. 2 no. 12 Pastorale per il Santissimo Natale
Largo e puntato
Adagio
Largo e puntato

-Intermission-


Giuseppe Torelli (1658-1709)
Concerto grosso in G minor, Op. 8 no. 6, Pastorale per il Santissimo Natale
Grave e vivace
Largo
Vivace
Antonio Vivaldi (1678-1741)
Concerto per violino in E Major, RV 270, Il Riposo per il Santissimo Natale
Allegro
Adagio
Allegro
Arcangelo Corelli (1653-1713)
Concerto grosso in G minor, Op. 6, no. 8, Fatto per la Notte di Natale
Vivace
Allegro
Adagio – Allegro – Adagio
Vivace
Allegro
Largo. Pastorale ad libitum
Sold out.
Access is only allowed to children over five years of age.
For further information, please check the general terms and purchase conditions.
If you have any questions while purchasing your tickets, you can write to This email address is being protected from spambots. You need JavaScript enabled to view it. or call 922 568 625 from Monday to Friday from 10:00 a.m. to 2:00 p.m., except for public holidays.