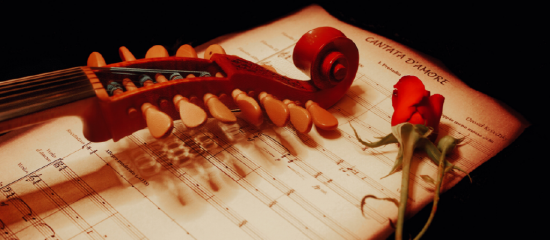 Ended
Una notte d'amore
Concert by the Aede Ensemble
Music/Chamber music cycle
Auditorio de Tenerife (Sala de Cámara)
The Chamber Music Cycle of Auditorio de Tenerife presents the concert 'Una notte d'amore ' by the Aede Ensemble.
Love is one of the great universal themes, a source of inspiration for creators and artists of all times and cultures. Aede Ensemble wants to celebrate love with a programme that includes different musical miniatures with some of the jewels of love poetry in Spanish interspersed among them, only to culminate with the Cantata d'Amore (Love Cantata) by David Krivitsky, which will be performed for the first time after its debut in 1984. Music and poetry to open a window to love in its many facets and forms.
Dutch Renaissance poet Johannes Secundus (1511-1536) wrote his collection of poems in Latin, Basia (Kisses), which in turn inspired several subsequent poets of different origins, such as Sannazaro, Ben Johnson, Meléndez Valdés, and Jean Bonnefons. The first translation into Spanish was done by the Pre-Romantic writer and humanist Graciliano Afonso (1775-1861), born in La Orotava. Kiss XVIII by Johannes Secundus served as the basis for the composition of the Cantata d'Amore (Love Cantata) by Russian composer David Krivitsky (1937-2010), the central piece of this concert. It is a cantata for a mezzo-soprano voice, narrator, viola d'amore, and chamber ensemble in seven movements.
Cristina Faus, mezzo-soprano
Ana Hernández Sanchiz, narrator
Catherine Mooney and Elisa Bartolomé Gómez, flutes
Ana Isabel Rodríguez Martín, alto flute
Carlos del Ser Guillen, english horn
Carlos Manuel Castañeda García and Verónica Cagigao Bautista, percussion
Gustavo Díaz-Jerez, harpsichord and organ
Sviatoslav Belonogov, viola d'amore
Irina Peña Sánchez, violin
David Barrera Suárez, cello
Iker Sánchez Trueba, double bass
José María de Vicente, conductor
Jean Paul Égide Martini (1741-1816)
Plaisir d'Amour (arr. viola d'amore and piano)
Francis Poulenc (1899-1963)
Les chemins de l'amour (mezzosopran and piano)
Camile Saint-Saëns (1835-1921)
Romance Op.37 (arr. flute and piano)
Edward Elgar (1857-1934)
Salut d'Amour Op.12 (arr. oboe, cello and piano)
Fritz Kreisler (1875-1962)
Liebesleid (arr. contrabass, violin and cello)
Schön Rosmarin (arr. contrabass, violin and cello)
Liebefreud (arr. contrabass, violin and cello)
Franz Liszt (1811-1886)
Liebestraum No.3 in A-flat Major (piano)
David Krivitsky (1937-2010)
Cantata d'amore (1984)
This show has been cancelled.
We are proceeding to refund the amount of tickets purchased by credit card (web, telephone and at the box office). If you have not received the amount in your account within 15 days, please contact us at This email address is being protected from spambots. You need JavaScript enabled to view it. or by calling 922 568 625 from Monday to Friday from 10:00 to 14:00, except holidays. If you made the purchase in cash, we will contact you shortly to give you an appointment so that you can go to our ticket office.
During the purchase process, the user will have to choose between one or two pre-set seats previously distributed throughout the hall. Please contact the box office if you want to buy a single ticket, and the pre-set seats are sold out. If you have any questions while purchasing your tickets, you can write to This email address is being protected from spambots. You need JavaScript enabled to view it. or call 922 568 625 from Monday to Friday from 10:00 to 14:00, except for public holidays.
The ticket sales close 15 minutes before the start of the show to finish setting up the hall and ensure that our audience has a completely safe experience.
Access is only allowed to children over five years of age.
For further information, please check the general terms and purchase conditions.
Ticket purchase also entails the user's unconditional acceptance - without exception or reservation - of all measures implemented by the Auditorio de Tenerife to combat the spread of the pandemic, without exception or reservation whatsoever, such as the correct use of masks and the attendance at the event only with people you live with. You can check out all the measures here: https://bit.ly/3haP4fH.