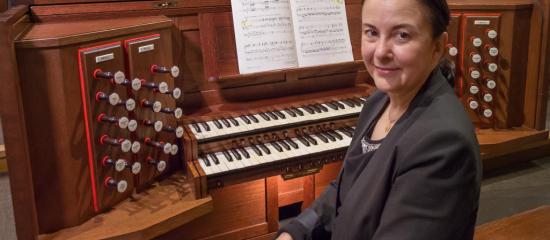 With french aroma
Organ concert
Music/Órgano
Auditorio de Tenerife (Sala Sinfónica)
Auditorio de Tenerife programs the organ concert 'Con aroma francés' (With French Aroma).
Johann Sebastian Bach is an essential composer whose spirit presides over this concert. Marie-Bernardette Dufourcet, the French organist and composer, leads us from the full Baroque of the great organist-composer Nicolas de Grigny to the 21st century of a Basque Fandango composed by the Lebanese-French organist Naji Hakim. Dufourcet's musical journey also includes unique works by Léon Boëllmann, such as the 3rd movement of his legendary Gothic Suite (1895), and music by Maurice Duruflé. To round up the concert, the program includes music by the complex and brilliant Charles-Marie Widor. To cap it all, Dufourcet garnishes this concert with her own score, her voice.
Rosario Álvarez, musicologist.
Johann Sebastian BACH (1685-1750)
GREAT FANTASIA AND FUGUE IN G MINOR, BWV 542
Nicolas de GRIGNY (1672-1703)
RÉCIT DE TIERCE EN TAILLE
Maurice DURUFLÉ (1902-1976)
Scherzo
Marie-Bernadette DUFOURCET (1956)
PETITE SUITE (FOUR VERSES FOR MASS ON LITURGICAL THEMES FROM THE 'LIVRE D'ORGUE DE LUCERNE', 17TH C.)
Naji HAKIM (1955)
Fandango (Schott)
Léon BOËLLMANN (1862-1887)
PRIÈRE À NOTRE DAME (EXTRACT OF THE SUITE GOTHIQUE)
Charles-Marie WIDOR (1844-1937)
ALLEGRO VIVACE (1ST MOVEMENT OF SYMPHONY NO 5)
During the purchase process, the user will have to choose between one or two pre-set seats previously distributed throughout the hall. If you want to buy a single ticket and the pre-set seats are sold out, please contact the box office. If you have any questions while purchasing your tickets, you can write to This email address is being protected from spambots. You need JavaScript enabled to view it. or call 922 568 625 from Monday to Friday from 10:00 to 14:00, except for public holidays.
The ticket sales close one hour before the start of the show to finish setting up the hall and ensure that our audience has a completely safe experience.
Access is only allowed to children over five years of age.
For further information, please check the general terms and purchase conditions.
Ticket purchase also entails the user's unconditional acceptance - without exception or reservation - of all measures implemented by the Auditorio de Tenerife to combat the spread of the pandemic, such as the correct use of masks and the attendance to the event only with people you live with. You can check out all the measures here: https://bit.ly/3haP4fH.