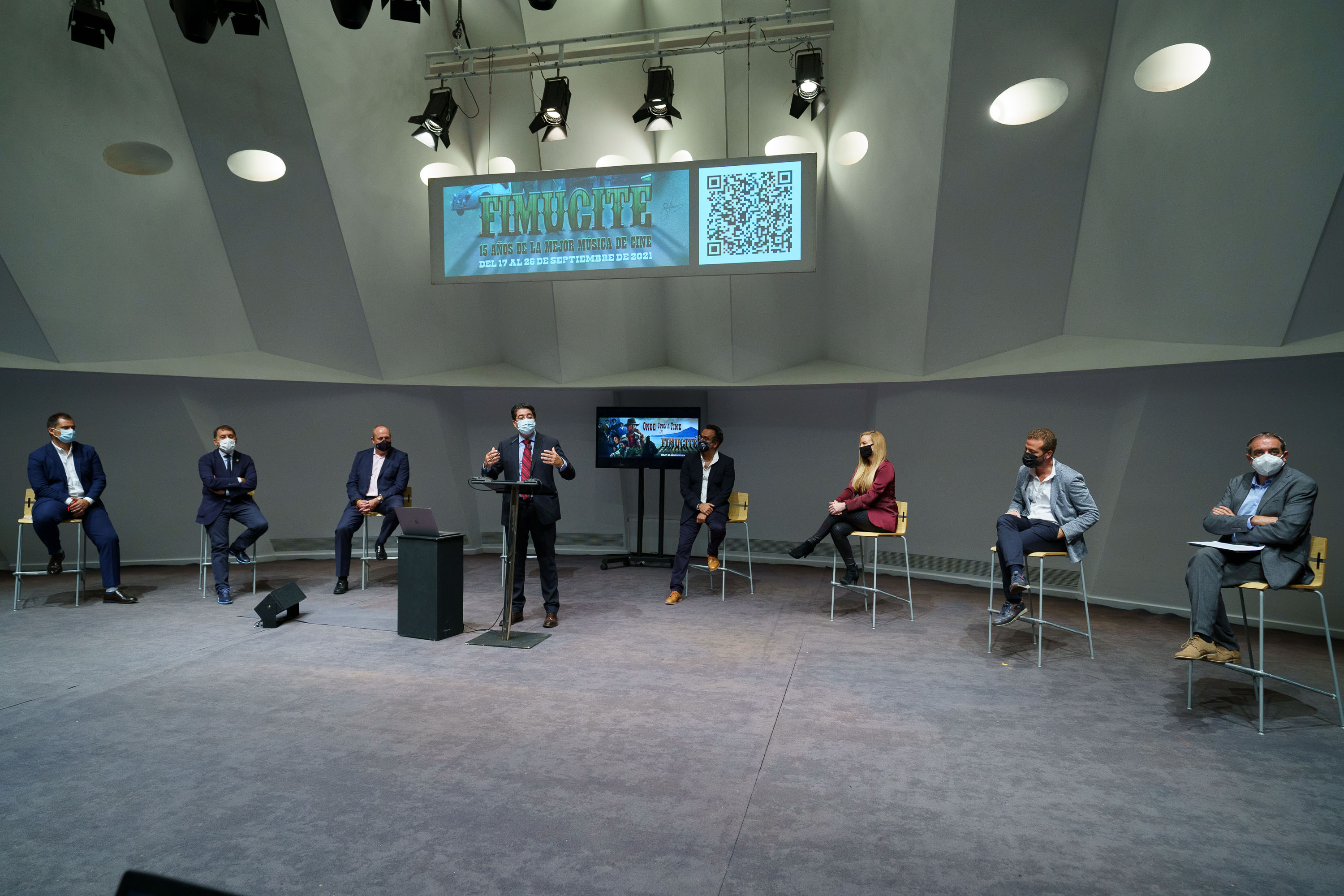 Pedro Martín and Enrique Arriaga confirm that the Island Council offers its support to this festival directed by Diego Navarro
On Friday, the 17th of September, the Auditorio de Tenerife hosts the presentation of Fimucité's fifteenth edition. The 'Festival Internacional de Música de Cine de Tenerife' (International Film Music Festival of Tenerife) has become a world reference in its genre. Under the direction of Diego Navarro, the festival kicks off today and is programmed until 26 September. Tenerife's Island Council is the main sponsor of this initiative with the collaboration of the Canary Island's Government, the city councils of San Cristóbal de La Laguna and Santa Cruz de Tenerife, plus Auditorio de Tenerife, Orquesta Sinfónica de Tenerife (Tenerife Symphony Orchestra), both foundations "La Caixa" and Disa, as well as the SGAE (Spanish Society of Authors and Publishers) and Radiotelevisión Canaria.
The event was attended by the president of Tenerife's Island Council, Pedro Martín; the island's Minister of Culture, Enrique Arriaga; Juan Márquez, vice-minister of Culture of the Canary Islands' Government; José Manuel Bermúdez, mayor of Santa Cruz de Tenerife; Badel Albelo, Member on charge of Culture at the Municipal Council of La Laguna; Fimucité's director, Diego Navarro; Francisco Moreno, sole administrator of Radiotelevisión Canaria and Eímear Noone, conductor and Festival's guest.
During his speech, Pedro Martín pointed out that "film music provides ineffable elements without which a film could not be understood". He fondly recalled many titles of the feature films whose soundtracks will fill the Fimucité programme over the next few days. "The Cabildo of Tenerife gives great support to this project led by Diego Navarro. Without a doubt, we have a lot to do, discover and enjoy through this project during the coming years," said Martín.
Enrique Arriaga congratulated the festival for these 15 years "during which it has grown and evolved from a novel idea, in which not everyone trusted, to something very successful". "Diego Navarro struggles for his objectives with passion. He has overcome many crises, including economic ones, from which he has become stronger. He is now a world reference that the public enjoys", analysed the island's Minister of Culture. He highlighted the concerts that will take place in the Auditorium with the Tenerife Symphony Orchestra conducted by Navarro and a programme "in which we will enjoy pieces that are part of our lives". "We feel proud of this festival," he said.
Juan Márquez explained that the Canary Islands Government's support for Fimucité "is part of the strategy to diversify the cultural sector". Fimucité is a great opportunity for many projects. We want the international audio-visual industry to know the Canary Islands not only for its tax incentives and landscapes for filming, but also for the remaining value chain and elements such as music production. In this sense, Fimucité can provide a lot of help", stated Arriaga.
José Manuel Bermúdez looked back and recalled "all what this festival has achieved over the years". "Attracting intellectual and cultural characters and generating business are just two of the festival's benefits. Fimucité gets the right programming year after year," Bermúdez said. "Diego Navarro, a 'Chicharrero' at heart, and his team are tireless", explained the mayor. He then announced that "Santa Cruz de Tenerife has opened a file of honours and distinctions in the name of Diego Navarro. During the last 15 years he has contributed so much to his municipality".
Badel Albelo assured that "it is a pleasure for La Laguna to be part of the Fimucité's agenda". He added that "this year we have increased the financial support to this festival that is a world reference." The Member of the Municipal Council of La Laguna wanted to share with Eímar Noone how happy he felt to have her tonight at the Teatro Leal during a concert with all tickets sold out. "It is a great pride", he stated.
Francisco Moreno recalled his conversations with Antón García Abril. He stressed that "this is a festival we all shall take good care of. These cultural experiences shall not remain in this Auditorium. It shall rather be enjoyed throughout the Canary Islands so that the homage paid here to film music is known, hence the need to record it and disseminate it," he explained. "This initiative gives meaning to our activity," concluded the sole administrator of RTVC.
Eímar Noone was the first female conductor to direct an orchestra during the Oscar ceremony. She was enthusiastic about returning to the festival after four years: "I can't express what it means to me to be here because Tenerife is special. Here I have great friends, music, food, landscapes... Everything!" "It is very exciting for me to see how Diego, my 'Canarian brother' of whom I am so proud of, and his passion are supported in this way and for 15 years; that says a lot about you!" She explained. Regarding today's programme at Teatro Leal, Noone pointed out that the first score dates from 1986. She will also conduct a score by Sara López, a composer from the Canary Islands.
Diego Navarro, the festival's director, celebrated these 15 years and declared: "Who would have thought it! We pay homage to two persons who recently passed away: maestro Morricone, one of the great geniuses of film music, and Antón García Abril, the father of film music in Spain. He had a great relationship with this festival, and that's why our award bears his name", explained the orchestra conductor. On the other hand, he highlighted the exponential success of video-game music. So Fimucité didn't want to be left behind." He finally encouraged the audience to enjoy Fimucité. "It is a leading event of its kind in Europe and a world reference".
This anniversary edition features a tribute to both composers. The Italian Ennio Morricone and the Spaniard Antón García Abril. Both were great masters of film music and passed away in mid-2020 and last March, respectively. The music programme kicks off this evening with a theme concert dedicated to video-game music that is rounded off by a new Pop Culture Band show. The programme continues with two recitals by the choir 'Coro de Voces Blancas' of Santa Cruz de Tenerife's Conservatory of Music, the choir 'Coro Polifónico de la Universidad de la Laguna' and two concerts by the Tenerife Symphony Orchestra.
The highlight of this anniversary's edition takes place on 24 and 25 September with the concert première 'Érase una vez Ennio Morricone: Un tributo a su música cinematográfica' (Once upon a time, Ennio Morricone: a tribute to his film music) at the Auditorio de Tenerife. Fimucité's director Diego Navarro will conduct the Tenerife Symphony Orchestra during both concerts (tickets sold out) to feature a tribute to Ennio Morricone. Composer of more than 500 soundtracks, he was nominated five times before winning the Oscar for the original score of 'The Hateful Eight' (2016) by Quentin Tarantino. The Tenerife Symphony Orchestra shares the stage with the Tenerife Film Choir and its director Juan Ramón Vinagre; the saxophonist Kike Perdomo, Gonzalo de Araoz (guitars) and the prestigious soprano Carmen Acosta.
Miguel Ángel Ordóñez, music and film critic, director and founder in 2005 of Scoremagacine.com, the first website specialising in soundtracks, will receive the Fimucité-Antón García Abril 2021 Award in recognition of his career. The festival's closing ceremony takes place on 26 September at the Espacio Cultural La Granja, with the reading of the Fimucinema list of winners and the presentation of awards.