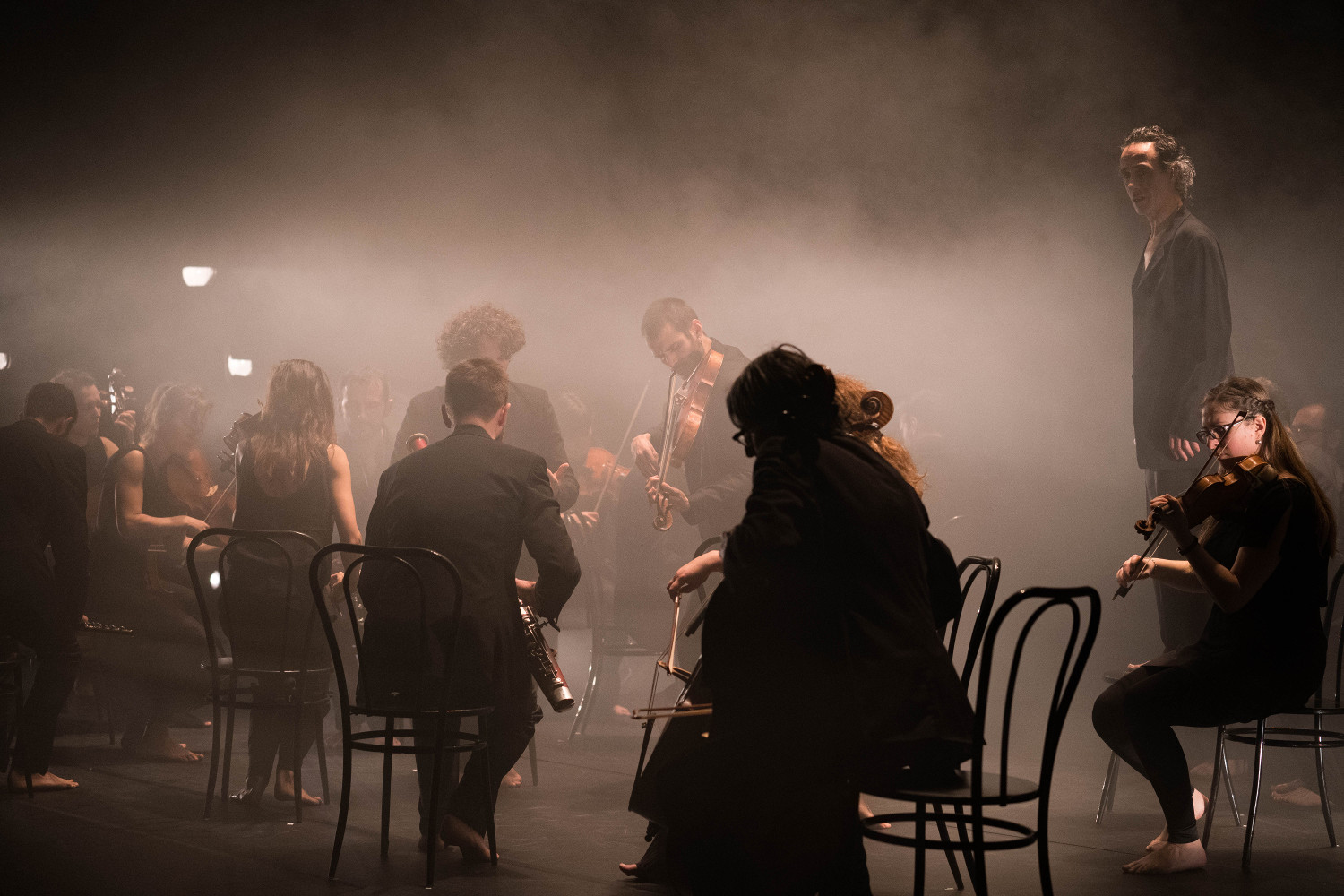 'La danse du soleilˊ is staged with 31 moving musicians and two dancers, under the direction of David Greilsammer.
The Auditorio de Tenerife is a cultural space linked to the Department of Culture of Tenerife Island Council that is managed by the island's Minister of Culture, Enrique Arriaga. The Auditorio de Tenerife presents La danse du soleil, a show by Geneva Camerata. The Swiss orchestra performs an original staging of two well-known works by Mozart and Lully with the Spanish dancers Juan Kruz Díaz de Garaio Esnaola and Martí Corbera. It takes place on Monday [2 May] at 6:00 pm at the Symphony Hall.
Chosen by the New York Times as "one of the best performances in the world of classical music", La danse du soleilpresents a hypnotic and amazing journey between music and dance, revealing an ode to life, hope, loss and love.
On stage, thirty-one musicians directed by the Israeli David Greilsammer move while they play masterpieces alongside choreography by the renowned Díaz de Garaio Esnaola. Together with Martí Corbera, they will perform an unforgettable, impressive and emotive show. This show has rarely been seen in its version with two dancers, and the Tenerife date is one of the special ones on this tour.
On a musical level, the programme that the orchestra will perform will be formed by an orchestral suite from Le Bourgeois Gentilhomme by Jean-Baptiste Lully (1632-1687) and by the popular Symphony No. 40 in G minor by Wolfgang Amadeus Mozart (1756-1791), which will close the show after a short interlude.
Audacious, innovative and adventurous, the Geneva Camerata is formed by the most brilliant and creative soloists of the young generation. Praised by the press as one of the world's most captivating and unique groups, Geneva Camerata performs music from all periods and of all styles, from baroque to contemporary, electronic, jazz, rock and world music. It also creates eclectic multidisciplinary projects that bring together music, dance, theatre and visual arts.
David Greilsammer, conductor and pianist, is known for his eclectic and fascinating programmes as well as his Mozartian repertoire. He is considered one of today's most daring and adventurous classical artists.
The Basque choreographer, dancer, composer and director Juan Kruz Díaz de Garaio Esnaola shows in his work his interest in combining his musical and dance training. He relentlessly explores the relationship between both disciplines and questions the role and integration of music in the theatrical-performance event.
Barcelona performer Martí Corbera has danced on some of the world's most important stages and festivals. Corbera's intense collaboration with Díaz de Garaio Esnaola began at the Bienal de Flamenco in Seville. Since then, both artists have collaborated on several contemporary dance projects, such as the work Flamencolorquiano, presented at the Granada Festival 2019.
Tickets can be purchased at a single price of €15 on the website www.auditoriodetenerife.com, at the auditorium's box office or by dialling the phone number 902 317 327 from Monday to Friday from 10:00 a.m. to 5:00 p.m., Saturdays from 10:00 a.m. to 2:00 p.m. There are special discounts for the audience under 30 years of age, students, unemployed and large families.