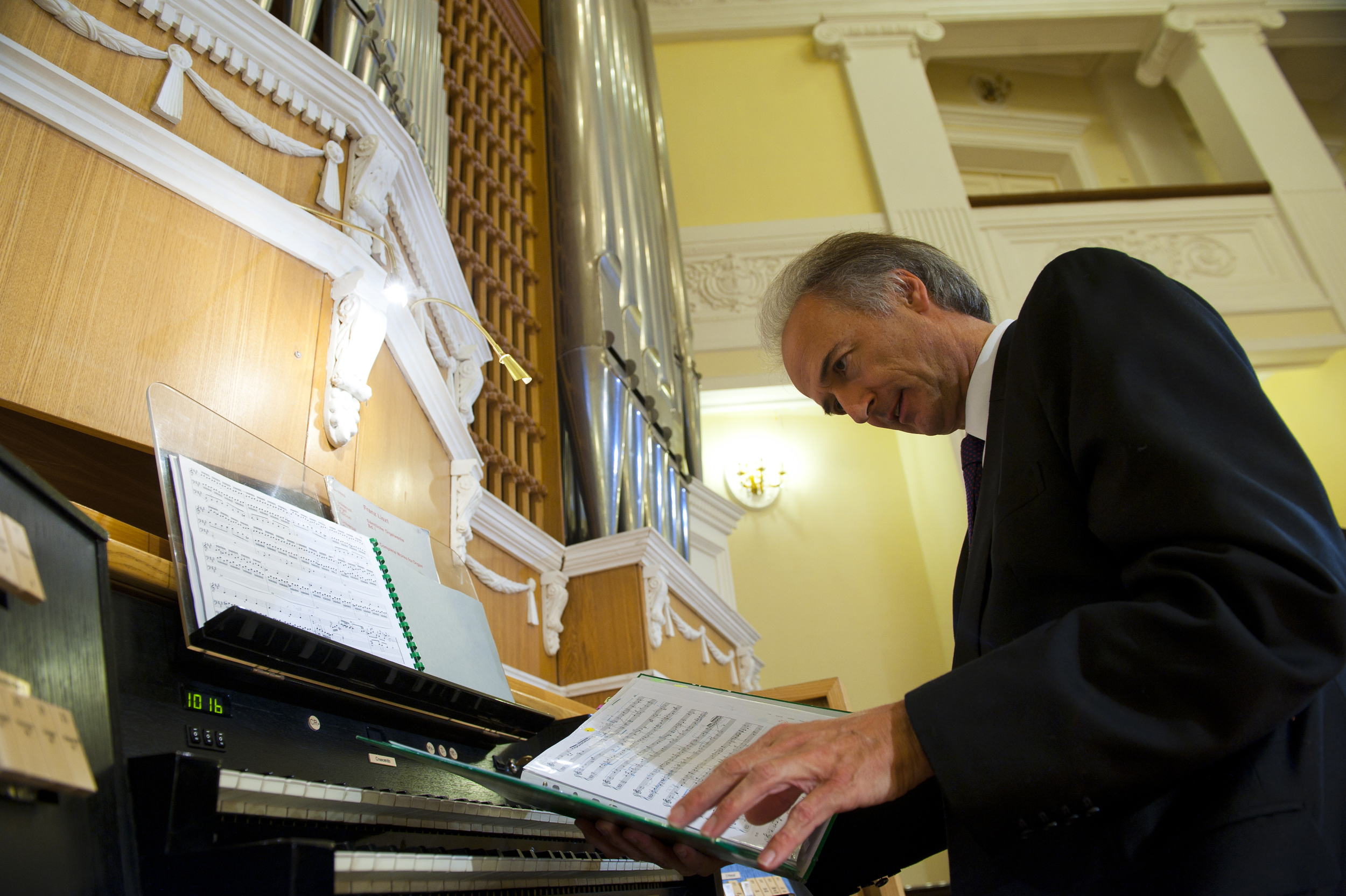 The German organist Heinrich Walther offers a matinee with works by César Franck and José María Usandizaga transcribed by himself.
Auditorio de Tenerife offers on Sunday [4th] at 12:00 noon a concert with the German organist Heinrich Walther. The programme, entitled Amor, sufrimiento y mito (Love, Suffering and Myth), will feature works by César Franck (1822-1890) and José María Usandizaga (1887-1915) transcribed by Walther himself. The organ concerts of the Auditorio are organised in collaboration with the San Miguel Arcángel Royal Canarian Academy of Fine Arts (RACBA).
The concert will feature the symphonic poem Psyché et Eros for orchestra and choir of 1887-88 by Franck. It is divided into seven movements and based on a text by Sicard and Foucaud, in turn inspired by the Metamorphoses of Apuleius, but with certain modifications. According to the musicologist and president of RACBA, Rosario Àlvarez, this work "lends itself like few other scores to transcription for organ, due to its mellow, legato sounds led by the dense string sections, which describe the story with sensual and even voluptuous sounds".
Álvarez assures that "it exudes the purest romanticism marked by melodies with broad arches and marked chromaticism in the harmony that moves us to the core and we suffer with Psyché for his unrequited love for Eros or we are pleased with her for the forgiveness granted and the sublimation of their love at the end of the score".
She concludes, that "despite being a work full of beauty, it has not been performed a lot and I am not even sure if it has ever been performed on this island, therefore it is a great chance for music lovers to be able to hear it in this organ version being offered by Heinrich Walther, which will surely not disappoint, due to his great experience with these kinds of projects transcribing symphonic music for his instrument".
And in the year in which Franck composed his Psyché, the Basque composer José María Usandizaga was born in San Sebastian. After studying in his homeland, he moved to Paris to further his studies at the famous Schola Cantorum which was run by Vincent D'Indy. It is from those years in the French capital that this Suite in A major dates to. Its four traditional movements bring us closer to the academic world of the Schola, filtered, according to Rosario Álvarez "through the freshness and vigour of its author who was only 17-years-old".
Heinrich Walther studied organ with the maestros Zsigmond. Szathmáry, Xavier Darasse, Robert Anderson and Larry Palmer at the Higher Conservatoires of Freiburg, Toulouse and Dallas, respectively. He has gone on tours all over the world performing organ concerts as well as playing with historic keyboard instruments. His extensive discography includes recordings of works from different eras as well as the first works of contemporary composers and his own transcriptions of works for orchestra by César Franck, Felix Mendelssohn Bartholdy, Max Reger and José Maria Usandizaga, among others.
At present, Walther teaches at the Higher Conservatoire of Music of Freiburg and at the Higher Conservatoires of Religious Music of Heidelberg and Rottenburg am Neckar.
The organ of the Auditorio de Tenerife was built in the 21st century by the prestigious organ builder Albert Blancafort and his team. It is considered a unique instrument in the world for its design, sound and musical ranges. The sounds are produced by 3,835 pipes that are housed in the walls of the emblematic Symphony Hall, which are controlled by the organist from on-stage through the console where he is performing.
Tickets can be purchased at a single price of €15 on the website www.auditoriodetenerife.com, at the auditorium's box office or by dialling the phone number 902 317 327 from Monday to Friday from 10:00 a.m. to 5:00 p.m., Saturdays from 10:00 a.m. to 2:00 p.m. Check the special discounts for the audience under 30 years of age, students, unemployed and large families.