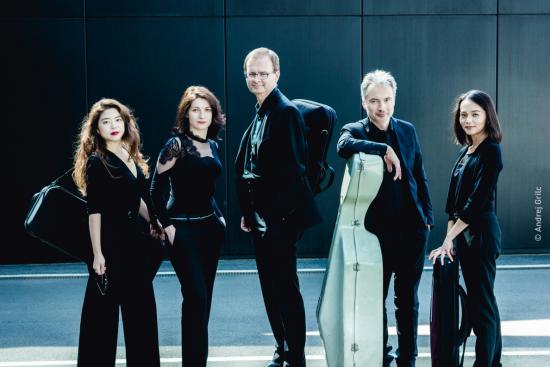 WEBERN, KORNGOLD AND BRAHMS
Length
90 min. approx. + intermission 20 min.
Music/Ciclo de Cámara
Auditorio de Tenerife (Chamber Hall)
The Chamber Cycle of Auditorio de Tenerife presents a concert by the Korngold Ensemble Wien.
The philosopher Arthur Schopenhauer (1788-1860) believed that music was the incarnation of the most intimate reality. Some of the 19th-century called instrumental music the ideal romantic art because, freed from the weight of words, it could perfectly communicate pure emotion. In the heart of the Romantic Era, the German composer Johannes Brahms (1833-1897) wrote his Quintet for piano in F minor, Op. 1833. Started as a quintet for string in Hamburg during 1862, the two final movements were completed in Vienna in 1864. As a piano quintet, it was premiered on 22 June 1866 at the Conservatoire of Leipzig. This masterpiece is one of the gems of chamber music of the Romantic era with rich colour in terms of both emotion and harmony. The Viennese composers Anton Webern (1883-1945) and Erich Wolfgang Korngold (1897-1957) were born towards the end of the Romantic era. Although Anton Webern was the famous student of the Austrian composer Arnold Schönberg (1874-1951), the Piano quintet by Webern, composed in 1874, was written in a Romantic style with lyrical melodies and a meticulous harmony that is stylistically closer to Schumann and Brahms than to Schönberg. In 1921, at the age of 24, Erich Wolfgang Korngold was at the peak of his career. He composed Piano Quintet, Op.15 in Vienna, and finally premiered it as a pianist in 1923. This masterpiece of late romanticism, with unique, incomparable musical characteristics and exuberant lyricism, represents the characteristic style of the Viennese school.
We chose these specific masterpieces by the three composers as we felt that, in addition to expressing the essence and musical vision of each composer, they are linked to one another in the formal junction of late romanticism.
Rob Collins
Anton Webern (1883-1945)
Piano Quintet Op. Post.
Moderato
Erich Wolfgang Korngold (1897-1957)
Piano Quintet in E major, Op.15
Mässiges Zeitmass, mit schwungvoll blühendem Ausdruck (Moderate, with a swinging, blossoming expression)
Adagio. Mit grösster Ruhe, stets äusserst gebunden und ausdrucksvoll (Adagio. With the greatest calm, always extremely bound and expressive)
Finale. Gemessen, beinahe pathetisch (Finale. Measured, almost pathetic)
-Intermission-
Johannes Brahms (1833-1897)
Piano Quintet in F minor, Op.34
Allegro non troppo
Andante, un poco Adagio
Scherzo. Allegro - Trio
Finale. Poco sostenuto - Allegro non troppo
Access is only allowed to children over five years of age.
For further information, please check the general terms and purchase conditions.
If you have any questions while purchasing your tickets, you can write to This email address is being protected from spambots. You need JavaScript enabled to view it. or call 922 568 625 from Monday to Friday from 10:00 a.m. to 2:00 p.m., except for public holidays.
Subscribe to our Newsletter