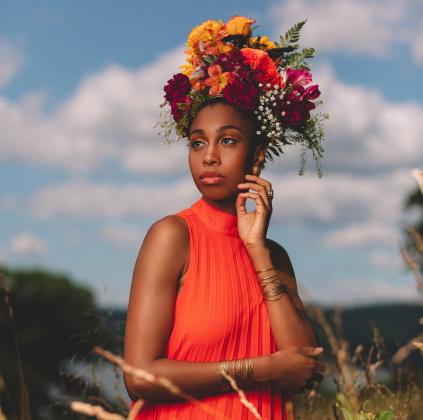 Music/Canarias Jazz & Más
Auditorio de Tenerife (Sala de Cámara)
Auditorio de Tenerife recibe varios conciertos del 32º Festival Internacional Canarias Jazz & Más. Este 6 de julio sonará la voz de Jazzmeia Horn en nuestra Sala de Cámara.
Jazzmeia Horn (Dallas, Texas, 19/04/1991) ganó en 2015 el Thelonious Monk International Vocal Jazz Competition y en 2013 el Sarah Vaughan International Jazz Vocal Competition. Posee un nombre que habla por sí mismo sobre su auténtica esencia. Su reputación de artista emergente no tardó en llegar a Nueva York. Deseosa de iniciar su carrera como solista se trasladó a la Gran Manzana para graduarse en The New School for Jazz and Contemporary Music, y pronto comenzó a actuar con destacados músicos: Winard Harper, Junior Mance, Billy Harper, alumnos del Lincoln Center, Vincent Gardner, Delfeayo Marsalis, Mike LeDonne, Peter Bernstein, Johnny O"Neal, Vincent Herring, Kirk Lightsey, Frank Wess y Ellis Marsalis.
Al margen o más allá de notas biográficas y desarrollos curriculares, lo que hoy parece cierto es que Jazzmeia Horn ha sabido en poco tiempo y pese a su juventud, catalizar y atraer la atención del público y, por supuesto, de la crítica. La extensión de su registro vocal y su dominio técnico trajo de inmediato a la mente de muchos el recuerdo de Ella Fitzgerald, sobre todo por la práctica del scat. Sin embargo, sus fuentes iniciales fueron otras.
En el principio estuvo el canto, el góspel de la iglesia, los espirituales… Allí, en esos himnos religiosos de exaltación y liberación, germinó el origen de todo y el origen de su propio nombre. Porque Jazzmeia es su nombre real, el nombre que le puso su abuela paterna al nacer: "Mi abuela, que estaba casada con un pastor eclesiástico y tocaba el piano y el órgano en la iglesia, eligió mi nombre, Jazzmeia […] Ella quería ser músico profesional, pero como estaba casada con un ministro de la iglesia no podía interpretar música laica como el jazz o el blues profesionalmente. Esa fue la razón por la que al nacer me puso el nombre. De algún modo, continúo su legado".
Además de los premios citados, ha recibido otras distinciones como los premios concedidos por la revista Downbeat (Student Music Award Recipient 2008 y 2009); el Best Vocal Jazz Soloist Winner 2010; en 2013 el Betty Carter Jazz Ahead Program at The Kennedy Center (Washington D.C.), en 2012 el Rising Star Award de la Sarah Vaughan International Vocal Jazz Competition, fue finalista de la MidAtlantic Jazz Vocal Competition en 2014 y en 2015 el premio de la XVI Annual Central Brooklyn Jazz Consortium"s Young Lioness. En la actualidad imparte clases de jazz en el NJPAC Well's Fargo (Programa de Jazz para jóvenes) y en Jazz In The Schools Program in Newark (New Jersey).
Actúa en numerosos clubes de la escena nacional e internacional liderando su vigoroso grupo The Artistry of Jazz Horn, que suele incluir pianista, batería, contrabajista, saxofonista, poeta, bailarín y a ella como vocalista. Confiesa que es una persona humilde para quien la música está por encima de Dios.
El Festival Internacional Canarias Jazz & Más pone a disposición del público dos abonos:
→ Abono Jazz: incluye los cuatro conciertos del festival en Auditorio de Tenerife y cuesta 85 €.
→ Abono Jazz Sinfónica: incluye los dos conciertos del festival que se celebran en la Sala Sinfónica del Auditorio de Tenerife y cuesta 60 €.
Ambos abonos solo pueden adquirise en taquilla o por teléfono (902 317 327) en horario de lunes a viernes de 10:00 a 17:00 horas y sábado de 10:00 a 14:00 horas, excepto festivos.
El acceso solo está permitido a mayores de cinco años.
Si lo desea, puede consultar las condiciones generales de compra y normas de sala.
Para cualquier duda en el proceso de compra puede escribir a This email address is being protected from spambots. You need JavaScript enabled to view it. o llamar al teléfono 922 568 625 de lunes a viernes de 10:00 a 14:00 horas, excepto festivos.
Subscribe to our Newsletter