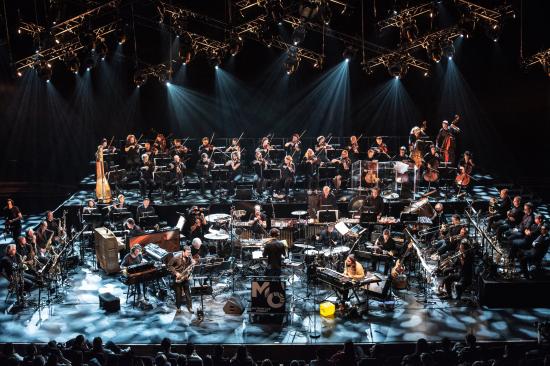 Metropole Orkest y Kandace Springs
Music/Canarias Jazz & Más
Auditorio de Tenerife (Sala Sinfónica)
Auditorio de Tenerife recibe varios conciertos del 32º Festival Internacional Canarias Jazz & Más. La Metropole Orkest y Kandace Springs vuelven a reunirse bajo la dirección de Miho Hazama.

Kandace Springs nació en Nashville en el seno de una familia muy relacionado con la música. Creció escuchando a Billie Holiday, Ella Fitzgerald, Nina Simone, Roberta Flack y Norah Jones. Esos héroes musicales la ayudaron a encontrar su propio sonido y la convirtieron en la artista que es ahora. Prince escuchó su versión de 'Stay With Me', de Sam Smith, y la invitó a actuar con él en Paisley Park con motivo del 30 aniversario de 'Purple Rain'. Poco después, Sam Smith la tuteló en el estudio y publicó su álbum de debut, 'Soul Eyes', del que recibió excelentes críticas, de cinco estrellas en tres continentes. El Times de Londres afirmó que "Kandace Springs no es sólo una estrella. Es toda una galaxia". Desde entonces, ha publicado más discos, ha actuado a dúo con Norah Jones, ha tocado en festivales como el North Sea Jazz Festival y el Monterey Jazz Festival y ha ganado el Deutcher Jazzpreis al mejor álbum vocal.

Kandace compartirá escenario con la Metropole Orkest (MO) y la directora invitada permanente Miho Hazama. La Metropole Orkest, que toca jazz, pop, músicas del mundo y partituras de películas, ha compartido escenario con leyendas como Ella Fitzgerald, Dizzy Gillespie, Pat Metheny, Brian Eno, Herbie Hancock, The Basement Jaxx y Bono. La MO también participa en producciones de las nuevas generaciones de estrellas como Kovacs, Robert Glasper, Snarky Puppy, Jacob Collier, Gregory Porter, Cory Henry o Louis Cole. La orquesta ha trabajado en cuatro producciones ganadoras de los Premios Gramy. La más reciente, para la grabación de 'All Night Long', de Jacob Collier.

Esta colaboración entre Kandace, Miho y Metropole Orkest será inolvidable. Durante el concierto tocarán música del disco 'Soul Eyes", de Kandace Springs, y por supuesto, trabajos más recientes.
El Festival Internacional Canarias Jazz & Más pone a disposición del público dos abonos:
→ Abono Jazz: incluye los cuatro conciertos del festival en Auditorio de Tenerife y cuesta 85 €.
→ Abono Jazz Sinfónica: incluye los dos conciertos del festival que se celebran en la Sala Sinfónica del Auditorio de Tenerife y cuesta 60 €.
Ambos abonos solo pueden adquirise en taquilla o por teléfono (902 317 327) en horario de lunes a viernes de 10:00 a 17:00 horas y sábado de 10:00 a 14:00 horas, excepto festivos.
El acceso solo está permitido a mayores de cinco años.
Si lo desea, puede consultar las condiciones generales de compra y normas de sala.
Para cualquier duda en el proceso de compra puede escribir a This email address is being protected from spambots. You need JavaScript enabled to view it. o llamar al teléfono 922 568 625 de lunes a viernes de 10:00 a 14:00 horas, excepto festivos.
Subscribe to our Newsletter